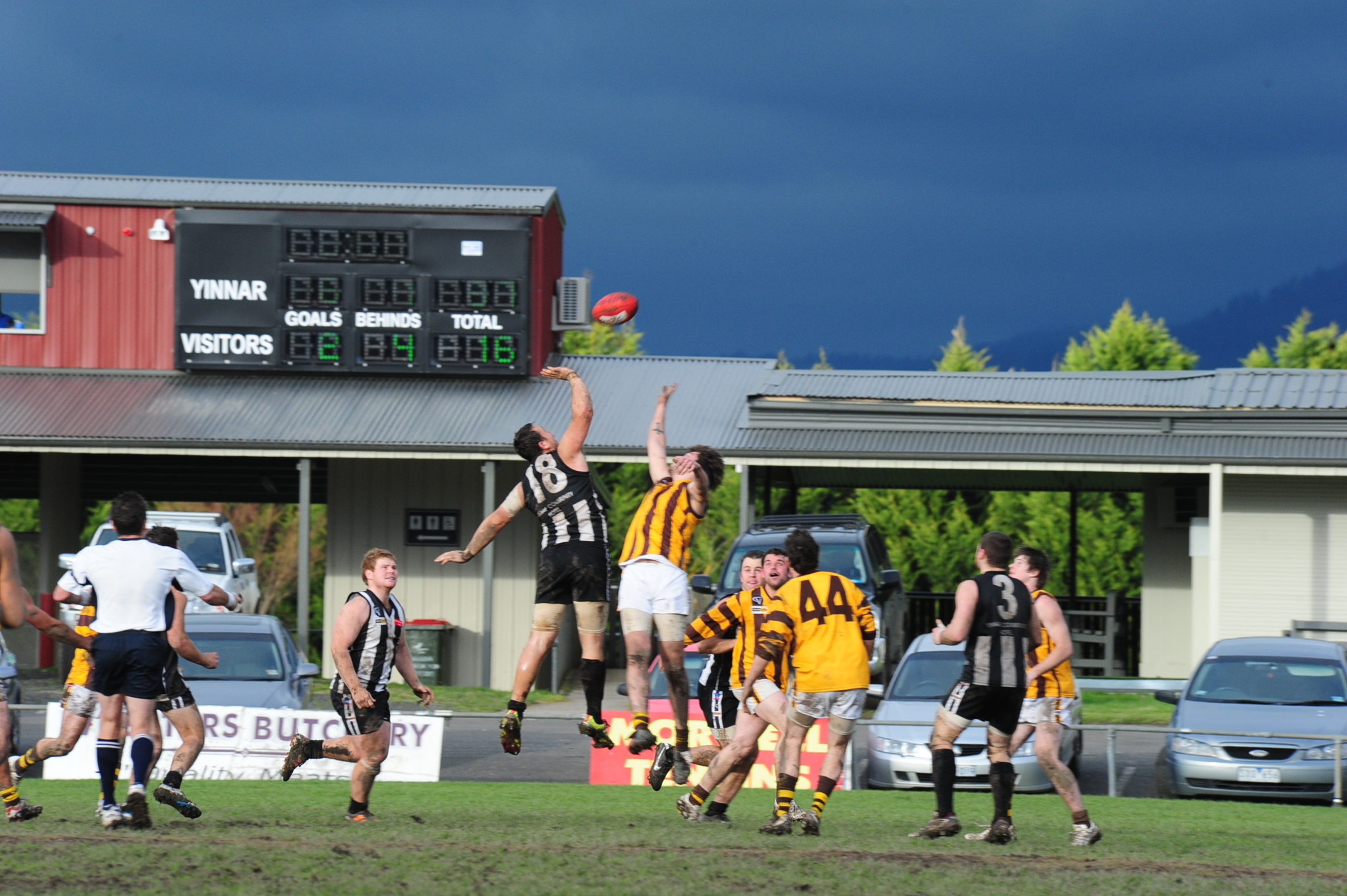 TRAFALGAR
Coach: Chris Kyriacou
Last season: Premiers – 15 wins, 2 losses, 1 draw
Round one opponent: Newborough
WITH a few additions to last year's premiership side, coach Chris Kyriacou's focus is on getting the players to "gel well together".
Kyriacou said he knew a side "looking good on paper" does not always translate to playing well together, but was confident the side would perform.
With back to back premierships beckoning, Kyriacou said he was aiming for the top three finish necessary to "launch an attack from there". "I'm putting pressure on the group that we need to take the flag out; we need to make hay while the sun shines," Kyriacou said.
"We've got a good team and we need to keep winning while we've got the good team together."
He said the side as a whole had matured, through the younger players gaining finals experience and the inclusion of experienced recruits. The team has also improved its goal kicking power this year with the inclusions of Tyson Leys, Michael Gelagotis and Rhys Holdsworth, who has recovered from an injury that forced him to miss most of last season.
NEWBOROUGH
Coach: Allan Chandler
Last season: Runner up – 15 wins, 2 losses, 1 draw
Round one opponent: Trafalgar
ALTHOUGH Newborough has retained the majority of last year's playing list, coach Allan Chandler said the side would be very different with a new focus on junior development.
"This year's really about giving them a go and hopefully that makes a difference at the end of the year," Chandler said.
With thirds and fourths, along with reserves, winning the premiership last year, the junior talent is clear.
Chandler said the side had also reaped the benefits of senior player and "fitness guru" Josh Whittaker's preseason training, adding "a lot of the players are probably fitter than they've ever been".
"I think we can definitely play a part in finals, and how much depends on how those kids improve," Chandler said.
With a tough few games first up and reduced senior experience, Chandler is predicting the second half of the season will be their best.
MIRBOO NORTH
Coach: Troy Hamilton
Last season: Third – 15 wins, 3 losses
Round one opponent: Morwell East
TROY Hamilton's Tigers are out to better last year's disappointing finals campaign with a premiership finish this year.
With Hamilton staying on as coach and the retention of the majority of the senior list, plus a few returning Tigers and some new faces, the side could do just that.
Hamilton said the team is after a top three finish and "a crack at the flag".
"That's why we're all doing it," Hamilton said.
"I think with our list and where we're at as a club our aim is always a premiership. We don't aim any lower."
YINNAR
Coach: Sam McCulloch
Last season: Fourth – 10 wins, 8 losses
Round one opponent: Hill End
SAM McCulloch's preseason has been well-attended and the coach is "looking forward to getting stuck into it".
McCulloch said a lot of the club's recruits are returning Yinnar players, some who have played at higher levels.
"Two years ago we had good juniors coming through, and I suppose we are just trying to get a lot of those guys back to the club. It's obviously a good priority to try and get former Yinnar kids back to the club."
He said to better on last year's performance "top three is really where you want to be".
MORWELL EAST
Coach: Paul Henry
Last Season: Fifth – 9 wins, 8 losses, 1 draw
Round one opponent: Mirboo North
PAUL Henry will have some help on the coaching front in Steve Henry and Rob Shelton as assistants for 2013.
Henry said preseason had been completely different to last year's preparation, having lost several players who this year returned to former clubs or retired, adding those from his old side Gormandale "had never promised more than year".
He said while numbers had started to pick up closer to the first game, they were down on last year.
The side is set to stick to their game plans from last year, including the 18 man press.
While the player exodus will have an impact, Henry said regular reserves players had stepped up and put in the extra effort to play senior football.
"I still think finals are an absolute chance," he said.
HILL END
Coach: Phil Town
Last season: Sixth – 8 wins, 10 losses
Round one opponent: Yinnar
PHIL Town took over the Hillmen senior side following former coach Josh Tymenson's return to his home club of Catani.
Town said he has been working on the team's game plan as well as making sure "everyone does the basics right".
"We'll be aiming to be a better side, be competitive and play four quarters," Town said.
He said he thought what let the side down last year and prevented them from playing finals were fitness, "up and down" emotions and not playing the full four quarters, all of which he would address this year.
The club has recruited a few players and including a spate of returning clubmen.
BOOLARRA
Coach: Tony Giardina
Last season: Seventh – 7 wins, 10 losses, 1 draw
Round one opponent: Yallourn/Yallourn North
TONY Giardina has remained at the helm of the Demons, who have done some handy recruiting this preseason.
Giardina said preseason started slow, due to the hot weather, but improved to consistent numbers of more than 20 at each session and sometimes up to 40 players.
The side will be strengthened by the return of several players who suffered injuries late last season.
The loss of Matt Dyer and Tyson Leys has not perturbed Giardina given how well the club has recruited, including the signing of Justin Emery as assistant coach.
"While we've lost a couple we've picked up some good ones," Giardina said.
"We've got our injured players back and recruited a few more, so to play finals – that's our aim."
YYN
Coach: Rick Hearn
Last season: Eighth – 7 wins, 11 losses
Round one opponent: Boolarra
New coach Rick Hearn stepped up to the top job from fourths last year and has seen good numbers at training throughout the preseason.
"The boys are keen, so that's all I can ask," Hearn said.
He said the side would aim to play finals this year like any other. "Definitely you play footy to play finals so I'd definitely like to see if the young fellas keep improving during the year whether we could sneak into the finals, (and) maybe finish fourth or fifth," Hearn said.
YARRAGON
Coach: Anthony Pavey
Last season: Ninth – 1 win, 17 losses
Round one opponent: Thorpdale
ANTHONY Pavey takes the helm at Yarragon after Shaun Kleeven stood down as senior coach to concentrate on his playing role for the club.
Pavey said the preseason focus had been on strengthening the midfield and back line, with a few recruits and players returning from injury who "fit into that mould". "It's just a matter of a couple key players coming back to the backline makes it a hell of a lot better strengthwise," Pavey said.
Last year junior footballers played key roles in the injury-struck side, but Pavey said while the thirds would get a run this season, they would not have the pressure placed on them to play each week.
"Hopefully we can chop and change a bit each week, get their confidence up, (and) get their consistency up," Pavey said.
"My aim is always to play finals, (there is) no sense setting them any lower."
THORPDALE
Coach: Brett Sherriff
Last season: Tenth – 1 win, 17 losses
Round one opponent: Yarragon
A good atmosphere is prevalent at Thorpdale, with the club recruiting well and solid numbers at preseason training sessions.
Senior coach Brett Sherriff said his main objective was to improve on last year, one step at a time.
"We've set some goals as a group and set some targets and we'll tick them off as the year goes on," he said.
"If we achieve a few of those we can set some more… and change it as we go," Sherriff said.