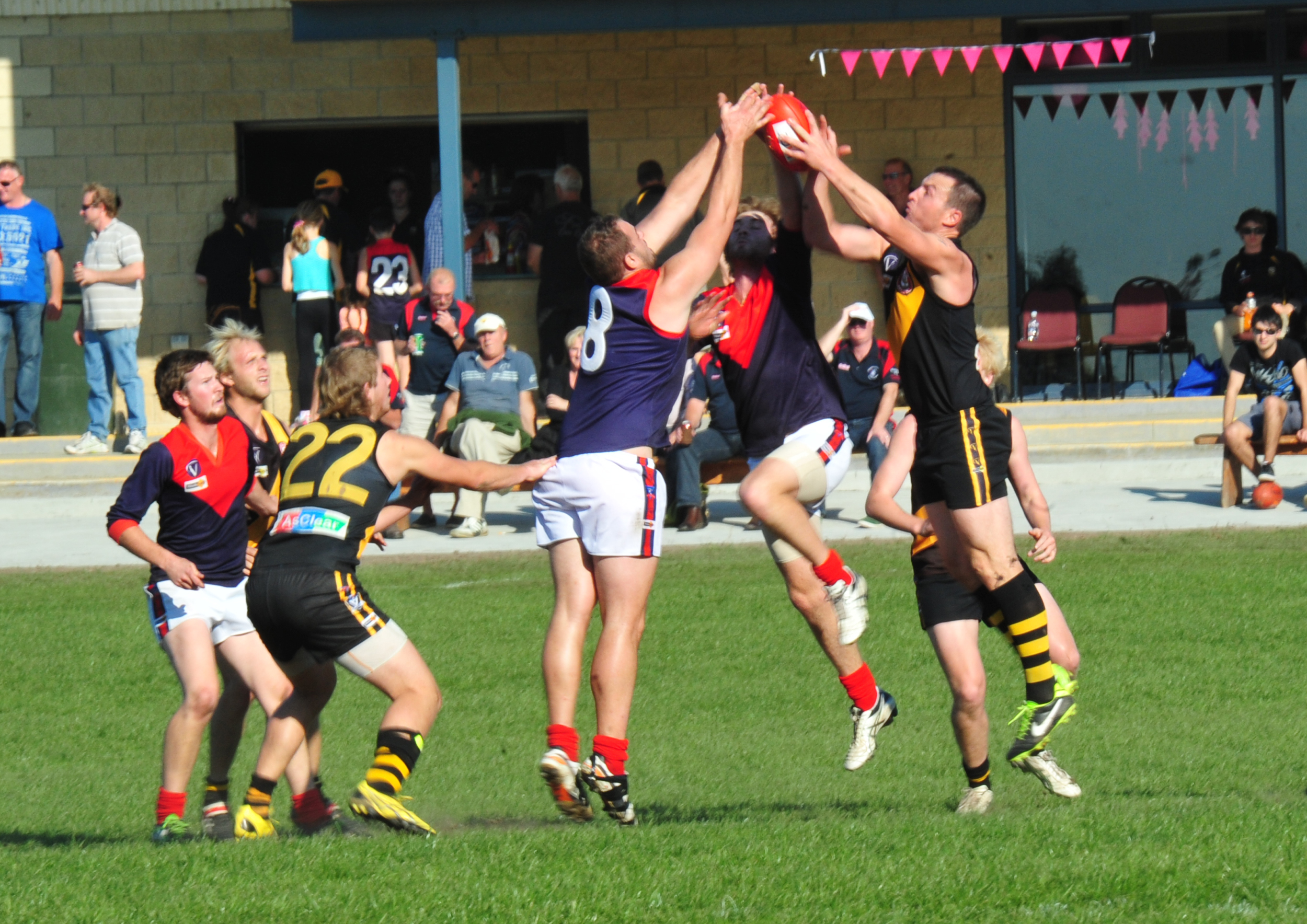 HILL End made it four in a row when it beat Morwell East 14.12 (96) to 10.5 (65) in round six of Mid Gippsland football.
Morwell East was two goals up after an even first term, but it was all Hill End in the second quarter.
The Hillmen had 11 scoring shots to Morwell East's two, but only carried a 17-point lead into half-time.
The two teams shot it out goal for goal in the third quarter and Morwell East made up ground to be within two goals by three-quarter-time.
Hawk Aaron Frood was knocked unconscious in the final quarter, necessitating a break in play, before turnovers without pressure allowed Hill End to snatch the win.
Morwell East coach Paul Henry said Frood was hospitalised, but otherwise he was "so far, so good".
Henry said his side needed to work on consistency, but being a young group said the side should improve as players mature.
"We've got a really young on ball group. We've got Eric Semmler and Brandon Francis, both excellent, but one is 19, and one's 20. It's a lot of pressure on the boys… consistency comes with age," Henry said.
Boolarra v Mirboo North
THE Tigers emerged from round six as ladder-leaders after a comprehensive win over the Demons 19.9 (123) to 9.4 (58).
It was a close first quarter, with a lot of pressure applied on both sides, but Mirboo North's ability to captilise on opportunities had it in front by three goals.
Mirboo North coach Troy Hamilton said the Tigers' second and third quarters, during which the side got out to a 71-point lead, were "outstanding", attributing the win to his players' work-rate and run.
"We made a lot of mistakes but we had numbers there because we just kept working. I thought we out-worked them," Hamilton said.
Although Boolarra outscored the Tigers by a goal in the last quarter, the damage had been done.
Hamilton said he predicted Boolarra would come back "bigger and better" and was happy to get the win while the Demons were not at full strength. Boolarra co-captain Jordan Cargill said his side had quality players, but they were not quite gelling together yet.
"We know that we've got all the pieces of the puzzle, they just didn't fall into place today. It is still taking a few more weeks just to learn each other's games and to get to working together a bit better," Cargill said.
Yinnar v Thorpdale
A COMPETITIVE match blew out to a 40-point margin in the final minutes as Yinnar, 18.9 (117) defeated Thorpdale, 12.5 (77).
Yinnar turned its five-point lead at quarter-time into 21 points at half-time which it maintained in the third quarter. The Blues kicked to within 16 points in the last term, but Yinnar bit back, kicking several goals to brush the Blues aside.
Blues coach Brett Sherriff said his side lost the match during the time on period of each quarter, when Yinnar kicked late goals.
Sherriff said it was disappointing to see the side get so close then fail to run the game out through turnovers and undisciplined free kicks.
"I just thought we had a big chance there at one stage, we had a bit of a run on and we let them get back into it," he said.
Josh Swift's nine goals helped Yinnar to victory, and the side is keeping pace with the top five.
Newborough v Yarragon
NEWBOROUGH got the jump on Yarragon in the first half to win 20.17 (137) to 6.10 (46).
The Bulldogs asserted their dominance in the first quarter, keeping the Panthers goalless.
They followed up with a seven goal third quarter and established an insurmountable 68-point lead.
The Panthers were able to keep up with the Bulldogs in the third quarter and match them in the last, but a poor first half had cost them.
Newborough leapfrogged Boolarra into third spot on the ladder.
Trafalgar v YYN
LAPSES proved costly for Yallourn Yallourn North, allowing Trafalgar to run it over, 20.11 (131) to 6.6 (42).
The Bombers found it hard to match up on the Bloods' multiple goal kickers, while missing their own forward Barry Brooks, who was out with an achilles injury.
Bombers coach Rick Hearn said his side had "lapses" in each quarter when they lost concentration and would not man up, letting Trafalgar kick four or five consecutive goals.
"They ran the ball a bit better than us. We actually slowed the ball down and used our foot skills. We were quite competitive then," Hearn said.
"We just have those lapses and it costs you… the margin gets out before you really realise the game's gone."