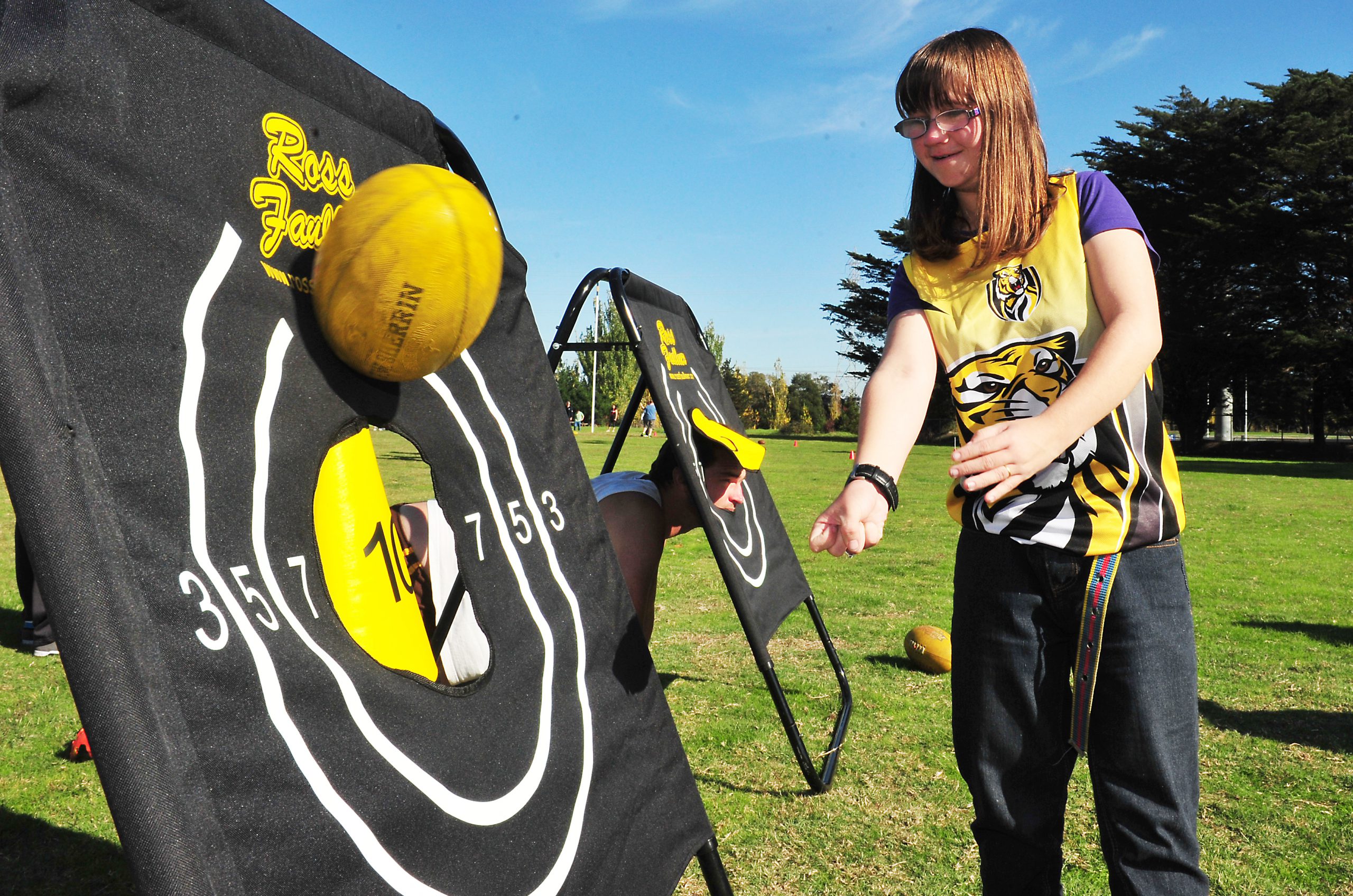 Football
By SAMUEL DARROCH
GIPPSLAND Power took a time out from TAC Cup commitments to put on a skills clinic for some of the biggest football fans in the Latrobe Valley last Thursday at Keegan Street Reserve.
Power representatives put about 35 people with an intellectual disability through their paces for Vista Day Services' second annual 'footy day' with the Morwell based club. The VDS enrollees tried their luck at goal kicking, handball targets, 'speccy' bags and tackle bags throughout the session.
Vista coordinator Cheryl Borg said the event was a big day on the calendar.
"Footy tipping and footy is a huge part of our guys' lives; it really is a focal point of our winter," Borg said.
"The guys talk about it all year and the photos are in our end of year DVD, so we're really keen to have it happen again… they love it." Borg said the session was also an avenue for those involved to increase their involvement in the community.
"It just gives them so much confidence… it's all about community inclusion, our guys want to be part of their community and they want to feel they can participate," she said.
"It gives them that connection to support the local team and gives us a chance to enjoy footy in a different way."
Power spokesperson and trainer on the day Troy Oakley said the initiative was a welcome change of pace for the elite TAC Cup outfit.
"It's good for the club… to be doing something outside (its internal football program), to show we do other community stuff as well," Oakley said.
"It gets the kids out of the classroom and having a kick which is really good."
VDS approached the Power last year about running the program, after the success of a similar day they enjoyed with an Australian Football League club. Oakley said Power would look at increasing the number of sessions held per year given the success of the program.
Vista Day Services provides education and lifestyle enhancing programs for people with an intellectual disability aged 18 to 70 years.