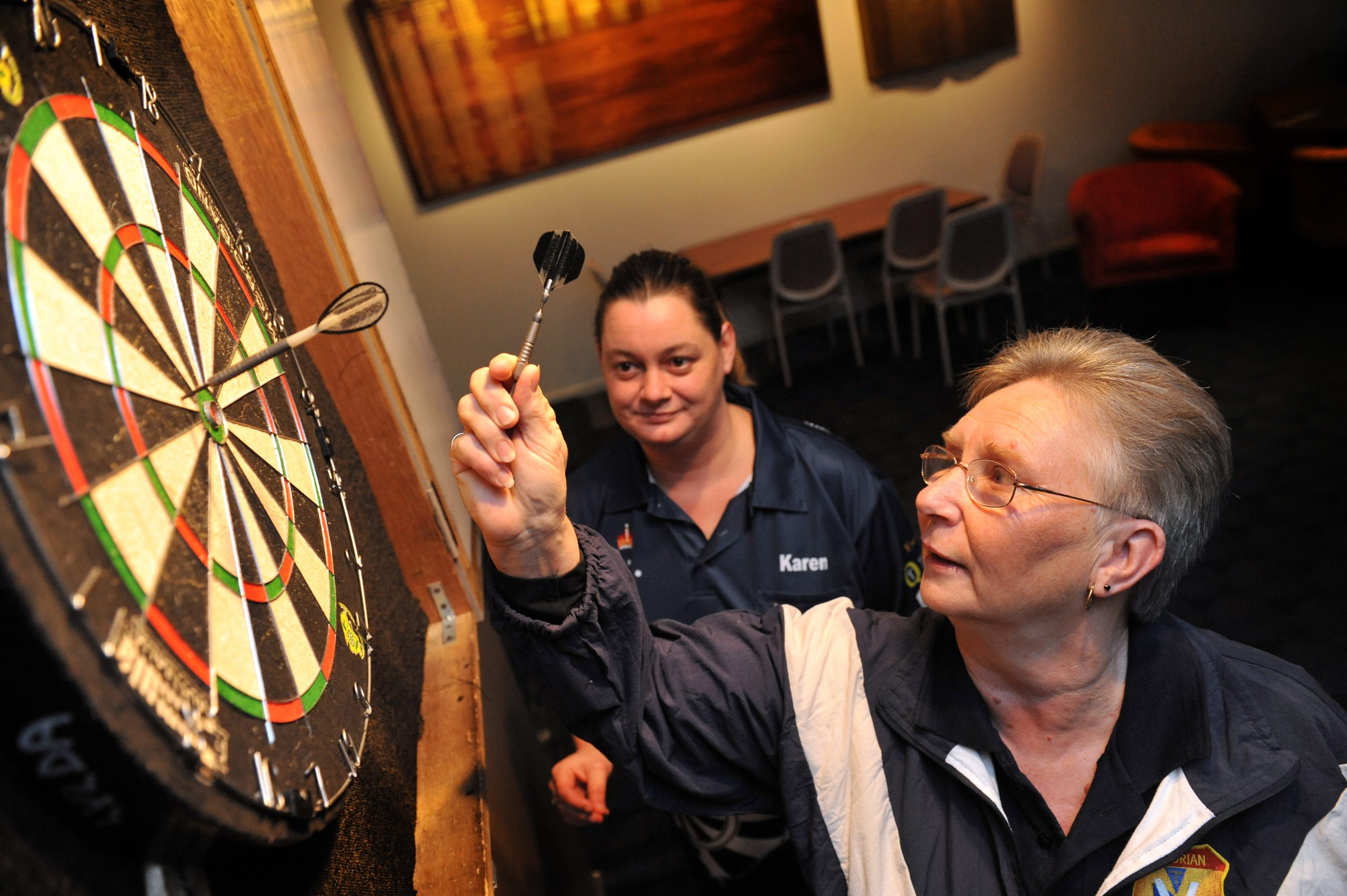 DARTS
LATROBE CLASSIC
By samuel darroch
THE annual Latrobe Classic darts tournament will celebrate its 10th anniversary in the Valley this Queen's Birthday weekend, with $6000 in prize money and valuable ranking points in the offing.
Formerly known as the Victorian Open, this year's event, at the Morwell Italian Australian Club, will bear special significance for local sharpshooter Dianne Berryman.
The men's singles event was named after her late father Harry Metcalfe, a former state captain and administrator, in honour of his contribution to the sport in the region.
"It's my father's memorial… so it's very sentimental that we've lasted 10 years," Berryman said.
Now retired, the 55 year-old has played in every edition of the event since it moved to Morwell in 2003 and is battling an injury to again line up for the occasion.
Berryman, a former state representative, won the inaugural Latrobe Classic women's doubles, beating out the number one-ranked side in Australia of the time.
Since then, the veteran player of 43 years said the standard of the event had increased dramatically with the likes of Victorian star Eddy Sims and junior world number one Matt Francois competing on a regular basis.
The Victorian representative team also attends every year as part of their state obligations.
"The standard has got better because you watch people grow. A winning average in the men would have been 25, now you're looking at 29 per dart. Some of them will hit 33 (per dart)," she said.
"We've had a 10-dart game in the final (nine is a perfect game) and the ultimate peg (going out with 170)."
Twin sisters and state players Karen Richardson and Tracey Roberts are among the biggest threats in the women's draw.
Both have claimed best local honours and are eager to go one peg better this year.
"(My form) is very comfortable at the moment, but I don't know if I'll be comfortable on the day," Richardson said.
"If I win it's a bonus but I just love playing, that's enough for me."
Latrobe Valley Mixed Dart League organisers expect anywhere up to 300 players from across Australia to turn out for the popular tournament, which many plan for a year in advance.
While the country competition offers a more relaxed atmosphere than metro equivalents, organiser and player Sheryl Rockall said darts had shed its 'pub sport' image even in regional areas, with alcohol banned from the main stage and during finals.
"The mentality of it being a pub sport is just gone… it's even being considered for Olympics," Rockall said.
The Latrobe Classic kicks off on Saturday with doubles events, and singles will be held on Sunday.
For more information phone Geraldine Hutchinson on 9766 6665 or Jeff Carter on 0425 803 552.