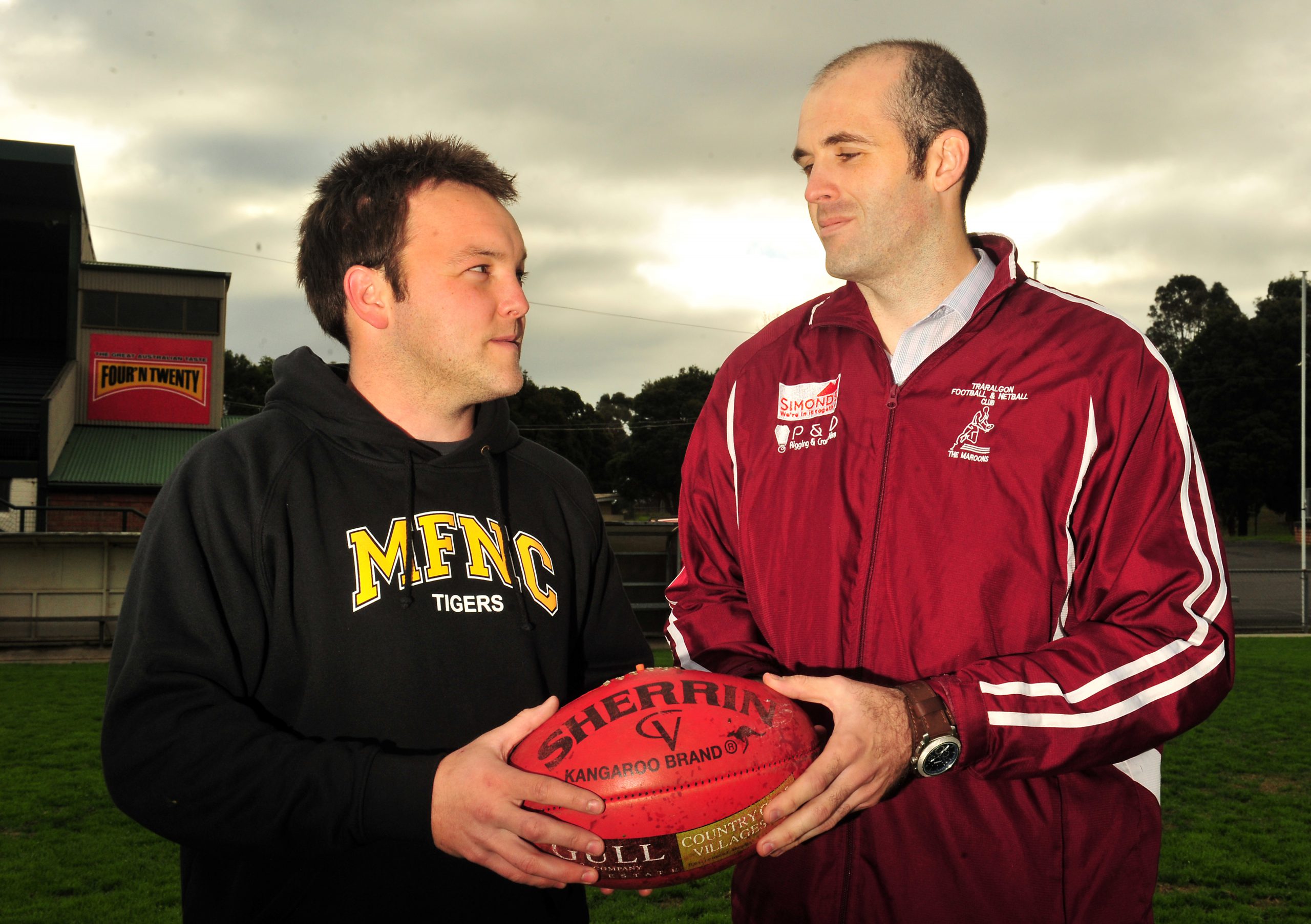 FOOTBALL
GIPPSLAND LEAGUE
by SAMUEL DARROCH
FORMER Carlton great Brendan Fevola stands between Morwell and an eighth straight Gippsland League win on Monday in the Tigers' third Queen's Birthday clash against fervent Valley foe Traralgon.
The multiple All Australian forward's inclusion continues a recent tradition of ex-AFL star appearances in the fixture, following Jason Akermanis' success in black and yellow last year.
Morwell has just one win from seven trips to Traralgon in the past five years, and Maroons captain Jaime Aitken said his side always lifted against the Tigers.
"It's obviously big, Traralgon and Morwell is always probably the biggest game outside of finals," he said.
"We're pretty excited to play them at the top of their game… any game we play Morwell is a big game for us and usually a big crowd so we get ourselves up and about for it, Queen's Birthday or a normal round, it doesn't really matter."
The threat of Fevola is the focal point of the match Traralgon's X-factor faces the daunting task of breaking down the competition's second best defensive outfit.
"He'll bring a strong option going forward and hopefully he can kick a bag of goals for us, that's probably what we need to beat Morwell with their strong defence," Aitken said.
"They've got a good structure, good game plan and good midfield, so if we shut their midfielders down and kick it down to big Fev hopefully he can do the rest for us."
Morwell captain Joel Soutar said the Tigers would look to shut down Traralgon's forward entries to limit Fevola's impact in the blockbuster derby.
"It's always a big clash; (there's) a big rivalry between the clubs," Soutar said.
"It should be an interesting game with big Fev there… if we put the pressure on up the ground and stop the delivery… that would be better for us.
"We've also got some good backs down there with Jack Brown and Julian Blackford and the back six will be working hard, so hopefully they can limit his goal kicking ability (but) he's obviously a class player."
With an abundance of quality across the centre of the park, both captains believe the midfield will be the key battleground.
The rucking duel between Morwell's Tom Crosby and young Maroons sensation Jayden Steers will be pivotal in providing a platform for their respective engine rooms.
"In the midfield Josh Jennings, Tim Northe and co (are) against Joel (Soutar), Adam Bailey and the likes so definitely (it will be) won there and both teams are pretty strong in defence so it will be an interesting game," Aitken said.
"They're up and flying at the moment… so no doubt about it we're going to have to be on top of our game to beat them."
Traralgon will be out for a repeat of the inaugural Queen's Birthday clash in 2011, when it scored a convincing 17.13 (115) to 7.9 (51) victory at home.
The Tigers squared the ledger last year with the aid of Akermanis in a 14.10 (94) to 11.11 (77) win at Morwell.
Amid rampant speculation, Fevola's Blues brother and Gippsland Power coach Nick Stevens said he would not pull on a Maroon jumper for the clash, but may feature for Traralgon in later rounds pending fitness.
The match kicks off at 2.20pm on Monday at Traralgon Recreation Reserve.
For full Gippsland League coverage turn to page 7