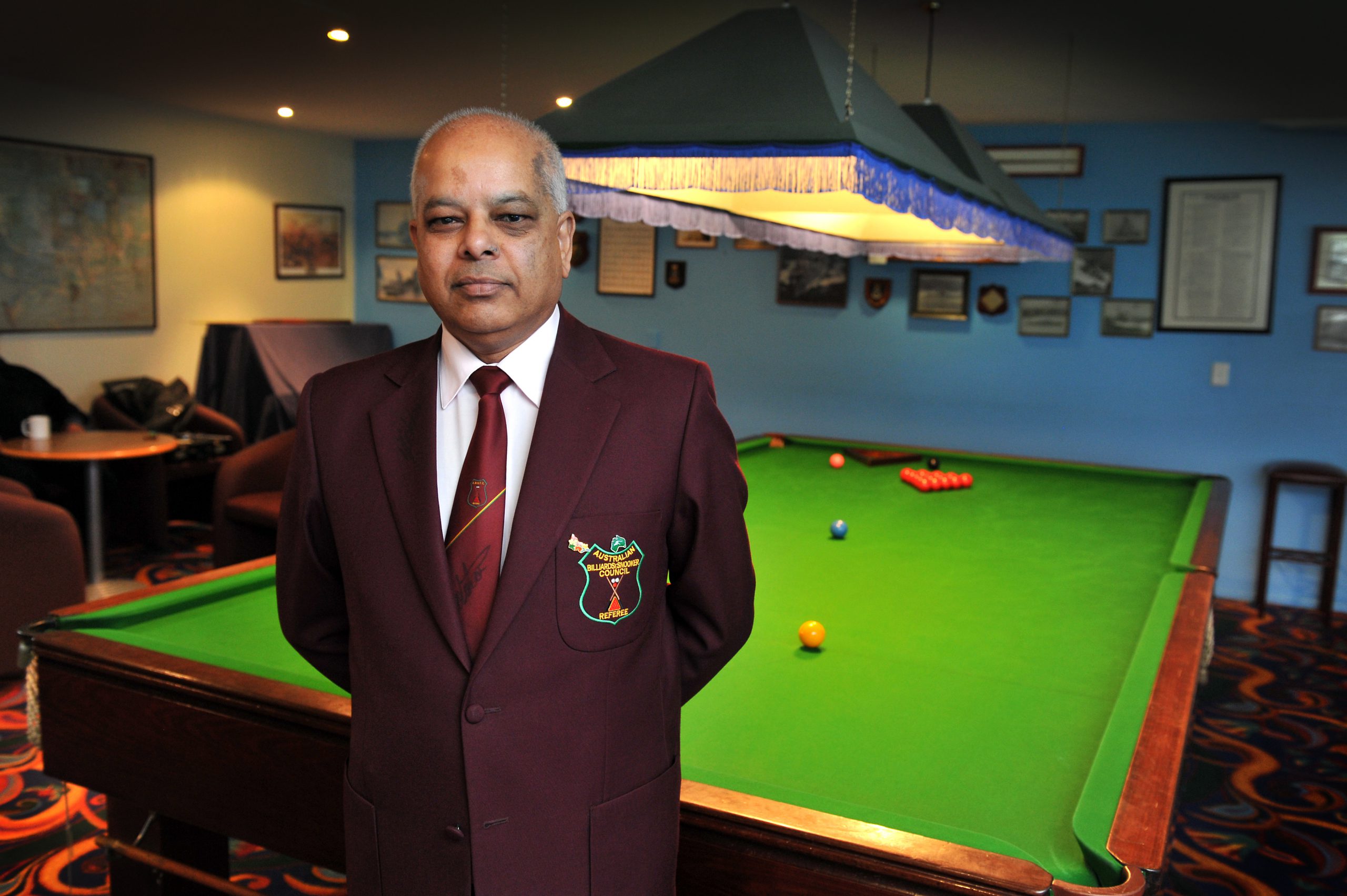 SNOOKER
By samuel darroch
PRAVEEN Chandra has reached the pinnacle of the snooker world and rubbed shoulders with the game's best players, yet is rarely noticed at the table.
For the consummate referee of 35 years, that is the key to his success.
The 58 year-old class two umpire will don his iconic maroon referee's blazer in China next month to officiate the under 21 IBSF World Snooker Championships as the only international representative from the Australia-Pacific region.
The Fijian-born, Morwell-based, table game aficionado was selected following his performance at the Australian under 21 championships in April, an honour he has worked toward for the past five years.
"This is the first time I've been given the ticket; it's a privilege to be chosen," he said.
"This will be the very first time that I've gone to officiate on a different level so to speak and having to represent Australia is… a feather in the cap."
Chandra is no stranger to the international stage.
He became the first IBSF-qualified referee in Fijian history and has officiated across China, Indonesia and Singapore.
In Australia, he has refereed the greatest number of frames in sanctioned national ranking tournaments.
"I've travelled throughout Australia and other parts of the world and wherever I am I have my maroon jacket… gloves… and people go 'ah, we have a referee'," he said.
"The experiences that we do get by meeting people, knowing people and getting their opinion saying 'hey, that guy did a great job' (are great), they really appreciate what we do.
"You get international recognition for doing something like this."
Chandra's decorated umpiring career began at the close of his sporting life, when injury forced him to give up squash, golf and other athletic disciplines in his mid-20s.
Watching through the windows of Cabramatta pool halls, Chandra became intrigued by snooker, but was told at 25 he was "too old" to become a player, and instead should consider officiating.
After a series of exams Chandra became qualified and has not looked back, umpiring, coaching and playing around the world.
A cherished memory was receiving his maroon jacket, a prestigious symbol of proficiency offered to umpires who have presided over three national ranking tournaments.
"Then you get years and years of enjoyment as a referee and as an official," he said.
"When people see a maroon jacket… people know the maroon jacket."
Qualified to referee eight ball, nine ball, 10 ball, snooker, billiards and Carrom, Chandra is an active member of the Latrobe Valley amateur Billiards and Snooker Association as a player, umpire and prominent junior coach.
The dedicated specialist has officiated at all state and national titles from 1987 to present, mostly in Melbourne, which he visits up to twice per month to umpire, covering up to 20 kilometres on foot around the tables in a single event.
"They're long hours, you start at 9am in the morning and sometimes finish at 1am (the following) morning; it depends on the quality of the match and the player," he said.
"It has given me a lot of pleasure, especially when you see the younger people come along and look upon you and say thank you.
"It's like any other sport at elite level; no players and no referees means no sport."
As a pensioner with little funding support for his journey, Chandra is now seeking sponsorship in order to reach the world championship.
"The sport is still a grassroots sport in Australia; we've got the world number two player in Australia (Neil Robertson) but we don't get much support," he said.
To help him realise his goal, or for more information about snooker and billiards in the Valley, phone Praveen Chandra on 0422 728 838.