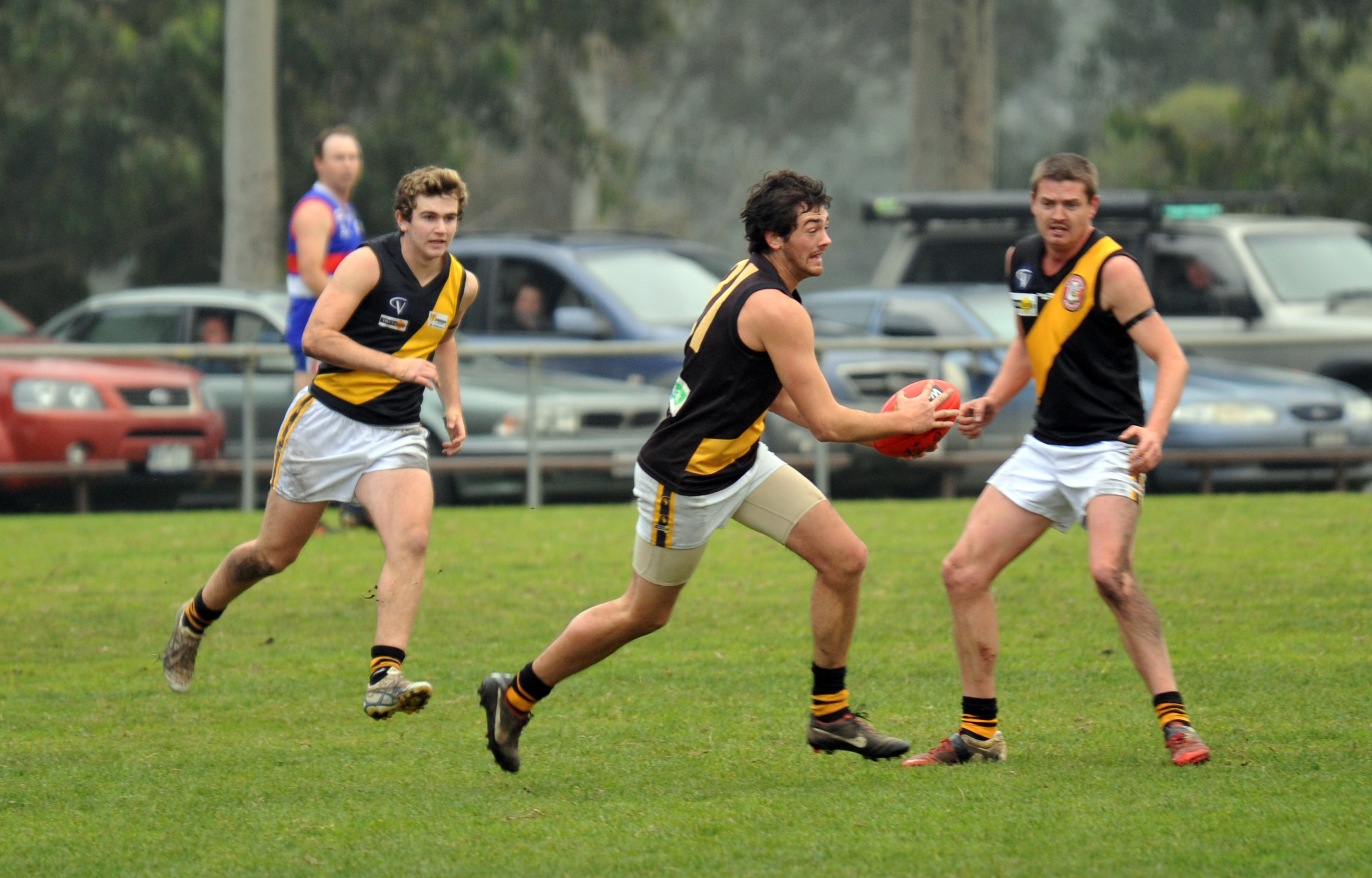 THE pressure will be on Trafalgar when it meets Mirboo North in Mid Gippsland football's match of the round on Saturday.
Bloods coach Chris Kyriacou said the team's season was on the line.
"If we lose this week we'll probably lose the double chance… so we're going to see who wants to be there," Kyriacou said.
He said it had been frustrating to see the side play inconsistently, with the boys not rising to the level of opposition teams.
"The mentality and attitude's really got to turn around. We've just been relying on ability for too long and we've got to play with a bit of passion, a bit of spirit and get that hunger back, because it's just not there," Kyriacou said.
Mirboo North coach Troy Hamilton said this weekend was a "massive" game.
"We have not beaten Trafalar in four years, so it is a massive game for us," Hamilton said.
"We want to keep our momentum going; it is going to test our depth, but new guys keep coming in and doing the job."
"I think we can win and put a couple of games between us and second and third."
Hamilton said after injuries to Tiger Jake Nash (knee) and teammate Alex Windsor (hamstring), he expected to lose a few players, but also to get some back, including Stuart Keel and Dane McGennisken.
Yallourn Yallourn North v Hill End
Yallourn Yallourn North takes on Hill End at the Bombers' home turf this weekend.
Last weekend's comfortable win over Thorpdale was in line with Hill End's efforts to make finals, and to do so the side must defeat its next five opponents.
YYN's goal of winning a few more games before the season's end will take a lot of hard work, but a home ground advantage should help them this weekend.
The Bombers' slow start against Morwell East last week ensured they were thoroughly beaten and will need to switch on from the start against the Hillmen.
Yarragon v Morwell East
Morwell East travels to Yarragon on the back of two consecutive victories and will hope to extend its winning streak.
Hawks coach Paul Henry said he hoped a good even performance from his side would lead to another win, but expected a tough game.
"I know they're not trekking the best, but you just can't take those games lightly," Henry said.
"So we'll be doing our best to make sure we're switched on and ready to go."
The realistic opportunities for a second win are drying up for Yarragon, which will have to work hard at home to make a real shot of this match.
Thorpdale v Newborough
Newborough coach Allan Chandler said his side has shown improvement after narrowly going down to Mirboo North, who had "smashed" the Dogs in round three, but it was not enough.
With Newborough's sights focused on finals football, it must also make sure it does not let its guard down against the teams on the lower half of the ladder, and Thorpdale begins a run of those this weekend.
The Blues put in a disappointing effort against Hill End and will be out to improve and be competitive with Newborough.
Yinnar v Boolarra
Fourth meets fifth when Yinnar takes on Boolarra.
Both teams are one game behind Trafalgar and Newborough and a win on Saturday, depending on the outcome of the Mirboo North and Trafalgar clash, could see the winner pushed into third.
Yinnar coach Sam McCulloch said while he was thinking about finals, he was taking it one game at a time and the team was focused on their match against Boolarra.
"We just focus on beating Boolarra first, and we can't control any of the other results," McCulloch said.
"As far as the ladder goes it would be great to be in the top three, but I suppose we have just got to concentrate on winning every game we play and everything else will take care of itself."