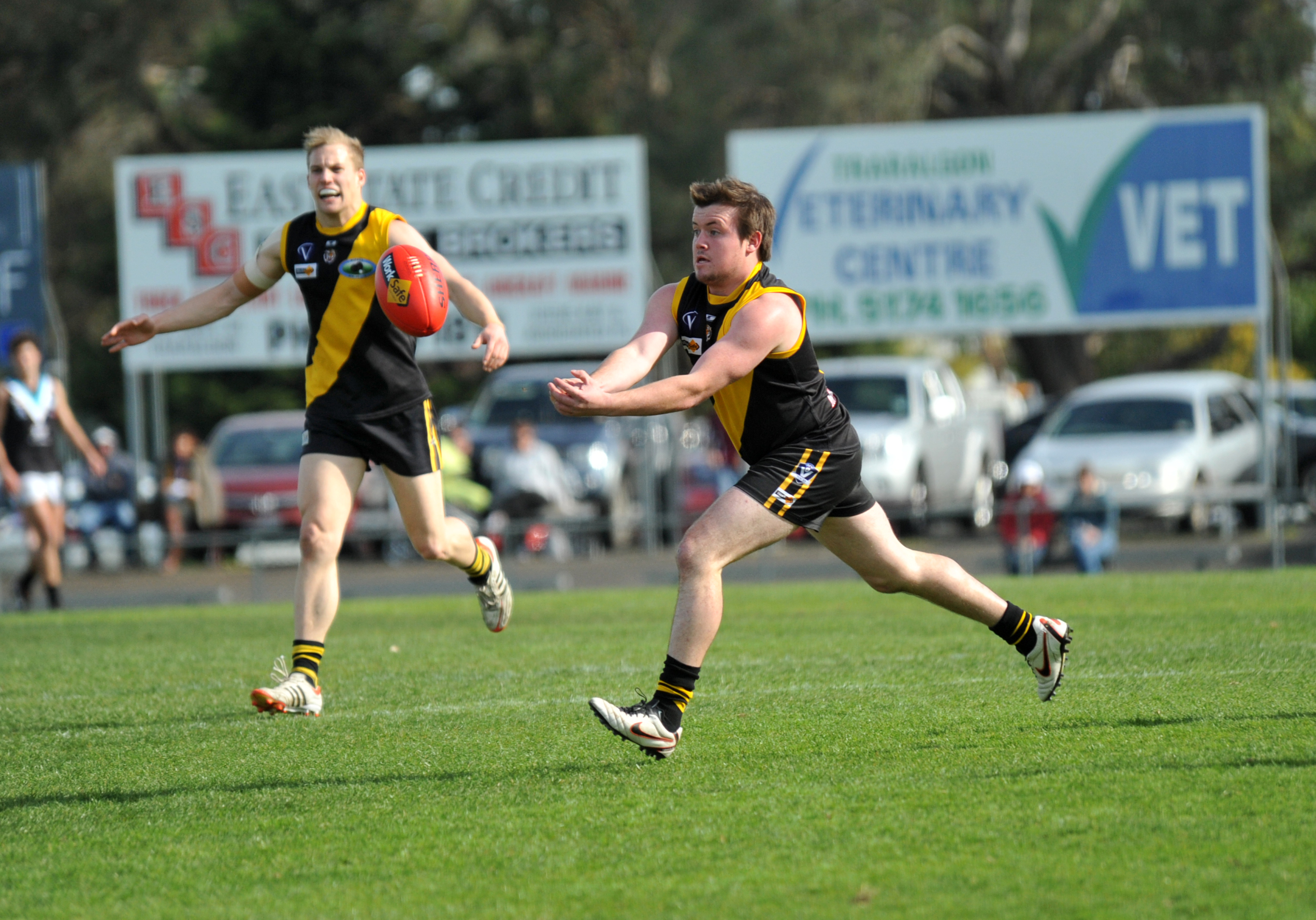 AFTER accounting for Morwell once already this finals series, Maffra coach Hayden Burgiel is confident of burying the Tigers in Sunday's preliminary final at Morwell.
"I think we know how to beat them. They (Morwell) will have to change their game plan to hamper us," Hayden Burgiel said.
This weekend will mark the seventh time Morwell and Maffra have met in a final.
It will, however, be a day of firsts; it is the first time in the competition's history that the Tigers and the Eagles have met twice in the same finals series and the first time they've played in a final at Morwell.
Tigers coach Harmit Singh said he would be lying if he did not think there was some advantage to playing a home final.
"It would be wrong to say it is not of benefit to us but I think Fremantle showed last weekend against Geelong that if you just do your bit and play the way you want to play you will get a win. So I don't think that will bother Maffra too much at all," he said.
Burgiel said while it is a disadvantage, the Morwell ground would fit with his team's playstyle.
"It's always an advantage playing at home but I think if we play well it won't matter. It is a big ground and it suits us," he said.
Having won its home and away season clashes against the Eagles, by respective margins of 23 and 20 points, the Tigers have plenty of reasons to be confident.
However a 27-point loss to Maffra in their most recent encounter, the qualifying final a fortnight ago, will be at the back of the less experienced Tigers' minds.
"I guess they won the last one so they are full of confidence," Singh said.
"We will just try to address our ball use. It wasn't great at times that day but they are a good team. We went and watched them last Saturday and they really took it up to Sale… we will have to get better to beat them."
Burgiel, who will return to the line up after missing last week's semi-final due to a back related hamstring injury, said the Eagles outfit would closely resemble the one which beat Morwell last fortnight.
Maffra must stop Tiger forward Dean MacDonald who booted an impressive nine goals in their last encounter, a league record by any player in a qualifying final.
The Eagles themselves have no shortage of forward targets; Darren Sheen booted a bag of seven that day in his first finals appearance at the club.
Sheen and his offsiders Adrian Burgiel and Daniel Bedggood were quiet during last week's second semi-final in conditions that hardly suited the fast scoring Eagles outfit.
"We'd certainly like it a bit drier," Burgiel said.
The coach was critical of the umpiring which he said contributed more to the loss than wet conditions.
"I think we got crucified by the umpiring decisions… I have the reviewed the game and it was mostly umpiring decisions that got them the goals," Burgiel said.
Morwell has won four of its six finals against Maffra.
The sides have not met in a preliminary final since 1988, on that day Morwell came out on top 6.15 (51) to Maffra 6.3 (39).
The winner this week will secure the remaining spot in next Sunday's Gippsland League grand final against Sale.