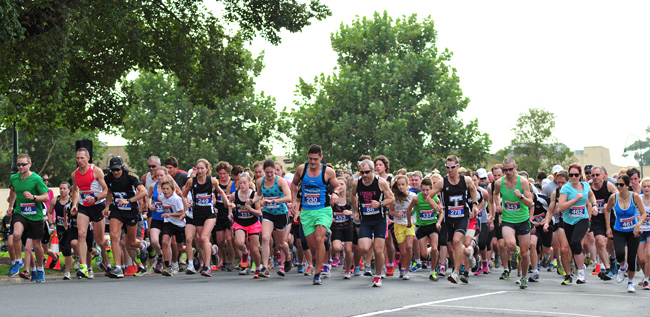 RUNNING
IN one of the Latrobe Valley's bleakest periods a fantastic sense of community and spirit shone through at the 2014 Traralgon Harriers – Latrobe City Community Fun Run and Walk yesterday.
As smoke and haze kept many indoors, entries were light on at 150 a week out from the event, but the community rallied behind the cause with 492 registrations, raising upward of $5500 for Gippsland Rotary Centenary House.
Organiser Will Hanrahan said the run was an uplifting "feel good" event, as schools, businesses and individuals turned out in force.
"There was such a great atmosphere and relaxed mood among the crowd which included people of all ages, individuals, families, teams from schools, workplaces and sporting clubs," Hanrahan said.
Held in Kay Street, Traralgon on a closed road circuit the kids were first off the starting line at 9am with 27 completing the 1.5 kilometre course and many displaying a grin from ear to ear.
Competitors for the 5km event lined the street to cheer the children off before clapping them across the line at the finish.
The winner of the 1.5km event, Matthew Trickett, would not have been out of place over the longer distance, clocking six minutes and 39 seconds.
Mitch Hauxwell-Te Paa and Jack Murray battled for the minor placings in 6.56 and 7.07 respectively.
In the under 12 girls, Chyna-Lace Bailey and Stephanie Graham were split by only nine seconds with times of 7.49 and 7.58.
Third place came from under eight entrant Jazmine Sanders in a time of 9.11.
The 5km saw a huge cross section of runners and walkers spread out over the course.
A variety of team entries added colour and comraderie to the street, joining in with families and individuals.
For the more serious runners, the electronically timed course was straightforward but by no means easy, with the Kay Street hill slowing progress.
At the front, Stephen Rae stopped the clock first in an impressive 16.59, beating home fellow open category male runners, Robbie Lawler and Rob Preston in 17.35 and 17.59 respectively.
The first female runner home was Sarah Lewis in 20.29 with Hilary Meyer (20.50) in second place and Molly Irvine close behind in 21.07.
Awards for group participation went to Kurnai College (51), Gippsland Water (50), and Gippsland Road Runners (47) respectively.
Hanrahan said the event was a team effort and would not have been possible without the support of the local Rotary Clubs, Latrobe City and Traralgon Harriers.
Full results and photographs are available online at
www.traralgonharriers.org.au