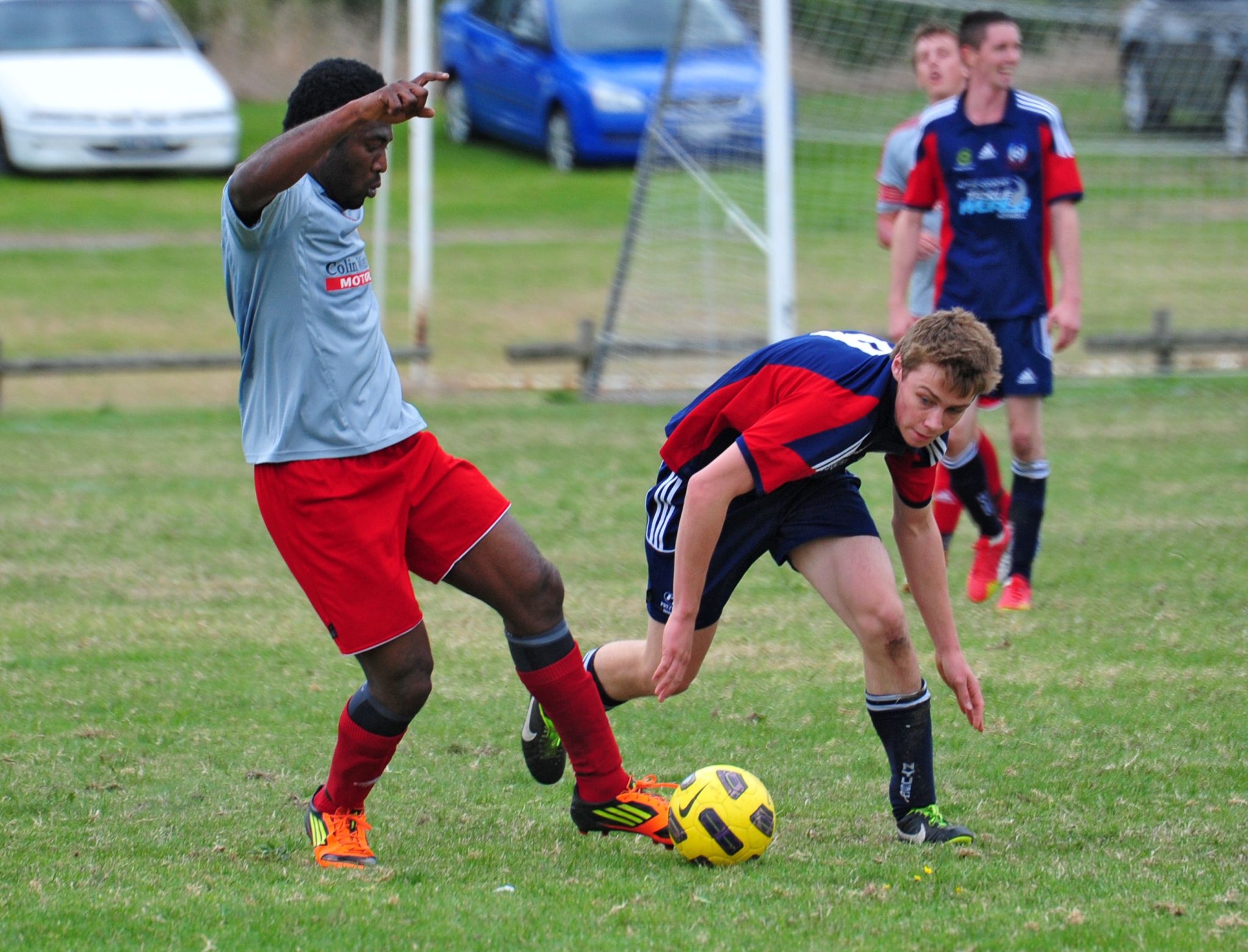 SOCCER
GIPPSLAND SOCCER LEAGUE
SALE'S Tommy Nguyen and Falcons 2000 striker Jesse Kennedy jumped clear in the golden boot standings with six and four goals respectively in round two of the Gippsland Soccer League.
Churchill v NYU
A Churchill side featuring two starting debutants rolled past Newborough-Yallourn United 6-0 on Sunday.
Ray Myers made his first appearance at right back, while youngster Mitch Azlin started in midfield.
The Rams set the tone early, scoring within the first five minutes when the Combine put the ball into the back of their own net through the influence of Ben Skinner. Taylor Jackson followed with a strike soon after and when NYU's Adam Batt saw red for a late challenge on Azlin just before half-time, the game appeared to be well in hand.
Skinner notched a second goal before the break to make it 3-0, and the Rams continued the onslaught against 10 men in the second.
A third Rams debutante, Matt McGrath, came on for Skinner at the 66 minute mark.
Goals to Paul Riess, a trademark Matthew Maselli free kick and one to Azlin capped off a 6-0 win for the Rams.
Churchill now travels to arch rival Fortuna on Saturday night in what should be an epic tussle.
Falcons v Monash
Falcons Park witnessed a master class by striker Jesse Kennedy on Sunday afternoon as a rampant Falcons 2000 thrashed Monash 5-0 to make it two wins from two for the season.
The Falcons faithful have seldom witnessed such devastating form from their side and have reason to be optimistic for the season ahead following a clinical performance against last year's grand finalist.
The home side gave a sign of things to come within the opening five minutes when both Kennedy and coach Nick D'Alessandro had gilt-edged chances that brought no reward.
It did not take long for Kennedy to make amends, as he astutely lobbed oncoming Monash keeper Ross Johnson from 25 yards to make it 1-0.
Monash had their chance to equalise from the penalty spot but the resultant dot shot rattled the woodwork.
Falcons then received their own penalty minutes later when Kennedy was felled in the box and he made no mistake in grabbing his brace.
The birds continued to attack in numbers and Kennedy completed his hat-trick before half-time when he back-heeled a deflected cross into the back of the net.
Monash came out firing in the second half and had several chances to pull one back but the birds' keeper Adam Brooker stood resolute and ensured a second straight clean sheet for his side.
With 20 minutes to go Kennedy helped himself to a fourth with a simple tap in and had a hand in the fifth as his cross was deflected into the net.
Moe v Traralgon City
FRESH from a great escape with two late winners against Monash, Moe came out hard in the opening half in search of an early goal.
Samuel Gatpan provided the platform with a nicely taken left foot finish from inside the area to put City 1-0 down.
The Red Devils pushed on as Kevin O'Farrell narrowly putting a header wide, before new signing Ashley Birrell struck the crossbar with a fierce left foot effort from long range.
The second half was a much tighter affair with few shots from either side as the young Roosters began to push Moe deep into its own half.
A penalty was awarded to City after a challenge by Lee Dastey inside the box, which was converted by Mark Fairbrother to tie the score at 1-1 with 10 minutes to play.
Moe needed to find a goal and for the second week running got out of jail.
In the dying minutes Lachlan Mckenzie put in a corner and a smart flick on by Matt Shearing saw Nick Dastey smash the ball into the net from a few yards out to give Moe all three points.
Sale v Tyers
Hat-tricks on either side of half-time to Tommy Nguyen helped Sale to a healthy 9-0 drubbing of Tyers.
Playing their second consecutive game at Godfrey Baldwin the Swans were out to keep their 609 day unbeaten streak at home intact.
Buoyed by large wins in the reserves and youth grade, it did not take the senior Swans long to get into stride and within minutes was forcing James Nicolopoulos into a string of saves. After 15 minutes the dam wall was broken and Sale was on the score sheet with a classy finish by Nguyen.
Tyers had no answer for the stylish youngster who went on to complete a first half hat-trick with goals also coming from Dean Nichols and John Piefke, as the Swans reached half-time five-nil up.
Sale's devastating attack continued to pressure in the second half and added four more to the score sheet as Nguyen brought his tally to six for the day.
The scoreline could have been significantly worse; the Swans found the back of the net another six times but each was ruled out for offside.
The end result was another clean sheet and another three points for the green army.
Olympians v Pegasus
Morwell Pegasus earned its first point in the GSL central division with a 2-2 away draw with Olympians.
The visitor went 1-0 up through an own goal before Pegasus keeper Leon Cooke misjudged a cross allowing Olympians to tap in an equaliser.
Alradi Ali danced past Oympians keeper Ben Johnstone to put Pegasus up 2-1 at the break, but the home team made it 2-2 in the second half after a failed clearance from substitute Ben Cassar.
Both sides hit the woodwork on multiple occasions in a hard fought encounter.
"It was very good to get first points, now were just looking for this win," Pegs coach Cassar said.
Pegasus youth bounced back from a 10-0 loss to Falcons to win 2-1.
GSL round 3
Fortuna 60 v Churchill United Crinigan Road South (Saturday 7pm)
NYU v Sale United Burrage Reserve (Sunday 3pm)
Falcons 2000 v Moe United Latrobe City Sports Stadium (Sunday 3pm)
Monash v Olympians Monash Reserve (Sunday 3pm)
Tyers SC v Traralgon City SC Tyers Rec Res (Sunday 3pm)