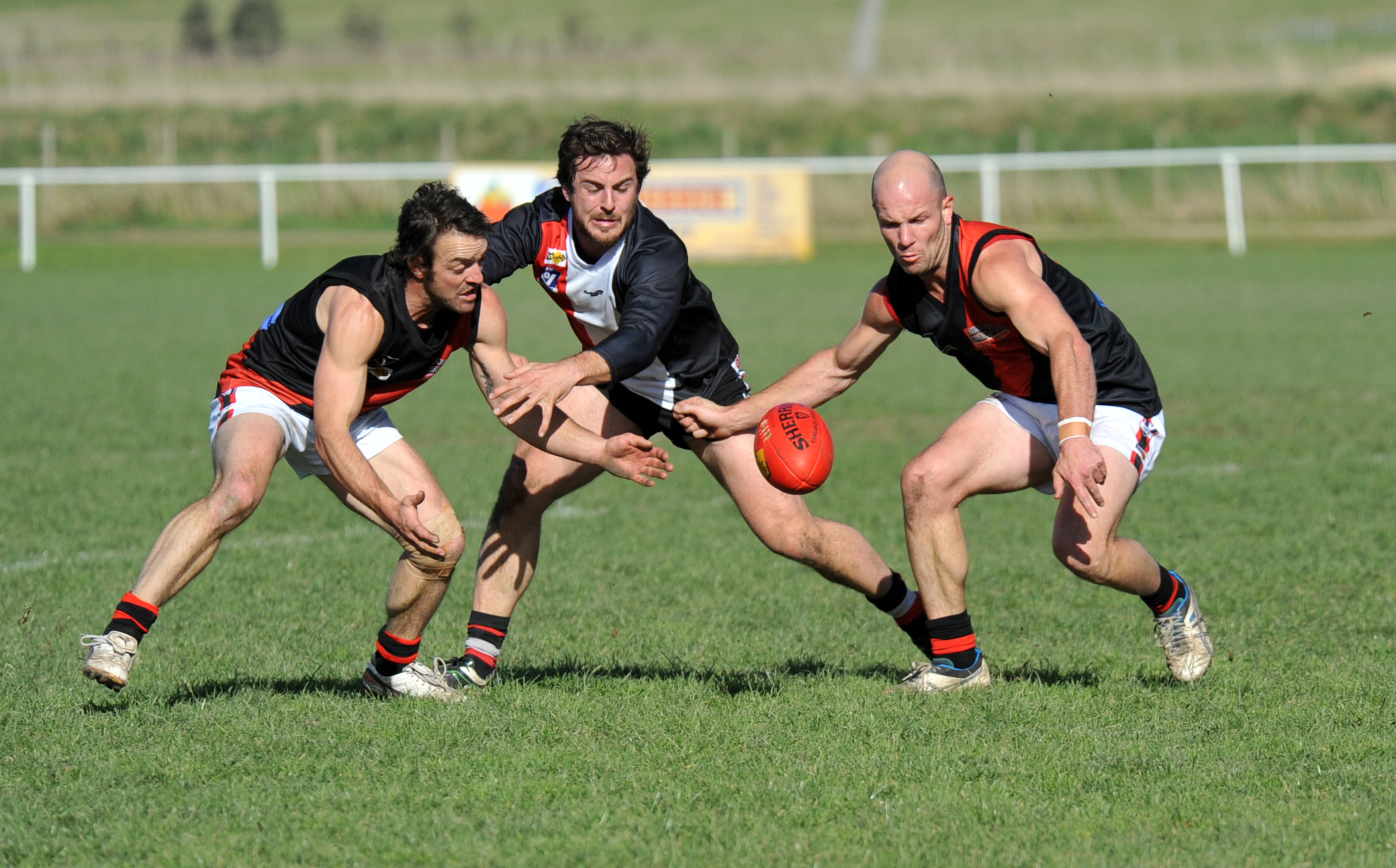 RELATED COVERAGE: Magpies top of the pecking order
YARRAM
Coach: Griffin Underwood
Round one: Traralgon Tyers United
New kids on the block Yarram will make its debut in the North Gippsland Football Netball League when it hosts Traralgon Tyers United. Appointing former local and one of the club's most decorated juniors, Griffin Underwood, as senior coach, Demons' president Shane Richards said the club was confident of continuing the form of past seasons, which saw it contest finals in the Alberton league.
"Griffin is one of the most decorated juniors we have had at the club, he has played interstate and represented Victoria, he loves footy and just loves playing," Richards said.
Ins: Michael Lush (Glengarry)
Outs: none
HEYFIELD
Coaches: Adrian Cox and Damien Birss
Last season: Runner-up/first
Round one: Glengarry
In his third year at the helm of the Kangaroos', Adrian Cox ensured his club once again dominated the competition, with Heyfield advancing to consecutive grand final appearances with a strong game plan rattling opposition sides.
While the day did not go the way of Heyfield, the man at the helm will not be content on the side slipping backwards.
"There is no denying that the grand final loss hurt the club and players, it has driven the guys over the pre-season to train harder and be fitter than what they were last year," Cox said.
Ins: Lucas Jenkins (Yarram), Brett Hudson (Sale), Josh Scott (Kangaroo Flat)
Outs: Jordon McMillan (Maffra), Jesse Leeds
TTU
Coach: Matt Stolarczyk
Last season: Second
Round one: Yarram
The Bombers were by far the biggest improvers in 2013, finishing the season in second place, some five places higher than the year prior. Returning to the club to address the "unfinished business" he had, coach Matt Stolarczyk catapulted the side back into finals for the first time since the club's premiership season in 2004.
"It's hard to say just where we will be right now, we know there is room for improvement and we are aiming to correct a few things from last year," Stolarczyk said.
Ins: Jake Power (Rosedale), Ryan Jacobson (Traralgon), Ashleigh Dugan (Traralgon), Mark Gibb (Kilsyth), Michael Hincksman (Mooroolbark)
Outs: Sky Hammer
GLENGARRY
Coach Ryan Potter
Last season Premiers/Third
Round one Heyfield
Reigning premier Glengarry won only 11 games during the 2013 home and away season, however it all proved irrelevant when the side held aloft the premiership cup.
Coach Ryan Potter will field a new-look side in Saturday's grand final replay when just 10 premiership players take to the field.
"We have lost a number of players for different reasons; Lochie Little and Matt Royal have stepped up to Gippsland League and Michael Lush has headed to Yarram. I'm quite excited to see how others in the side stand up and to see the development of a number of the talented thirds kids we have," Potter said.
Ins: Stuart Brooks Traralgon
Outs: Lochie Little (Morwell), Matt Royal (Morwell), Michael Lush (Yarram), Dermott Berkhout (Woodside)
CHURCHILL
Coach: Allan Chandler
Last season: Fourth
First round: Rosedale
It has been more than a decade since league powerhouse Churchill has been coached by an outsider with past club champions assuming the reins in recent times.
Despite being a newcomer to Churchill, former Newborough coach Allan Chandler is ready to take command of a talented list.
"I am aware there was a log jam of seven sides last year that made a bid for finals, and I would hope that with the recruits we have secured that the side would be part of that again," Chandler said.
Ins: Allan Chandler (Newborough), Chris Weller (Newborough), Matt Burney (AFL QLD), James Haywood (Nilma Darnum), Dillon Leys (AFL Townsville)
Outs: Daniel Hawking (Fish Creek)
ROSEDALE
Coach: Nick Leechino
Last season: Fifth
Round one: Churchill
Nick Leechino is confident with a solid pre-season behind them and a number of new recruits who add depth to the side, the Blues are set to be again among the top of the pecking order. Leechino has put pen to paper securing personnel to fill the void of the departing trio of Brad Caldwell, Chris Graham and Jake Power.
Ins: Dale Fleming (Traralgon), Wade Zimbolani (Vic Amateurs), Josh Reid, Mitch Marino, Brandon McConnell, Mick McKay, Danny McIntosh
Outs: Jake Power (TTU), Brad Caldwell (Maffra), Chris Graham (Wyndhamvale)
COWWARR
Coach: Luke Cooper
Last season: Sixth
Round one: Bye
Last season Cowwarr marched up the ladder, however costly losses caught up with the side as it found itself two points shy of a finals berth.
The omission of a number of key players including forward dynamo Tim Johnston and midfielder Jordan Burke to Traralgon may see the Saints left wanting, and back among the pack. But do not be deceived, with the list another year older the Saints know that their premiership window is open.
Ins: None
Outs: Tim Johnson (Traralgon), Jordan Burke (Traralgon), Jordan Sandy (Gormandale), Luke McLean (Gormandale)
WOODSIDE
Coach: Chris Pettit
Last season: Eighth
Round one: Boisdale-Briagolong
A kick after the siren in the final round of the home and away season sealed the fate of the Wildcats' final ambitions.
"To narrowly miss out on finals was devastating; it certainly has made the guys hungrier for this season," coach Chris Pettit said.
"While we have lost a couple of guys, those that we have recruited, including former players Ryan Foat, Luke Anneda and Shane Kilgower will really help further the depth in our squad."
Ins: Ryan Foat (Maffra), Luke Anneda (Boolarra), Demout Berkhout (Glengarry), Jack Doderico (Maffra), Shane Kilgower
Outs: Rob Michaelides (Morwell), Stephen Lambert
GORMANDALE
Coach: Luke Henderson
Last season: Ninth
Round one: Sale City
Gormandale will be guided by non-playing coach Luke Henderson who will enter his second season at the helm.
Enduring a lean 2013, the Tigers were competitive in patches but found themselves with their backs up against the wall more often than not thanks to injury and player availability.
Ins: Toby Thornton (Woodside), Jordan Sandy (Cowwarr), Chris Bell (Boisdale-Briagolong), Kai Alwan (Noble Park), Luke McLean (Cowwarr)
Outs: – David Ivey (Yallourn North), Daniel Rissol (Newborough), Andrew Winter (Hill End)
SALE CITY
Coach: Hayden Burgiel
Last season: Ninth
Round one: Gormandale
There has been a changing of the guard at the kennel, which sees decorated Gippsland League Maffra premiership player and coach Hayden Burgiel swap leagues and take up a new challenge. Inking a number of signings, it is the club's second and third year players that Burgiel is looking for big things from, with the coach highlighting Nick Grainger, Mitch Bennett and Byron Shingles as key to the Dogs' tilt at finals.
Ins: Coach Hayden Burgiel (Maffra), Brendon Rathdow (Sale), Michael White (Boisdale Briagolong), Keiran Lamond (WA Amateurs), Shay Ferguson (Sale)
Outs: Joel Brayshaw (Stratford), Luke McNally
BOISDALE-BRIAGOLONG
Coach: Dean Pratt
Last season: 10th
Round one: Woodside
Boisdale-Briagolong has secured the services of Dean Pratt, who is no stranger to the club having played in the red and black strip as junior.
Pratt understands it is not going to be an easy gig, with the side starting way behind the leading pack.
"It's not going to be easy when you think where we are coming from, it is going to be tough and we know that the side will have to work hard," he said.
Ins: Matt Lee (Maffra), Josh Tate (Heyfield), Sam Howden (Lindenow South), Jayden Pratt (Maffra), Michael Harrington (Lindenow South)
Outs: John Gooch (Sale), Michael White (Sale City)