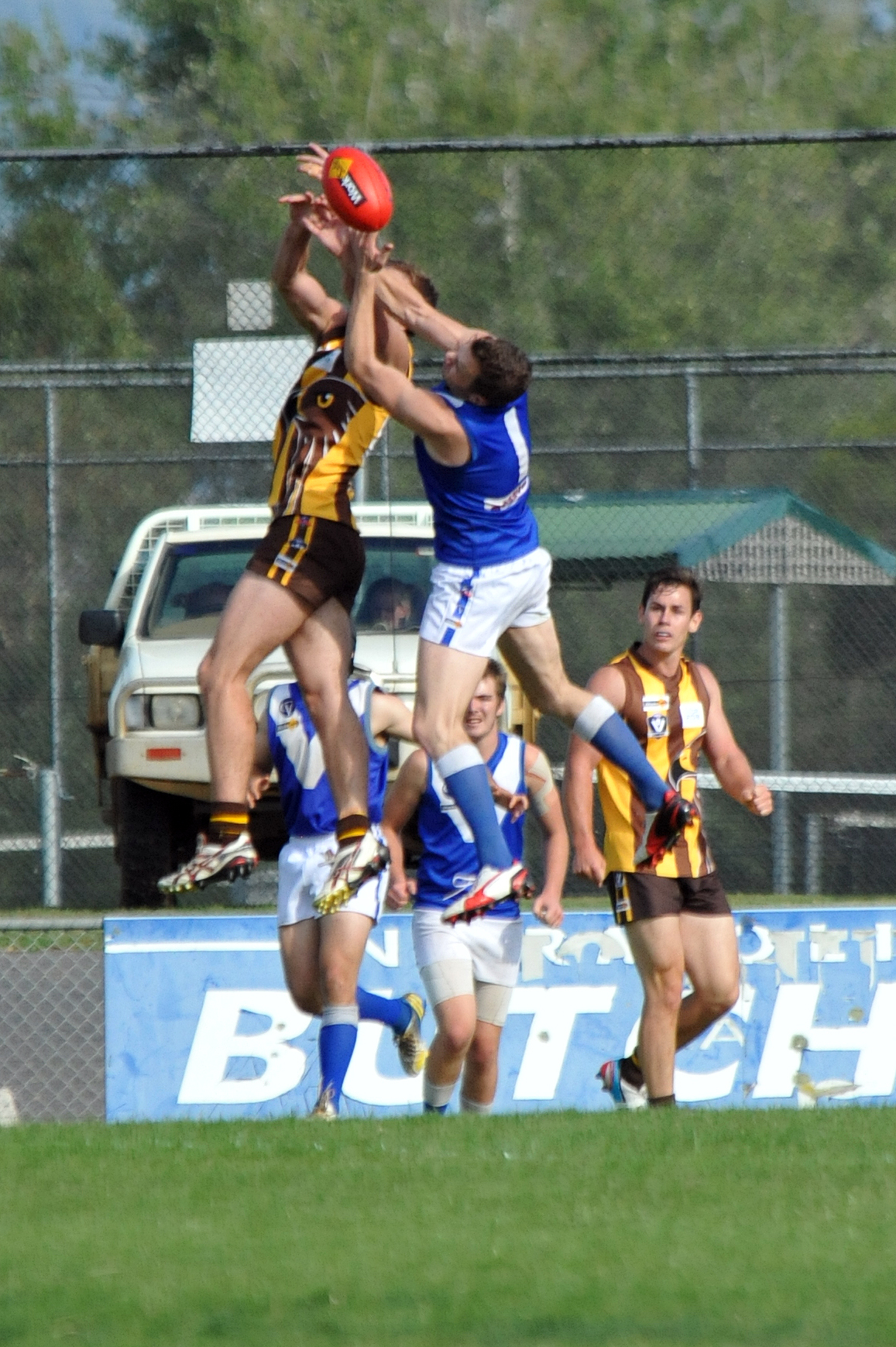 FOOTBALL
MGFL
Mirboo North v Newborough
It was wedding day blues for reigning premier Mirboo North when it fielded a sub-standard senior team against 2013 grand final nemesis Newborough due to all but four regular players attending a marriage ceremony.
The undermanned Tigers were no match for the Bulldogs who savaged the premier at every opportunity.
With at least five new players in the line-up Newborough was far too strong and ran out 129-point winners.
By half-time the match was done and dusted after Newborough surged to a 58-point advantage.
Led by new coach Glenn Michie and Daniel Risol, both returning to their former club, the Bulldogs continued to rip the Tigers apart in the second half.
Slick ball work and positional play saw Newborough add 7.3 (45) to 1.1 (7) to decimate the premier in the third term.
Mick Gelagotis, back after a year away, found his target to finish with four goals, while five players kicked three each in the 24.18 (162) total.
Newborough finished off with a lazy 6.3 (39) to 1.0 (6) in the final quarter to easily reclaim the Ron Skinner Cup.
Mirboo North should be back to full strength for round two, and will be out to rectify their round one embarrassment.
Morwell East v Thorpdale
Morwell East was able to overcome few scoring opportunities and a persistent Thorpdale side in the closest match of the round.
The Hawks won by 24-points as the Blues squandered their opportunities, at one stage kicking seven consecutive behinds.
Morwell East led at every change and at three-quarter-time had built a comfortable 43-point buffer.
Thorpdale found its spark in the fourth to score an impressive 6.2 (38) to the East's 3.1 (19) but could not make up the deficit in a 9.14 (68) to 14.8 (92) final scoreline.
Shaun Barnes booted four goals for the Hawks, while Brad Soutar, Frankie Marks, Matt Brown and Jack Brown were best on ground.
Yarragon v YYN
With a fistful of Garfield players on board Yarragon won at Yallourn Yallourn North for the first time since 1998.
The Panthers were jubilant after the game, which had little in it all day; 24 points was the greatest margin at any point in the contest.
Yarragon is already halfway toward last year's wins tally, and confirmed coach Anthony Pavey's prediction that his mix of new recruits and established players would see a big improvement in the Panthers this season.
Yarragon skipped away from YYN in the first quarter to establish a four goal break but the Bombers, led by coach David Ivey and Tom Hutton, were able to claw back by half-time to within 13.
New players Joeby Boyes and Mitchell Jolly were giving the Panthers great drive and, coupled with Carson Strobel in the forward line, the Panthers kept just ahead of a spirited YYN outfit.
Derek Pol and Tyler Brown were good for YYN but could not stop Yarragon taking the spoils 16.9 (105) to 12.9 (81).
Hill End v Trafalgar
It took Hill End 46 minutes to score its first goal against Trafalgar in an effort the Hillmen will want to forget in a hurry.
Trafalgar struggled early but looked the better side and by half-time had a handy 35-point lead.
The Bloods relied on their established players, who were too good in the final wash up.
A 6.4 (40) to 3.1 (19) final quarter gave Trafalgar and new coach Jason MacFarlane plenty of encouragement ahead of the rest of the season.
Yinnar v Boolarra
Yinnar started from behind against Boolarra, but the longer the game went on the stronger it became.
Marc Van Dyke and Nick Hider dominated early for the Demons but were eventually ground down by the relentless Magpies.
By the first break Yinnar led 4.3 (27) to 2.1 (13).
Traralgon recruit Tim Aitken was a focal point up forward for the Pies and did not disappoint, although Courtney Sherriff put him under continual pressure.
Boolarra was getting the ball into the forward 50 well but poor disposals let it down as Yinnar was able to repel its attacking raids.
Tyler Hillier and Jesse Sleswick were good for Yinnar and when big Jesse Bowe was moved into the ruck he dominated, giving his rovers the opportunity to get the ball forward.
Yinnar got away in a massive six goal third quarter as Cameron Harwood and Sam Mills made hay up forward.
Boolarra seemed to run out of steam but fought through the final term to kick four goals, however Yinnar, with most of the play around its forward line, added a further 4.7 (31) to run out 15.17 (107) to 7.7 (49) winner.
Aitken chipped in with five goals in a promising first appearance.