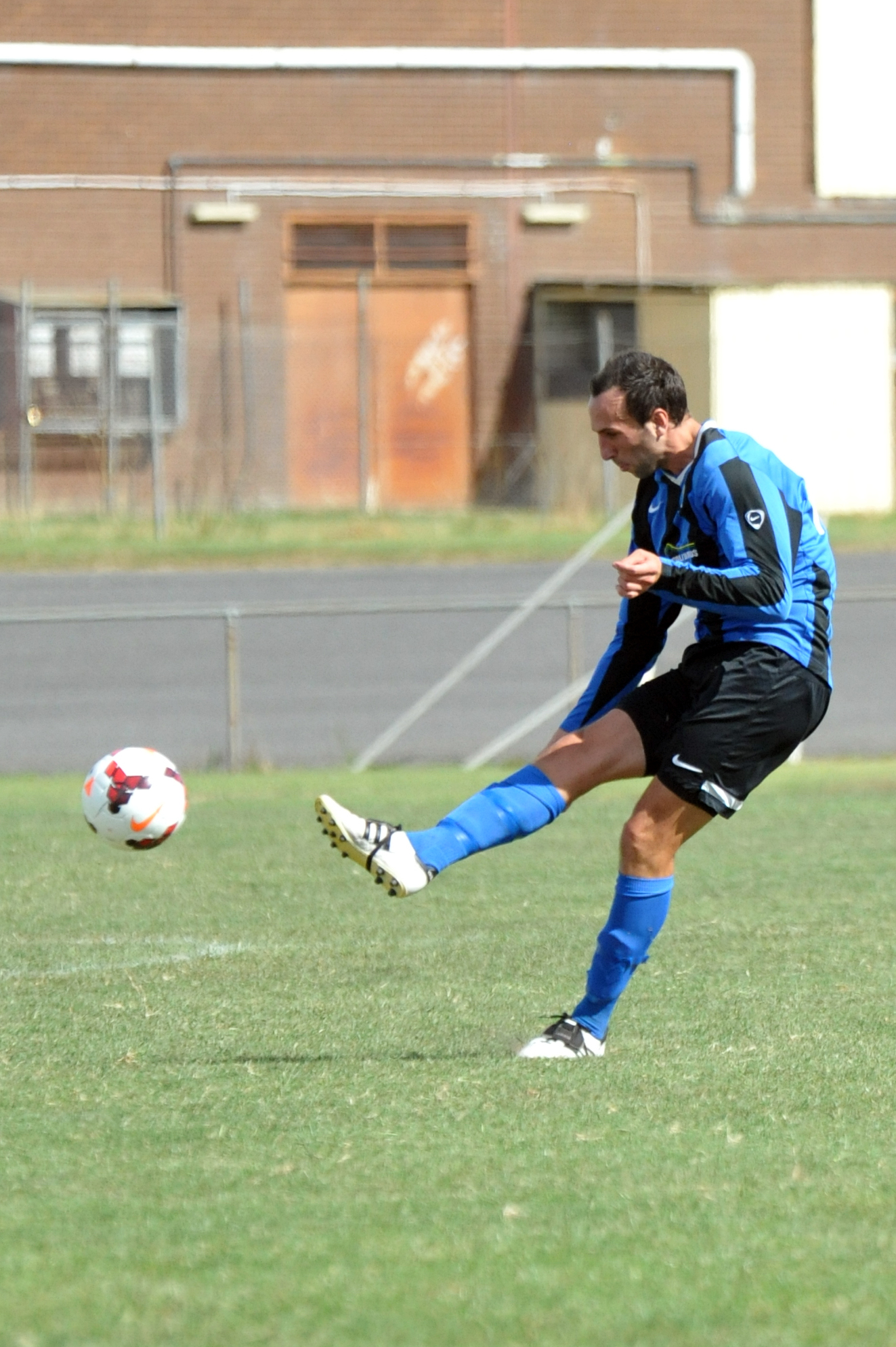 SOCCER
GSL
Churchill v Falcons 2000
The competition's two unbeaten outfits will clash under Churchill's revamped lights on Saturday night on Hazelwood South Reserve's recently upgraded first pitch "the paddock" with league favourite status on the line.
The vastly improved Falcons have already dismissed league champion Moe and grand finalist Monash in the opening rounds, and showed a liking for evening fixtures with a 4-0 drubbing of Olympians prior to the Easter break.
However, coach Nick D'Alessandro said Churchill looms as the greatest test so far for the Morwell club, coming off a two week break after a bye in round five, and a barometer of his team's progress.
"I didn't really envisage this sort of start for us, I knew it was possible, but I'm just really pleased with how it's all going so far – it's a good test but I'm not pinning all our hopes and dreams on one game," D'Alessandro said.
"For us it's just a good measuring stick of where we're at and what we need to improve on."
Falcons is yet to concede in four matches, while Churchill has allowed just one goal in five in a battle of the league's top defences.
Rams coach Steve Riess sees the match as an opportunity to be first past the Falcons posts.
"We know they've got the best defence in the league and one of the best strikers in the league, so we know what the challenge is," Riess said.
"We're pretty confident when we play to our ability we can beat anyone… they've conceded zero goals so we're looking at this as a massive opportunity not just to score against them, but take points off them as well."
Standing in their way is Trafalgar recruit Adam Brooker, who has been immense between the sticks for Falcons thus far, and one of the biggest factors in the club record clean sheet streak.
"That's been a big signing that didn't get much attention at the start of the year for us, he's just bought into everything that we've brought on and wanted to improve," D'Alessandro said.
"Coming from the South Division into (central) has been a good step up for him."
The new coach believes a long and well attended pre-season had been the catalyst for improvement this year across the grades.
The form of striker Jesse Kennedy, who has netted eight of the side's 14 goals, is testament to the response from the playing group, according to D'Alessandro.
"We've had some key players there from the start (of pre-season). To get them in early on and get guys, that typically haven't been at a good fitness level in seasons gone by, this year they've really stepped up," he said.
"He (Kennedy) is very sharp at the moment; I've played with Jesse for a fair while now so I sort of know when he's up and about – he's backing himself and he's a lot more confident."
Churchill has been equally impressive up front, with Paul Riess and Taylor Jackson combining for nine goals to date.
Churchill had a close encounter with a dogged Morwell Pegasus in round four, and D'Alessandro believes the key to breaking the Rams down is a similar brand of pressure.
"They're not just going to give the ball back so that's something we'll focus on, a bit more pressure and try to force them into mistakes, which not many sides can do because they are quite clean with the ball," he said.
"It's up to us to make them panic."
Kick off is 8pm Saturday at Hazelwood South Reserve.
Moe United v NYU
Nothing has come easily for league champion Moe this season, with a series of close encounters and great escapes underscoring its campaign to date.
The champion side has found a way to win in all but one match so far, but will again be tested against a fast improving Newborough Yallourn United.
The Combine did away with Tyers last round, a side which pushed the Red Devils in round four to a 3-2 result.
Matt Shearing bagged a hat-trick against Olympians before the break, cashing in after threatening to unleash in the early rounds.
He and recruit Ash Birrell will be the main threats on NYU's goal.
Sale United v Monash Wolves
The rematch of last year's grand final sees the Swans in much better shape than the wobbly Wolves.
Monash has struggled this season and sits in eighth with one win, having been crushed by Falcons and Churchill in the opening rounds.
Sale on the other hand has gone from strength to strength, barring a hiccup against Fortuna.
The Swans destroyed a hapless Pegasus last round, as golden boot leader Tommy Nguyen added two to his season tally of 12, while Ash Ross and Ray Allred terrorised the midfield.
On form the green machine should dish out a repeat of last year's final triumph.
Morwell Pegasus v Traralgon City
Pegasus will be sweating on the fitness of several key players when it tackles Traralgon City this weekend.
Fielding a second string side against Sale, Pegasus was found out after impressing against league heavyweights Falcons and Churchill.
With three winnable games on the run, Pegasus will be keen for a first victory in the central division, however it will not come free against the Roosters.
City have youth, speed and talent, but are yet to turn it into results with three consecutive draws.
Tyers v Fortuna 60
Tyers has been competitive since Richard Lehrer took over from Con Nicolopoulos and will fancy an upset against an inconsistent Fortuna.
Fortuna knocked Sale off at Godfrey Baldwin Reserve for the first time in some two years, then shared the points with Traralgon City the following week.
Expect Fortuna to take the three points, but with plenty of resistance.