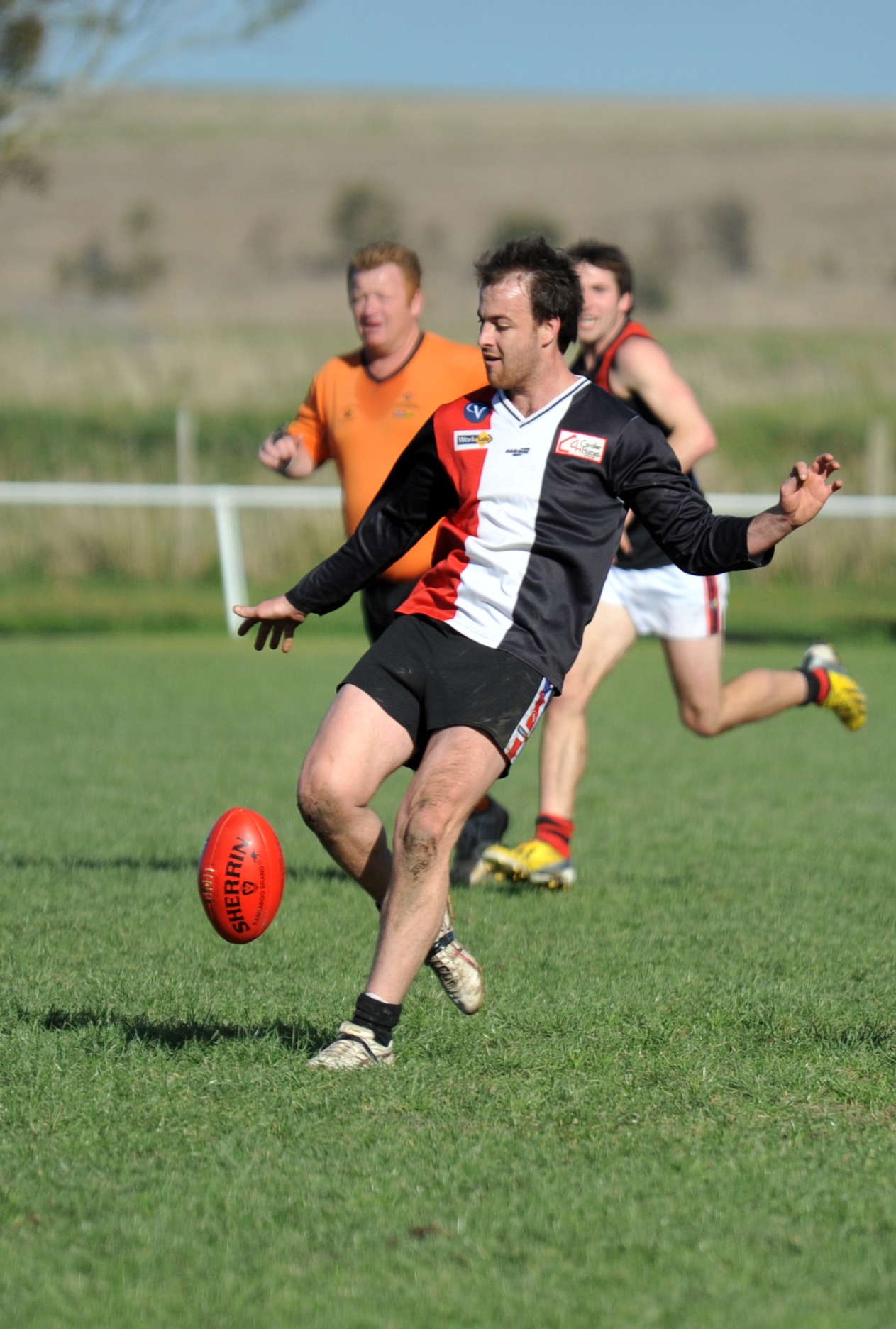 FOOTBALL
NORTH GIPPSLAND FL
ROUND SIX
BOISDALE/Briagolong coach Dean Pratt is a realist, one who is fully aware that his Bombers will be up against it when they play host to Churchill in round six of the North Gippsland Football Netball League.
Taking comfort in the fact that the Cougars have struggled to play at the Bombers' home ground in past years, Pratt is confident that his side will continue to improve this week.
"It's been hard yakka; it would have been nice to have had a few more in against Heyfield as we were quite depleted, and maybe that would have meant that we wouldn't have lost by so much," Pratt said.
"We know that you have to play these top sides sooner or later, win, lose or draw, the side's got to be exposed to see where the list is at."
The challenge will be made greater for the new-look Bombers with Churchill on the rebound after a surprise loss to Sale City.
"A few around the club have spoken about the fact that the last few times the side has played Churchill at home we have had great success against them, but this time around we have some 12 new guys playing their first season with us," Pratt said.
"Getting the side to gel as a team is important; the more the team plays together they will know where their teammates move, where they kick to, we need to sort this out which will go a long way to us heading in the right direction."
Blooding several thirds eligible players in past weeks, due to injury or unavailability, has seen several juniors playing just their first or second senior game.
"The kids have had an opportunity to experience senior footy due to injuries and work commitments; Adam Helmke is a week by week prospect for us, Glen Semmens has done his hamstring which puts a dent in our depth," Pratt said.
"We should get two players back but I will lose another two from the side so we're about three short of our best."
Despite a difficult start to the season Pratt knows that his side is definitely capable of winning at home and is moving in the right direction.
"Against Sale City we had the same amount of scoring shots, and went inside 50 more often than the opposition but didn't take our chances; the players are capable it's just been tough to win," he said.
"To kick eight goals in a quarter against Woodside proves that the side is capable, our biggest issue is that we're not a team that can afford not to have our best out there.
"I am confident that our hard work will be rewarded with a win and that will have everyone back up on their toes again."
Cowwarr v Rosedale
A week can be a long time in footy circles and Cowwarr has shown just how quickly you can turn your form around and hit the winner's list.
The Saints have impressed in past weeks accounting for Glengarry and Traralgon Tyers United, two of last year's top three sides, and fell agonisingly short against Churchill.
Up and about the Saints will provide Rosedale with yet another challenge as the Blues come into the contest on the back of a tough three rounds which saw the side pitted against last season's top sides Glengarry, TTU and Heyfield.
Both outfits have been renowned for their tough physical contests over past seasons with their first meeting in 2014 set to be no different.
Woodside v TTU
WOODSIDE will aim to rebound when it hosts Traralgon Tyers United, which takes to the road following a 20-point loss at the hands of the Saints.
Failing to impose the presence of years past, the winless Bombers were caught out in the opening term against Cowwarr.
TTU has put together patches of form but know that a strong four-quarter effort is required against a side reeling from inaccuracy over the past fortnight.
Having dropped the points in their last two outings, the seventh-placed Wildcats will be aiming to steady the ship.
With just the two wins to date the Wildcats were highly fancied to take their game to another level this season but, like the Bombers, have found their inconsistent form costly.
With plenty at stake for both clubs expect a high quality contest that will go down to the wire.
Sale City v Yarram
THE clash between second-placed Sale City and the side one rung below, Yarram, is set to entice.
Few would have tipped the two would be sitting high above the pack on the premiership ladder standings at this stage in the season.
The Dogs have claimed four wins, already equalling last season's tally, and will fancy their chances against the Demons.
Hayden Burgiel's men will be aware of the Demons' struggles away from home, with the side yet to claim the four points on the road.
In contrast Sale City will make a welcome return to Stephenson Park having last taken to its home ground in the opening round.
Playing two sides at the top end of the premiership ladder standings in consecutive weeks is a tough ask for any side, but on current form expect the Dogs to push for another big scalp.
Gormandale v Glengarry
Traditional North Gippsland rivals Gormandale and Glengarry will play for the Keith Lang – Bill Onley Cup on Mother's Day at Gormandale.
The cup concept was born several seasons ago after the two clubs decided to honour individuals who have made extraordinary contributions to them and the league by striking a trophy which would replace the Gippsland and Northern Cup they contested for 25 years.
Last Mother's Day was the third occasion in more than nine seasons that the Magpies triumphed over the Tigers, and the occasion will again prove a test for Glengarry's resolve.
While the reigning premier boasts a 3-2 win loss ledger, its wins to date have been by margins of less than three points.
The Tigers have been close, staging a strong third term comeback last Saturday which saw them slam home seven majors to draw level with third-placed Yarram and reignite the contest.
While no doubt disappointed to be 0-5, Gormandale coach Luke Henderson would be aware his side is not down and out just yet.
HEYFIELD has the BYE.