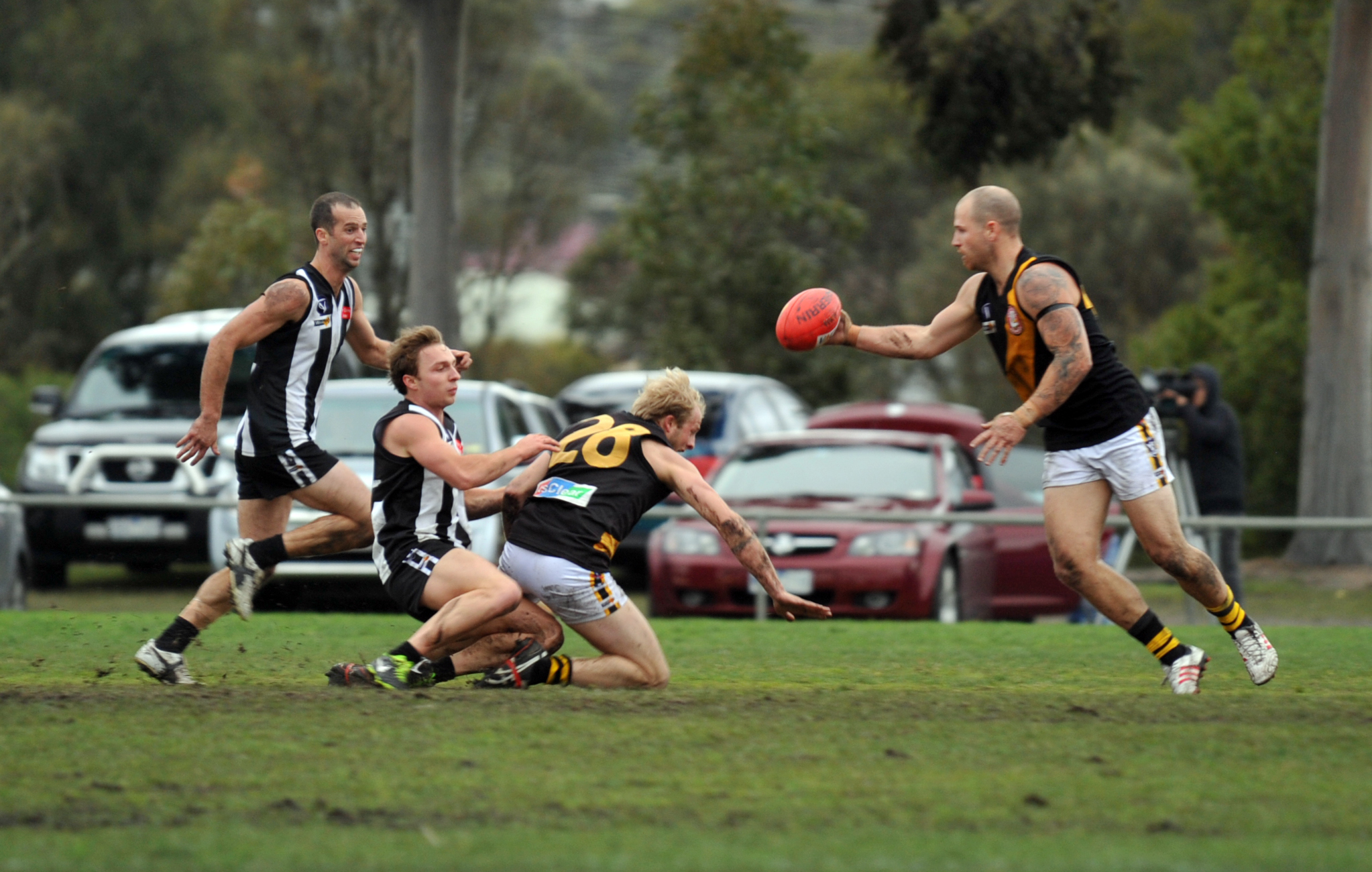 FOOTBALL
MGFL ROUND 8
Mirboo North (3rd) v Yinnar (1st)
MIRBOO North hosts the undefeated Yinnar in the Mid Gippsland Football League match of the round.
Yinnar just squeezed out Newborough last match in a close call to keep its flawless record in tact.
The Tigers started the season with a disaster against Newborough but have since played exceptional football to beat all-comers.
Highlights will be the individual contests, particularly with regard to the respective forward lines.
The key to the game will be the shootout between leading goalkicker Tim Traill (28) of Mirboo North and Yinnar's pair of Tim Aitken (24) and Cam Harwood (16), who are not far behind in the tally.
The defences will need to be close checking otherwise a blow-out could occur.
Their last meeting was in the second semi-final last year, which Mirboo North won, but of 105 games played between the two, history has Yinnar ahead 61 to 43. Gone are the days when Yinnar kicked 50.19 (319) against Mirboo North in 1980; some 34 years later this match will be a lot closer and go right down to the wire with first place potentially up for grabs.
Boolarra (5th) v Morwell East (6th)
THIS game will have a big bearing on the make-up of the final five.
Boolarra is currently in fifth while Morwell East sits below in sixth, and even a Hawks win will not guarantee a leapfrog as the Dees are some 24 per cent better off. Boolarra's crowning glory so far was its win over fourth-placed Trafalgar, but the others have come against teams below, as is the case with Morwell East.
History points to a Morwell East victory but Boolarra could be a dark horse in the second part of the season.
Neither team has much chance of a top three finish but either could realistically finish fourth or fifth.
Yarragon (9th) v Thorpdale (8th)
A FULL strength Yarragon could be a real challenge for Thorpdale, but with the injury list growing this match may be beyond it.
Thorpdale has shown it can match it with the "bigger" teams; the Blues have pushed the top sides for two or three quarters but then seem to die when the pressure is applied.
Thorpdale would appear favourites with injured players returning, but Yarragon has the potential to cause an upset and equal last year's tally of two wins.
Hill End (7th) v YYN (10th)
EARMARKED as a close game, Hill End has won a couple while the Bombers have yet to break the ice.
Murmurs suggest this is Yallourn Yallourn North's big chance to notch a win.
Against the bigger sides YYN has been brushed aside, but against teams of a similar standard it has been competitive and could pose a problem for Hill End.
The Hillmen's two wins have been over teams below them and they could add another scalp.
Newborough (2nd) v Trafalgar (4th)
THIS is another game where the result may be in dispute until the final whistle.
Newborough came unstuck against league leaders Yinnar a fortnight ago but will bounce back.
Trafalgar got home against Thorpdale in its last match but was not convincing.
The Bloods' ability to score will depend on how they master the Newborough defence, the meanest in the league which has only let the opposition score on average 38.14 points per game.
Newborough also has a feisty forward line with a 101-point average per game.
The Dogs should win but Trafalgar can never be taken lightly.