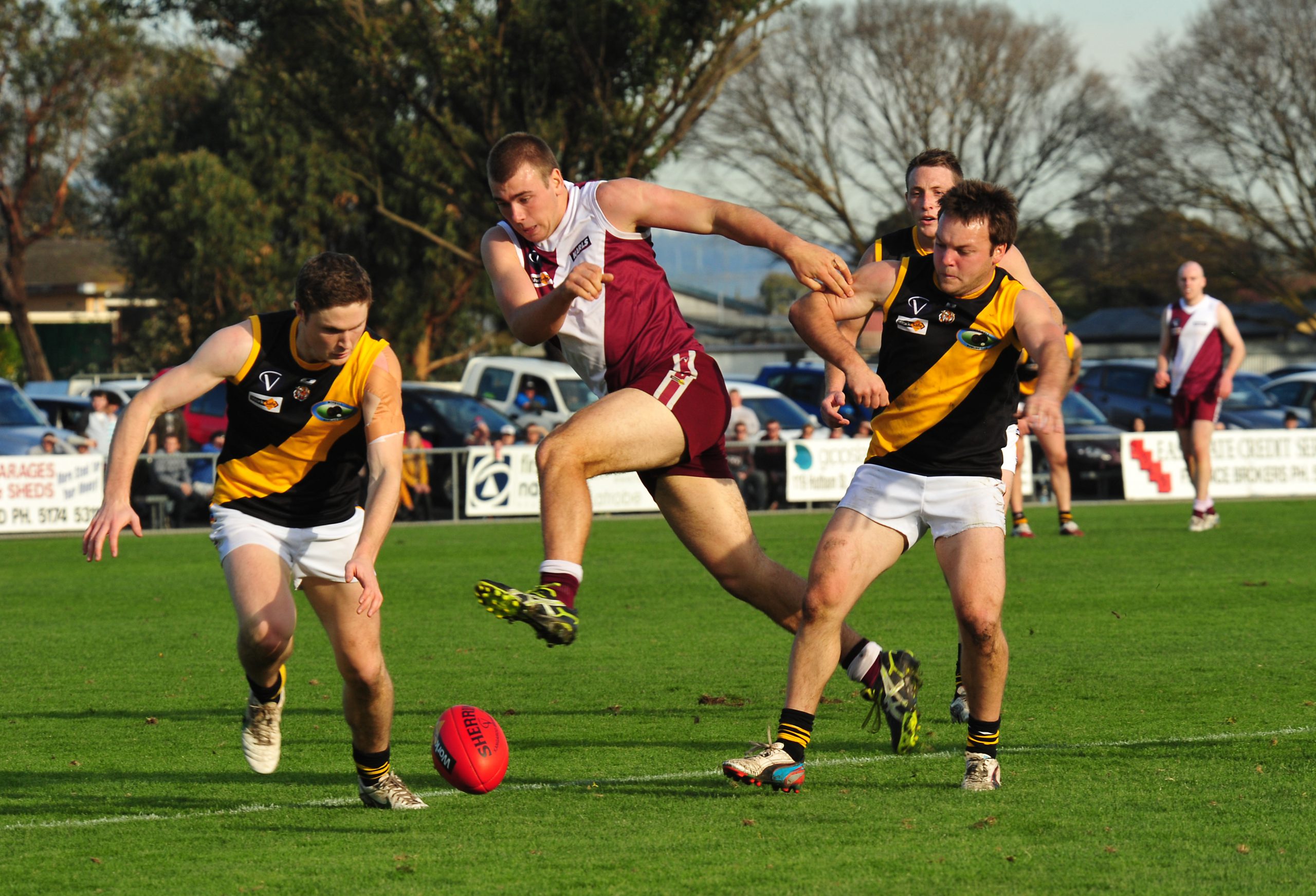 FOOTBALL
GIPPSLAND LEAGUE
MORWELL and Traralgon will again do battle in a Gippsland League Queen's Birthday blockbuster on Monday.
The fourth public holiday clash of its kind will highlight round eight of the Gippsland League.
"It's a fantastic relationship we have with Traralgon and together we have the opportunity to play Monday local footy in front of a big crowd and it should be a ripping contest," Morwell coach Harmit Singh said.
Traralgon too is up for the challenge against its cross town rival.
"It's going to be really good and a massive challenge for us. Obviously Morwell is the yardstick of the competition and undefeated," Traralgon coach Paul McCulloch said.
Last year the Tigers travelled to Traralgon to take on the Maroons, bolstered by the inclusion of former Carlton stars Brendon Fevola and Nick Stevens.
This year the tables will be turned with the Tigers to host.
"It's a massive game for us. Last year we played in front of a massive crowd, this year will be no exception," Singh said.
Morwell scraped by Leongatha by 13 points last week, and Traralgon will be eager to test its resolve yet again.
"They have had a couple of tough games in recent weeks and that does give us some confidence, however if you let them play the type of footy they like to play they will tear you apart in a hurry," McCulloch said.
"Skills are why they are where they are in the competition and we are going to have to beat them all over the ground."
Unlike 2013, which saw Jason Akermanis make a one off appearance for Morwell, the Tigers will not be enlisting outside help this time around.
"We tossed around a few ideas and concepts but just couldn't find the right fit this year so we've decided to showcase our sides with a lot of local talent in each," Morwell Football Club president Wade Presley said.
Instead, Morwell is using the Queen's Birthday clash to call on the community for its support.
"Public holiday Monday football has been well received in past years and we hope that the wider Latrobe Valley community will use the day to come along and see the best football and netball in Gippsland and hopefully support Morwell as we strive to be part of the finals in 2014," Presley said.
Last weekend Traralgon bounced back from a thumping by Maffra to beat Warragul by 171 points.
With the weekend off, both sides will make the most of the opportunity for an extra training session.
"We will train Sunday lunch time. There is too big a gap between Thursday and Monday so it will just be a light session," McCulloch said.
As part of agreement to play on Queen's Birthday Monday both teams are allowed a fourth player on the bench this week and in round nine. The extra man will make selection easier for both sides, which will also have access to their Gippsland Power players.
"I think we will have at least three changes, we have a couple of guys who are doubtful: Michael Stockdale and Michael Geary both who have leg injuries," McCulloch said.
Moe v Leongatha
FRESH from its second win of the year over Drouin, Moe will vying to make it two in a row when it returns home to host Leongatha.
"Leongatha will be a really good test for us," coach Adrian Burgiel said.
"If we play like (we did last week) we won't beat them. We have to be more consistent over the ball. We played alright, we are improving but we have got to keep improving."
Leongatha, on the other hand, came back from a five-goal deficit to fall just 13 points short of the reigning premier.
Maffra v Wonthaggi
A SPOT in the top five will be on the line when Maffra hosts Wonthaggi.
Both sides are coming off losses.
The Eagles went down to Sale while the Power was unable to fight off a late comeback by Bairnsdale, despite having more scoring opportunities.
Maffra proved just how strong it could be at home when it thumped Traralgon by 112 points in round six.
Bairnsdale v Drouin
LAST week's four-point win against Wonthaggi was one of Bairnsdale's biggest of the year, second only to its victory a fortnight ago over Sale.
A win this week, however, would secure the Redlegs a spot in the Gippsland League's top three.
Drouin has won at Bairnsdale just once in the five times it's visited since the Redlegs rejoined Gippsland League in 2011.
Warragul v Sale
SALE will take plenty of confidence into its clash with the depleted Warragul this weekend.
The Magpies have returned from their past seven visits to Western Park with the four points.
Sale's record is so good there, it's won 11 of 12 encounters at Warragul since 1998.
Undermanned, the Gulls will be hoping for some improvement after a tough day out against Traralgon last week.