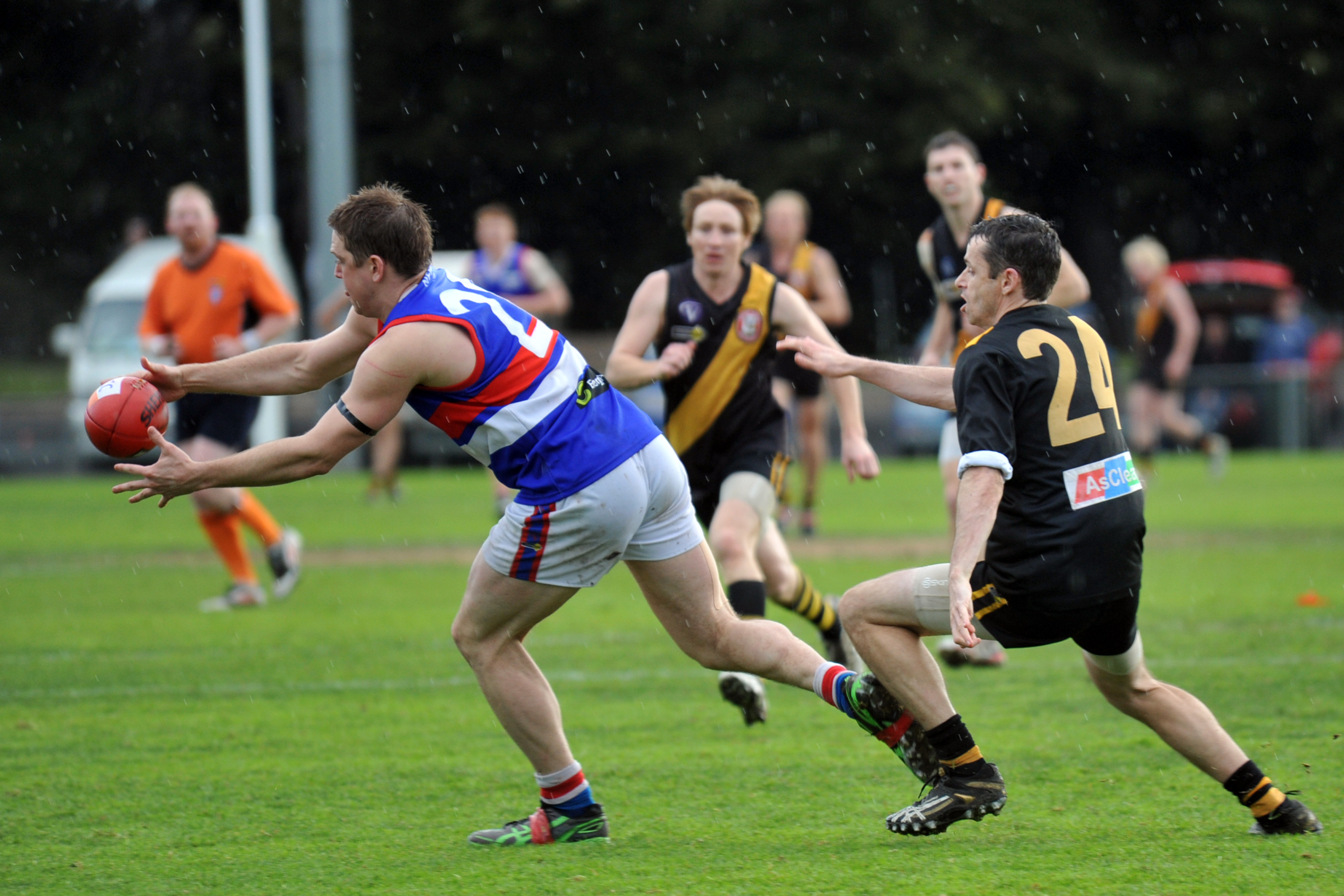 FOOTBALL
MID GIPPSLAND FL
MIRBOO North fell to fifth place after losing for the second time to Newborough, but the biggest surprise in Mid Gippsland's 10th round was that Boolarra hit top form to beat second-placed Yinnar.
The result saw the Demons grab fourth place in a topsy-turvey round of football where upsets were the norm.
Yarragon won its second in a row despite a good fight back by Yallourn Yallourn North and Hill End was put to the sword by an emerging Trafalgar.
Thorpdale reversed its first round result, beating Morwell East by 28 points.
Boolarra v Yinnar
BOOLARRA showed its demonic side when it took apart Yinnar.
Billed as the match of the day, the Demons had high expectations against their near neighbours and their form had been exceptional since their last loss in April against Mirboo North.
However few really expected fifth-placed Boolarra to win against second placed Yinnar, which had only been beaten once this year, but Tony Giardina's boys forgot about past performances and stole the show.
Chris Stasinowsky, not selected on Thursday night, was rushed back into the side and made his presence felt with three big goals.
Jesse Giardina did not score this week but there were plenty who did for Boolarra in a 13.7 (85) to 7.10 (52) win.
The Boolarra backline was the saviour with Courtney Sherriff at full-back and Steve Fox in the pocket limiting Yinnar's avenue to goal.
Although Tim Aitken managed to steer through three for Yinnar it was a day not suited for forwards.
It was Yinnar's lowest score this season and cracks were starting to show as the weather was getting less favourable for clean football.
Although the loss has not hurt Yinnar too much it has sent warning bells through the camp which now has to rethink strategy for the next eight weeks.
Best for Yinnar were centre Leigh Cummins, Dan Webster, Liam Visser and Daniel Nardino.
For Boolarra, winger Daniel Wilson, Chris Riseley, Chris Stasinowsky and Sherriff collected the rewards.
Newborough v Mirboo North
MIRBOO North put in another shocker against league leaders Newborough for the second time this season.
Two losses in two weeks against top four teams does not auger well for last year's premier.
Newborough, on the other hand, is consolidating its position as number one and on form looks hard to dislodge.
There was not much between the two teams, but Newborough kept ahead all day and by three-quarter-time the Bulldogs led by just a couple of goal.
It was Newborough's defensive line of Anthony Battista, Jarrod Bennets and Jeremy Cattanach which kept Mirboo North's score to a minimum, although Tim Traill was able to score four times to keep the Tigers close.
The Bulldogs focussed on coach Glenn Michie and allowed him to score a further six goals in another match winning display.
In a day not suited to the bulkier players it was the smaller players who often controlled the game in the cold and greasy conditions.
The Taylor boys, Daniel and Josh, Jacob Nash and Traill were worthwhile contributors for Mirboo North while for the winners it was Battista, Bennetts, Cattanach and Chris Hancock who deserved the awards in a 11.13 (79) to 8.9 (57) triumph.
Trafalgar v Hill End
TRAFALGAR gave Hill End a bit of a hiding, which built up percentage and gave it third place on the ladder. The Bloods included former coach Matt Robertson, who filled the void at full-forward to perfection and scored four goals in his first game back after playing at Hallam earlier this season.
After a slow start Traf moved up a cog in the second term, adding 7.5 (47) to nil to finish big leaders at half-time.
Trafalgar, with more players coming back, looked awesome in the last half, running the ball through the midfield.
At times it looked like the Bloods owned the ball as Hill End hardly got a touch.
Leigh Stevens in the pivot and Darcy Brock were effective smaller players and with Dylan Farrell and Tyson Leys (four goals) in the ruck Trafalgar controlled the passage of the ball.
Other good players for the Bloods were Jace and Klay Butler.
There were 10 goal kickers in Trafalgar's 24.17 (161) to 2.2 (14) win. For Hill End, Matt Mosley, playing his 100th game for the Enders, scored 50 percent of the goal tally. Best were Simon Fiddelaers, Jamie Somers, Mosley and Simon Fairbairn.
Thorpdale v Morwell East
THORPDALE enjoyed an emphatic win over Morwell East, rectifying a first round setback to the Hawks, turning a 23-point loss into a 28-point win.
The game was low scoring, with only 16 majors kicked due to the oppressive cold and slippery conditions.
Thorpdale scored a few and the first half was an arm wrestle as neither team showed much enthusiasm.
The third quarter was almost a crawl as they both added a goal each. At that stage Thorpdale had almost doubled Morwell East's score 6.8 (44) to 3.9 (27).
Goals were hard to come by and the highest individual count was two, kicked by Kris Bedford, Nathan Scurrah, Rhys Gieschen (Thorpdale) and Ben Marks (Morwell East).
A four goal to three last quarter secured the points for Thorpdale.
Morwell East finds itself dropping to the lower levels of the ladder and in a position that may be difficult to resurrect.
The Hawks' best were Brandon Francis, Matt Brown, Lucas Towns and 100 gamer Brendan Evans. For the winners, back flanker Brendon Santurini, Rhys Gieschen, Harley Foat and Kris Bedford were voted as best.
The final score was Thorpdale 10.13 (73) to Morwell East 6.9 (45).
Yarragon v YYN
FOR the second successive week Yarragon claimed a scalp.
It had been quite a while since the Panthers celebrated two weeks running, but they held on for a six point win over YYN.
There was nothing between the two all day as inaccuracy by both kept the game close.
YYN led at the first break by seven points, but Yarragon reversed the score to lead at half-time 4.6 (30) to 2.7 (19).
As the game progressed the scores got tighter, and there was high tension in a frantic last quarter as Yarragon held off a faster finishing YYN.
James Harvey was the hope of Yarragon and his four goals put it in the box seat, while the respective full-backs Owen Budge (YYN) and David Bates (Yarragon) both played good football and deserved their rewards.
The Bombers had chances in the last quarter, but blew it with inaccurate kicking.
With potential eight shots at goal, 2.6 (18) to 0.3 (3) they almost snatched victory but went down by a single goal, 7.13 (55) to 6.13 (49).