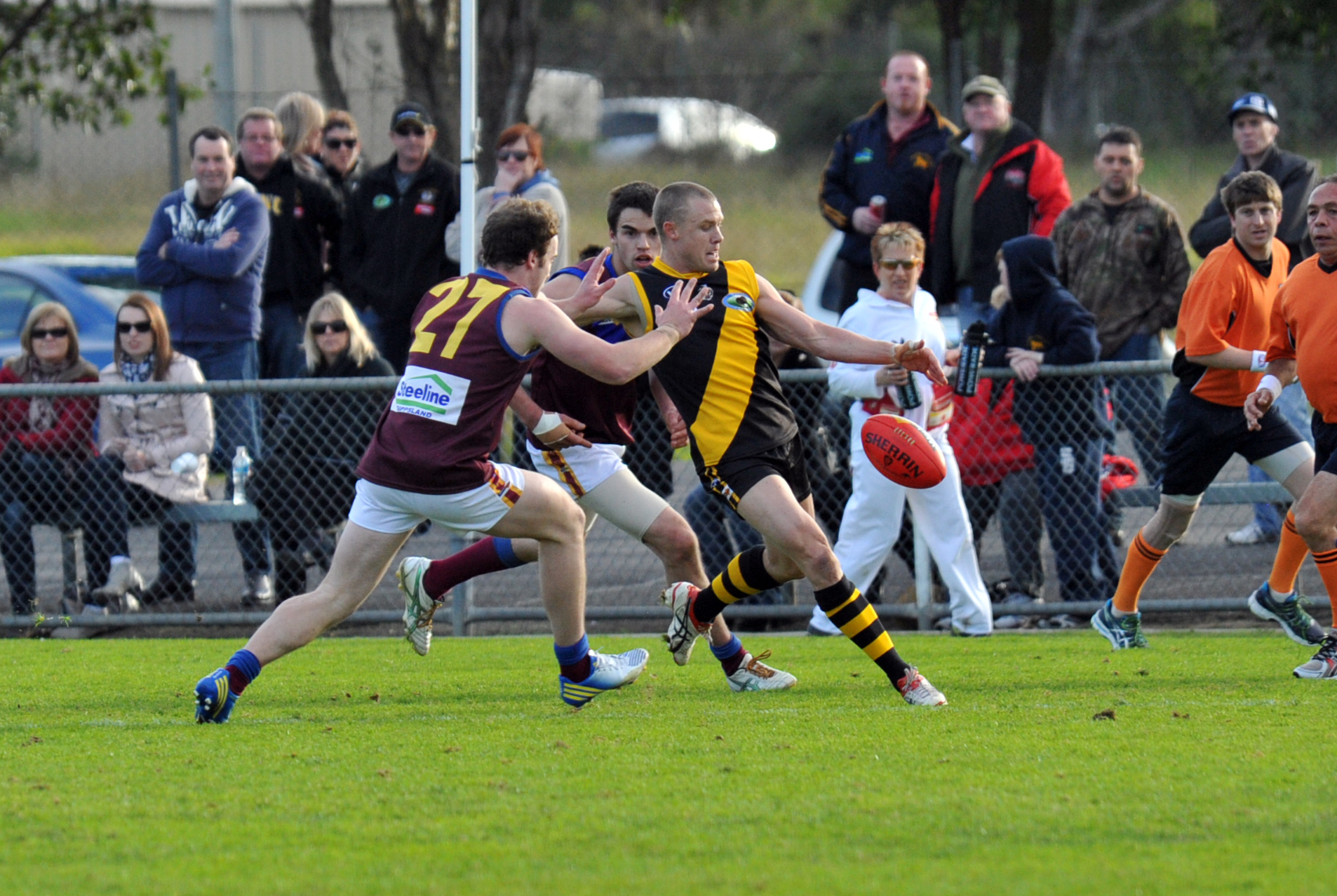 FOOTBALL
GIPPSLAND LEAGUE
A SUNDAY Valley fued between rivals Moe and Morwell is top of the billing in a big round 12 of the Gippsland League.
Plagued by injury, the reigning premier has lost two of its past three matches, but coach Harmit Singh was hopeful Ben Kearns, Devon Soutar, Mannon Johnson and Thys Stanistreet would return in the next three weeks.
Last week the Tigers had to tough it out on a water logged Drouin Recreation Reserve, and felt the effects of soggy terrain.
"It really was heavy on the legs, that ground hasn't been able to cope with the rain," Singh said.
Still recovering from the monsoon, Morwell will be on guard against the Lions, who Singh believes are better than the ladder suggests.
"Moe have shown a lot of improvement this year. (Coach) Adrian Burgiel has done a really good job, they have a talented list and they will be hard to beat at home," Singh said.
The Lions are fresh from a third win for the year over Warragul.
"We haven't been playing all that well over the past few weeks but hopefully we can pull it together," Burgiel said.
"The win coupled with Morwell's injury list gives the boys a bit of confidence heading in to what is a big game.
"We could definitely have a crack. I said to the guys after last week's win we have got to try to win against better opposition. If we put a four quarter effort together, you never know."
Drouin v Traralgon
STILL reeling from last week's draw with Wonthaggi, Traralgon will be looking to bounce back when it travels to Drouin for its first away game in three weeks.
After losing two and drawing one, Traralgon's season is all but over.
Sitting well outside the five, the Maroons must win every game from here and rely on other teams to lose, in order to play finals football in 2014.
After a period of close tussles between Traralgon and Drouin, including three major finals in 2010 and 2011, Traralgon has had the upper hand in recent clashes against the rebuilding Drouin side.
Wonthaggi v Sale
WONTHAGGI will face its biggest challenge yet when it hosts the ladder leader Sale.
"They are always tough, I think they have lost about four games in about three years so that's going to be a big challenge," Power coach Rob Railton said.
Currently in fourth, Wonthaggi is vying to secure the all important third spot.
"That's always the aim to continually improve but Bairnsdale has improved this season as well so probably at this stage of the season it's about trying to manage the list and remain injury free and get enough wins to get us the double chance," Railton said.
"It (a win) would just give the group some belief. It would mean we have beaten every side bar Bairnsdale. We have been really close in the past two years but we haven't quite got there."
The home team will take plenty of confidence into the clash after coming from 28-points down to draw with Traralgon.
Maffra v Leongatha
Maffra is at home to Leongatha fresh from a morale boosting one point win over Bairnsdale in the battle for third place on the ladder.
The Parrots suffered a crushing loss to Sale which almost certainly ruled them out of finals contention.
Bairnsdale v Warragul
BAIRNSDALE will be looking to bounce back from last weekend's agonising one point loss to Maffra when it hosts Warragul.
Saturday's match was scheduled to be the third under Bairnsdale City Oval's new state of the art lights, but has since been changed back to a day fixture.
The Redlegs have won their past four encounters with Warragul; it's the longest winning streak between the sides since the Gulls won six in a row between 1966 and 1969.
Currently in fourth Bairnsdale is eyeing third spot on the ladder, and the second chance that comes with it in September.