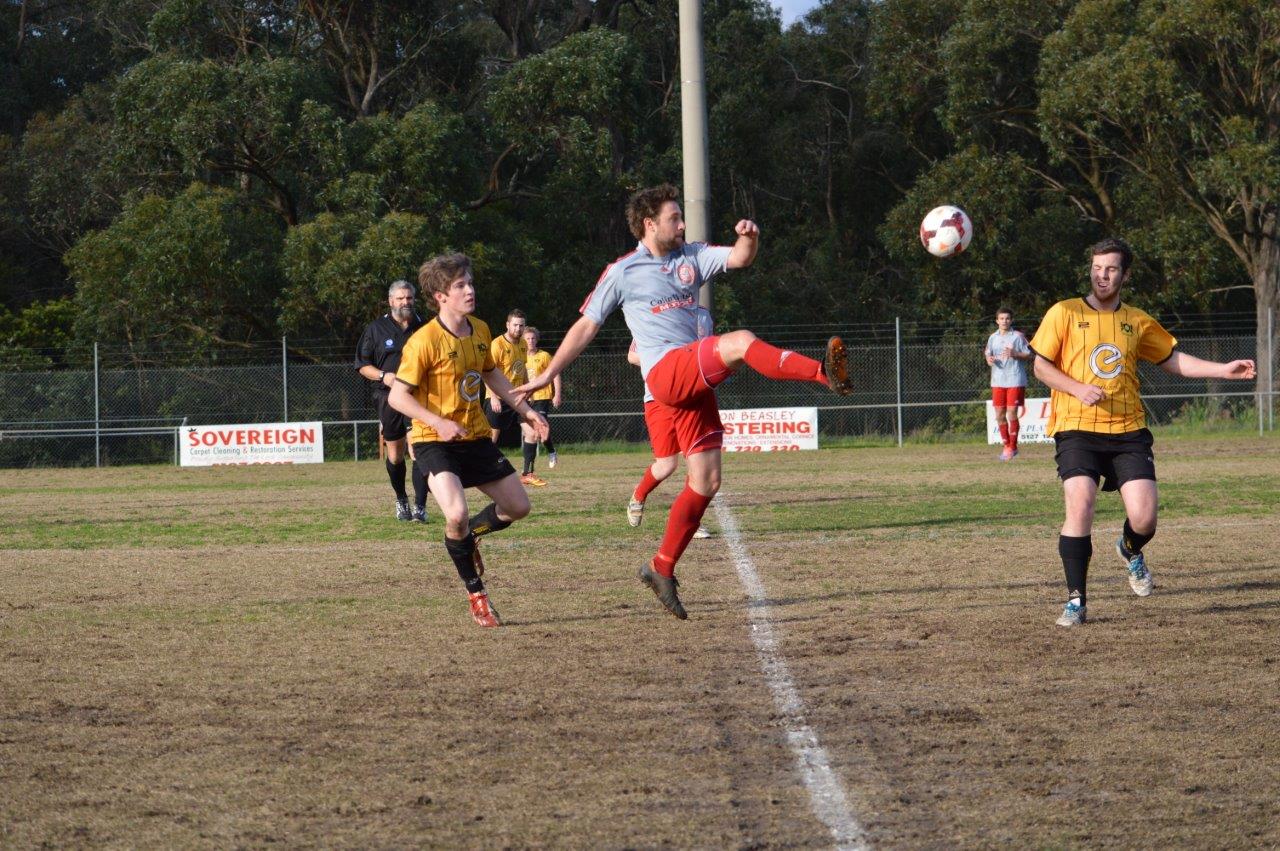 Churchill v Monash
Churchill United continued its perfect season to date with a come-from-behind 2-1 victory over Monash Wolves on Sunday.
The Rams' home pitch at Hazelwood South Reserve was deemed unplayable for the third consecutive week and Monash accepted the venue change to their Newborough ground at late notice.
A Paul Riess wonder strike earned Churchill all three points against Monash.
Churchill dominated the possession early but were unable to create any real openings with the Monash defence proving stubborn.
Churchill's Mitch Azlin rued a missed chance in the six yard box followed soon after by a half chance to Paul Riess with a misdirected header going wide.
Just after the half hour Monash took the lead when Braden Paulet poked home a goal mouth scramble after a corner, despite Aziln's attempted clearance the ball had crossed the goal line.
Churchill started the second half with intent and when Glen McColl's cross found Taylor Jackson.
Monash tried to clear the ball, but similar to the Wolves' first-half goal the ball was judged to have crossed the goal line and the Rams pulled level 1-1.
Minutes later it was 2-1 when Paul Riess unleashed a 25 metre pile driver that beat Wolves custodian Ross Johnson all ends up.
Churchill continued to push for another goal but Johnson was equal to the task making a great save, parrying away a blistering Jackson shot.
The Rams missed another two gilt-edged chances and were nearly punished late on when Monash midfield dynamo Chad Shelley lobbed a shot from inside his own half that had Churchill keeper Jason Sands scrambling, but the ball went wide of the target.
Churchill travels to Falcons on Saturday night, while Monash host Sale United on Sunday.
Traralgon City v Fortuna
With Fortuna on a high after the win over Sale and City drawing with Newborough on the last kick, Fortuna were favourites to win and came out of the gates fast with a great through ball to Joel Pirota and through the keeper's legs for the first goal of the day.
City regrouped fast and a cross from Sam Lietzau to Dau Mayen saw a great volley into the net to make it 1-all.
A short time later a poor back pass to the Fortuna keeper saw Paul Storey swoop and finish it off to make 2-1.
A good cross from Sam Lietzau again met Paul Storey's head to make it 3-1 at the half-time break.
City knew Fortuna would come out fighting for respect and with both teams with equal time on the ball, it had settled to a great game.
But a defensive error saw City's Mark Bruzzese drive the final goal home to make a 4-1 valuable win to City, moving them into 6th spot on the table.
In other round 16 matches, Newborough Yallourn defeated Tyers SC 1-0, Moe United defeated Traralgon Olympians 6-1 and Sale United defeated Morwell Pegasus 4-0.