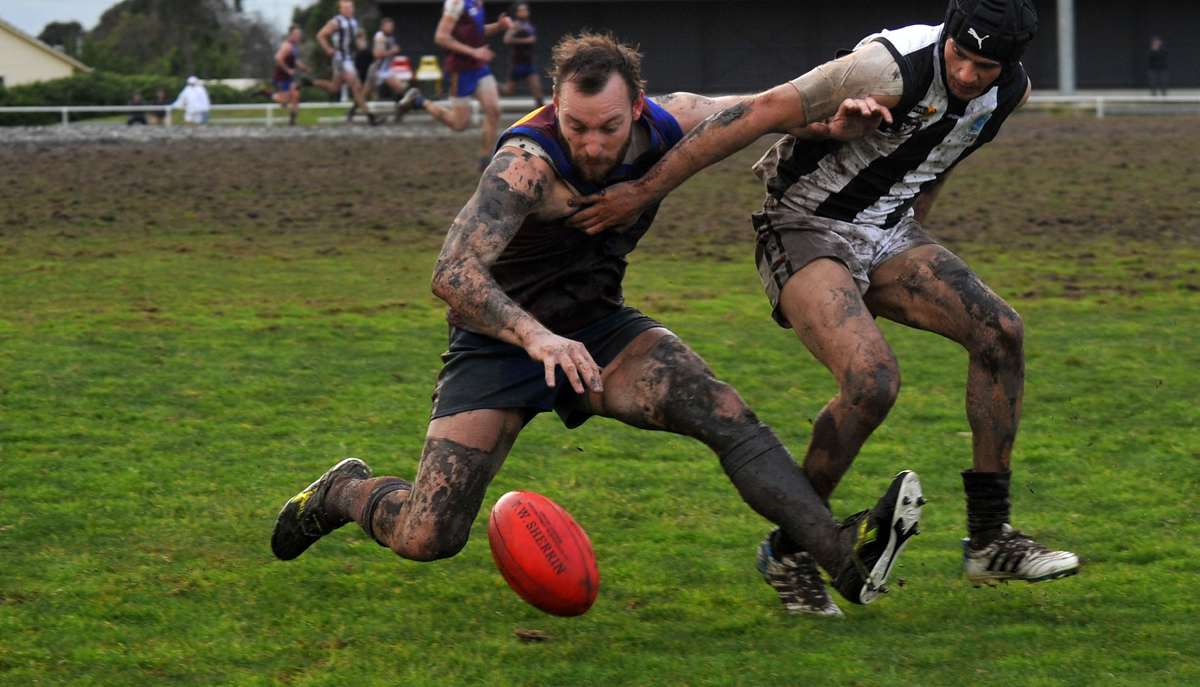 GIPPSLAND LEAGUE
It was a finals-like atmosphere when Maffra and Morwell played out an epic game of Gippsland League football on Saturday.
Both sides were evenly matched through the first half of football with scores level at 40-all at the main break.
The Tigers, however, leapt out of the blocks after half-time and slammed on four goals to one to finish the premiership quarter on top by 20 points.
Maffra battled back late in the last quarter and despite Darren Sheen kicking five goals and Brad Caldwell booting three, it was not enough, as the Eagles went down to the reigning premiers by six points, 11.10 (76) to 10.10 (70).
Morwell coach Harmit Singh said he was impressed with the way his team was able to fight off the fast finishing eagles side.
"Maffra have a fantastic team and they certainly showed that today," Singh said.
"I was impressed with our pressure right across the ground and our skills under pressure were good as well".
However, the coach said he was not impressed with some of the skill errors and would use the break to work on these.
"We have a week off now and we will work hard on our skills at training and prepare for Warragul in two week's time," Singh said.
The Eagles also have the week off and will use it to prepare for Traralgon.
Bairnsdale v Traralgon
Traralgon came out firing in its must-win clash against Bairnsdale.
The Maroons kicked seven goals in the first quarter to take the early lead and go in at quarter-time 31 points again.
Traralgon coach Paul McCulloch praised his side for standing up to the difficult challenge.
"We looked over the last time we played Bairnsdale and we knew as a team we needed to play four quarters of football to beat a top side like Bairnsdale," McCulloch said.
The Redlegs battled hard all day, but were never able to catch up after letting the Maroons escape out to a 31 point lead.
The Maroons coach knew they had to keep the pressure on Bairnsdale if they were to win.
"We knew that we would have to bring a physical game to compete with Bairnsdale who have a fast and open game style," McCulloch said.
Traralgon was able to pile on the pain after quarter time with 10 goals over three quarters to run out winners, 17.10 (112) to 8.13 (61).
Drouin v Wonthaggi
Wonthaggi is sitting third on the ladder following back-to-back victories.
Drouin found it tough early trying to contain the Power's many and found itself 73 points behind at the main break.
Despite desperation from Luke Duffy and Liam Axford, combined with the goals from Matt Ridley and Rhys Salter, the Hawks found the going tough and eventually fell by 130 points, 21.18 (144) to 2.2 (14).
Moe v Sale
Moe faced its toughest challenge to date when it came up against a visiting Sale side sitting at the top of the ladder.
With some handy inclusions into its side, Sale was keen to flex its muscle on a day when both teams would find it hard in the extremely boggy conditions at Ted Summerton Reserve.
The Magpies were able to jump out to an early lead and never looked back, going into the half-time break with a 54 point lead.
It did not get any better for the home side after the break, with Sale showing its class to eventually run away with a 50-point victory, 13.12 (90) to 6.4 (40).
It was the tall forwards for Sale who caused most of the headaches for Moe, with John Gooch bagging five goals and Mitch Davis three, while Shane Fyfe was best on ground for the visitors
Moe will be able to take some positives away from the game with James Blaser turning on a best on ground performance with two goals.
Both teams will now prepare for tough challenges in the coming weeks with Sale playing Bairnsdale and Moe travelling to Wonthaggi.
Leongatha v Warragul
Leongatha was able to put last round's disappointing result behind it to record an emphatic victory over Warragul.
The Parrots have had the measure of Warragul in their past meetings and it was more of the same pain for the Gulls.
Leongatha was able to power out of the blocks and never looked back as it recorded a 106-point victory, 20.8 (128) to 3.4 (22).
The stars for the Parrots included Nick Nagle, who bagged six majors, while Aaron Hilberg booted five.
For the visitors Chris Carey and Brad Scalzo fought valiantly all day.
ROUND 14 RESULTS
SENIORS

Traralgon 7.4, 10.8, 15.10, 17.10 (112) Bairnsdale 2.3, 4.5, 6.8, 8.13 (61)
Goals – Traralgon: L Stockdale 3, T Johnston 2, J Hall 2, J Jennings 2, R Hildebrand 1, J Bourke 1, J McMahon 1, J Steers 1, A Slottje 1, M Northe 1, J Fulton 1, M Geary 1. Bairnsdale: S Pickett 4, L Powell 1, W Russell 1, B McCarrey 1, B Ashwood 1. Best – Traralgon :. J Bourke, M Lewellin, M Burge, T Northe, J Steers, J Jennings. Bairnsdale: N Dennison, S Henshaw, A Nelson, S Pickett, J Hammond, D Johnson.
Sale 5.4, 10.7, 12.10, 13.12 (90) Moe 1.1, 2.1, 3.3, 6.4 (40)
Goals – Sale: J Gooch 5, M Davis 3, J Kennedy 2, J Gram 2, B Olsson 1. Moe: J Wood 2, J Blaser 2, P Ainsworth 1, C Robinson 1. Best – Sale: S Fyfe, T Morrison, T Hams, J Dessent, J Gooch, K Martin. Moe: J Blaser, L Sheehan, C Taylor, K Airdrie, P Ainsworth, J Wood.
Wonthaggi Power 5.5, 11.9, 16.16, 21.18 (144) Drouin 0.1, 0.2, 1.2, 2.2 (14)
Goals – Wonthaggi Power: E Shaw 4, T Harley 4, J Thomas 4, P Young 3, A Lindsay 2, E Richards 1, R Lindsay 1, A Ferreira 1, J Membrey 1. Drouin: M Ridley 1, R Salter 1. Best – Wonthaggi Power: J Liddle, A Lindsay, T Harley, J Thomas, T Huther, P Young. Drouin: L Duffy, B Fraser, L Axford, B Miller, D Allison, J Fairlie.
Morwell 3.1, 6.4, 10.8, 11.10 (76) Maffra 2.2, 6.4, 7.6, 10.10 (70)
Goals – Morwell: D Hutchison 3, R Michaelides 2, D MacDonald 2, T Lockyer 1, L Little 1, B Ainsworth 1, M Johnston 1. Maffra: D Sheen 5, B Caldwell 3, J Hammill 1, D Adams 1. Best – Morwell: T Crosby, D Hutchison, T Ryan, T Lockyer, T Hutton, S Noy. Maffra: K Porter, J Scott, D Sheen, O Booth, D O'Brien, J Lambourn.
Leongatha 4.1, 9.3, 16.6, 20.8 (128) Warragul 2.1, 2.2, 2.3, 3.4 (22)
Goals – Leongatha: N Nagel 6, A Hillberg 5, L Castagna 3, T Marriott 2, C Bruns 1, S Westaway 1, B Vanrooy 1, N Argento 1. Warragul: T Fusinato 1, C Carey 1, T Brady 1. Best – Leongatha: T Marriott, N Argento, N Nagel, A Hillberg, C Verboon, B Vanrooy. Warragul: C Carey, B Scalzo, D Proctor, B Monahan, B Sheehan, T Brady.
RESERVES
Sale 0.2, 5.3, 9.5, 11.6 (72) Moe 3.2, 4.6, 4.7, 4.9 (33)
Goals – Sale: B Edwards – Scott 2, D Horton 2, C Kelly 2, D Fevaleaki 2, E Johnson 1, J Taylor 1, D Wilson 1. Moe: J Chessells 2, S McIntosh 1, L Mackay 1. Best – Sale: D Fevaleaki, L Reggardo, E Johnson, L Lange, Z Petrovic, J Taylor. Moe: J Ferguson, G Whelan, M Camilleri.
Wonthaggi Power 5.4, 12.6, 16.9, 20.12 (132) Drouin 0.0, 0.0, 0.0, 0.1 (1)
Goals – Wonthaggi Power: R Tack 11, T Landells 2, R Jones 1, S Roche 1, A Churchill 1, T Wells 1, K Atkinson 1, R Todd 1, J Waters 1. Drouin: Best – Wonthaggi Power: T Landells, M Howell, A Churchill, R Tack, T Wells, D Demenech. Drouin: D Pearson, N Derrick, J Collins, S Kelsey, J Hill, J Seri.
Maffra 2.3, 4.6, 10.6, 15.10 (100) Morwell 2.1, 2.1, 3.3, 3.3 (21)
Goals – Maffra: J Tatterson 5, A Petrou 3, A Tulloch 1, T Tudor 1, J Langshaw 1, T Anderson 1, J Jones 1, B Smith 1, T Porter 1. Morwell: J Read 1, J Scott 1, R Kearns 1. Best – Maffra: T Tudor, B Horsford, A Petrou, S Bedggood, J Bristow, J Weatherley. Morwell: M Royal, H Maximiw, J Scott, S Winters, N Wilson, T Weatherill.
Leongatha 4.2, 7.2, 8.5, 11.10 (76) Warragul 0.0, 1.0, 1.1, 1.1 (7)
Goals – Leongatha: D Connelly 3, M Davies 3, B Davidson 2, A Taranto 1, S Embry 1, W Geisler 1. Warragul: T Axford 1. Best – Leongatha: J Hickey, B Davidson, R Higgins, G Fleming, A Taranto, D Connelly. Warragul: T Axford, T Kelly, B Hams, S Jones, J Bloink.
THIRDS
Sale 0.2, 0.8, 2.8, 2.9 (21) Moe 1.1, 1.2, 1.4, 2.5 (17)
Goals – Sale: J Farquhar 1, L Ronchi 1. Moe: B Cougle 1, R Farmer 1. Best – Sale: B Jones, J Sabell, L Ronchi, J Petrovic, S Hogan, M Bristow. Moe: J Van Dyk, R Farmer, L Charles, J Hecker, B Collings, J Weir.
Drouin 3.3, 4.8, 4.9, 7.11 (53) Wonthaggi Power 0.0, 1.0, 2.0, 2.0 (12)
Goals – Drouin: A Haymes 2, D Clebney 1, L O'Brien 1, L Anderson 1, C Kingi 1, W Collins 1. Wonthaggi Power: C Waters 1, C Gilmour 1. Best – Drouin: M Sloan, J Graham, J Maya, L Anderson, L O'Brien, J McKellar. Wonthaggi Power: D Tiziani, L Membrey, C Gilmour, C Collins, E Senior, B Bayne.
Maffra 5.3, 14.6, 17.9, 21.10 (136) Morwell 0.0, 0.0, 1.0, 2.0 (12)
Goals – Maffra: J Jans 5, N Wozniak 3, T Jolly 2, D Alexander 2, J Bennett 2, D Kosky 1, S Havers 1, S Day 1, J Whelan 1, D Howe 1, B Brunt 1, B Regan 1. Morwell: T Wilson 2. Best – Maffra: S Day, J Whelan, D Alexander, T Jolly, J Jans, D Kosky. Morwell: B Brereton, T Richards, B Darby – Lock, R Hogarth, C White, A Jenkin.
Warragul 4.3, 6.7, 8.11, 11.15 (81) Leongatha 0.1, 0.2, 0.2, 0.2 (2)
Goals – Warragul: H McKay 4, T Hobbs 3, J Lane 1, S Reid – Hoey 1, J Mallia 1, T Kelly 1. Leongatha: Best – Warragul: S Reid – Hoey, H McKay, T Kelly, T Hobbs, N Stevenson, T Axford. Leongatha: B Moscript, M Olden, L Wright, F Kelly, T Hanrahan, K Materia.
Traralgon 3.2, 5.4, 8.6, 11.10 (76) Bairnsdale 3.0, 3.3, 4.3, 7.3 (45)
Goals – Traralgon: J Jacobsen 5, A Di Ciero 2, J Colaciello 1, J Davies 1, C Ambler 1, T Forrest 1. Bairnsdale: J Green 4, D Plant 1, K Hynes 1, A Johnson 1. Best – Traralgon: A Di Ciero, C Ambler, B Duve, C Stockdale, J Henderson, J Jacobsen. Bairnsdale: B Mitchell, J Porter, J Green, K Hynes, T Daniel, M Corbett.
LADDERS
SENIORS Sale 52, Morwell 48, Wonthaggi 38, Maffra 36, Bairnsdale 36, Traralgon 30, Leongatha 20, Moe 12, Warragul 8, Drouin 0.
RESERVES Maffra 44, Traralgon 40, Wonthaggi 40, Morwell 28, Sale 28, Moe 20, Leongatha 16, Drouin 8, Warragul 0.
THIRDS Traralgon 56, Sale 44, Maffra 44, Bairnsdale 36, Warragul 28, Drouin 28, Moe 20, Morwell 16, Wonthaggi 8, Leongatha 0.