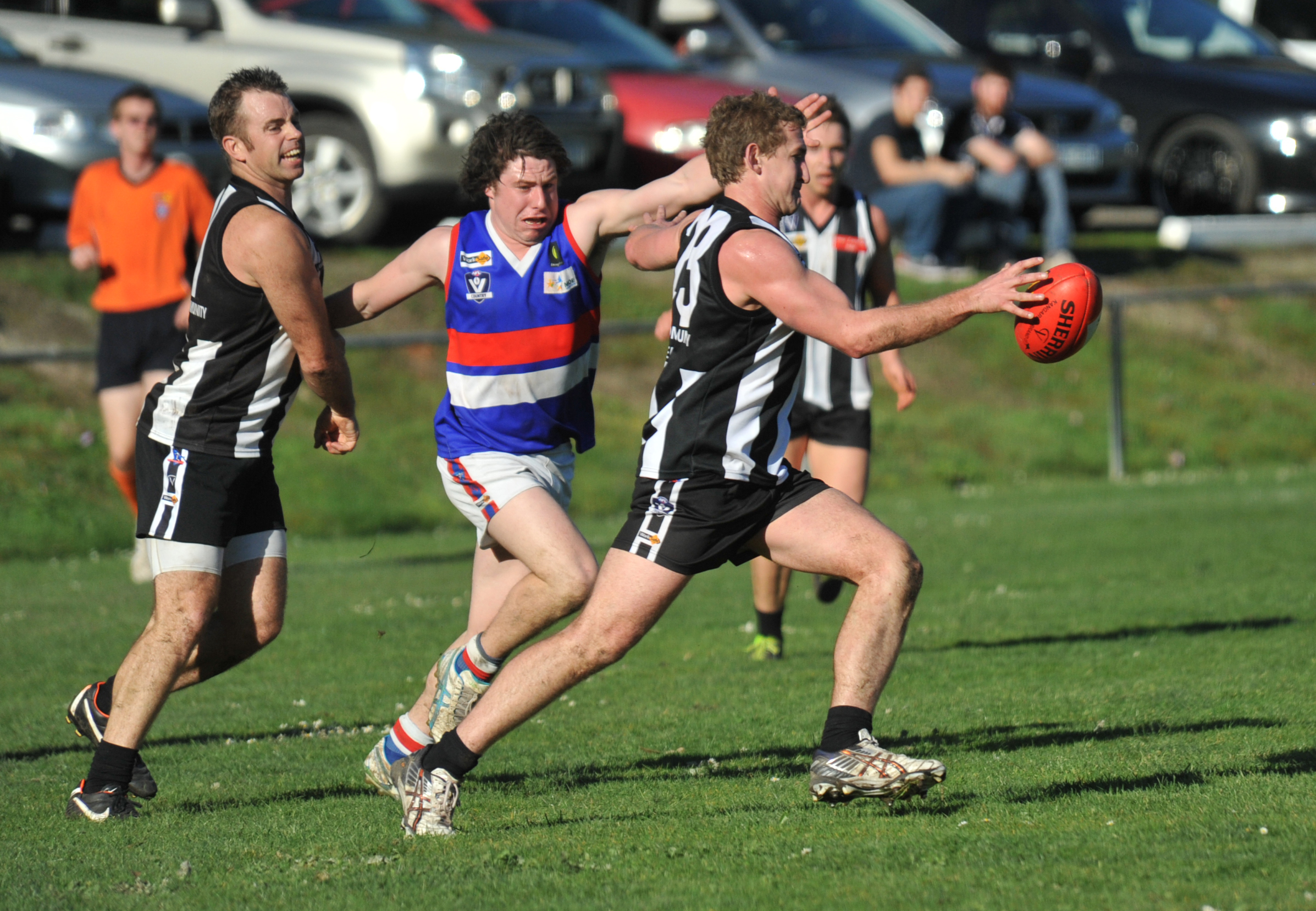 FOOTBALL
MID GIPPSLAND FL
YINNAR lost top position after going down to Newborough by four points in a tight match.
Tim Aitken was on target for Yinnar with six and Glenn Michie scored five for Newborough.
Yarragon, with an 8.1 (49) first quarter, blitzed finalist Boolarra by 18 points in a boil-over.
Hill End was impressive in beating Morwell East, Trafalgar and Thorpdale slogged it out before the Bloods won out by 19 points and Tim Traill's 10 goals helped Mirboo North to a big win over Yallourn Yallourn North.
Newborough v Yinnar
TOP spot switched hands when Newborough hung on by four points to defeat Yinnar in terrible conditions.
The tremendous tussle emulated their last meeting, when Yinnar snatched victory by three points.
Although the difference was only four points this time Newborough threatened to win by a huge margin after the opening term with 5.3 (33) to 1.3 (9) on the scoreboard.
Michie was on fire with three goals to break the Yinnar spirit.
Jarrod Bennetts was an early casualty for Newborough and played no further part in the match, while his teammates dominated all over the ground.
Aided by a few "dodgy" frees, Newborough built a handy buffer from the league leader.
After the first break, a slow change came over the game as Yinnar clawed itself back into the contest.
Aitken was on target with a couple of goals, before Matt Dyke scored one from the boundary line and the contest started to heat up.
Andrew Philip was a rock in the backline for Newborough, but nobody could stop Michie scoring his 50th for the season and fourth for the afternoon.
Yinnar was getting the ball out of the centre with Jesse Bowe winning tap downs, and when Aitken kicked his fourth Yinnar was on the surge and within seven points.
Michie going for his fifth just skimmed the post but Jeremy Cattanach goaled for Newborough from the kick-in to re-establish breathing space.
The fun was not over yet as the duelling goal-kickers Aitken and Michie booted their fifth each to set up a three-quarter-time scoreline of Newborough 9.8 (62) to Yinnar 7.5 (47).
With two goals to Sammy Mills in the first 10 minutes of the last term, Yinnar closed the gap to three points and it was game on.
Adam Kennedy scored for Newborough to restore the buffer, but with two minutes to go Aitken kicked his sixth.
However, time ran dry for the Magpies and Newborough hung on to win the match 10.11 (71) to 10.7 (67).
Trafalgar v Thorpdale
IN heavy and wet conditions, Trafalgar beat Thorpdale by 19 points in a slow, slogging game of football.
Sections of the grounds were muddy and players had difficulties all afternoon.
After playing in light drizzle at the start, it took eight minutes before the first goal, which came when Thorpdale coach Nathan Scurrah popped through the easiest of majors.
Play got bogged down between the two half forward lines, to and fro until the heavens opened and Trafalgar scored two goals in as many minutes to take the lead.
Right on the siren Rhy Gieschen goaled to give Thorpdale a slender quarter-time lead.
The second term was slower than the first and it was a real battle to get scores on the board, with both defences on top.
Jamie Hines was a star for the Bloods, but Thorpdale kept in front after a 2.2 (14) to 0.3 (3) quarter.
Trafalgar woke the sparse crowd up in the third as the two Brocks got fair use of the ball; the Bloods had all the scoring shots but many missed the mark to register 3.5 (17) to nil for the term, creating a 10-point Trafalgar lead going into the last term.
Trafalgar did all the right things in the fourth to win 8.13 (61) to 6.6 (42).
The best two goal kickers were Klay Butler and Jamie Hines, with two each while Thorpdale shared their goals between six players.
Yarragon v Boolarra
YARRAGON'S vow to finish the season with more wins came good in a hard fought shock win over fifth placed Boolarra.
The Panthers added six juniors to the senior side and it turned out to be a stroke of brilliance.
Yarragon jumped away in the first term, scoring its best ever opening quarter against Boolarra 8.1 (49) to 1.3 (9).
The Panthers thrived in poor conditions and were too quick for the Demons, building a half-time lead of 11.2 (68) to 2.5 (17).
With a stern half-time lecture from coach Tony Giardina ringing in their ears, the Demons showed more grit and determination in the third with a more improved showing.
While Yarragon refused to be intimidated, it did give goals away as Boolarra turned the pressure up, and by three-quarter-time the Demons had pegged the lead back to 34 points.
Yarragon stood tall in the final term, resisting every thrust by Boolarra.
The Demons ultimately outscored Yarragon for three quarters, but it was the 8.1 (49) start that saw Yarragon clinch a surprise victory 15.7 (97) to 10.9 (69).
David Bates top scored for Yarragon with four and Sam Mazou was best on ground for Boolarra with three.
Mirboo North v YYN
MIRBOO North, as expected, gave its northern cousin a lesson in football skills.
The first quarter was a promise of things to come as Mirboo North pummelled the goals for a 5.4 (34) reward.
YYN could not wake up their goal umpire and failed to score.
Traill, given plenty of room around the forward line, was again true to form scoring a further 10 goals to take his season tally to 73, and the Bombers had no one to control the goal scoring fiend.
It was a disappointing day for the Bombers, who scored their only two goals in the second quarter, while Mirboo North, as they have done with other lower ranked clubs this season, went on a rampage after half-time to amass a huge score of 23.22 (165) to 2.6 (18).
After his 10 goals Traill was voted as best, well supported by Matt Holland, Damien Turner, Josh Taylor and Jake Nash.
For the Bombers, Todd Dobson, Tyler Brown, Daniel Potts and Denis Heily were best.
Hill End v Morwell East
HILL End finished its second last home game with a good win over Morwell East, reversing an earlier loss to the Hawks in round seven.
After a slow start, Hill End started to show its capability and slowly forged away to have a steady first quarter lead of 14 points.
Cranking up in the second, the Hillmen scored a further four goals thanks to the efforts of Matt Moesley and Jamie Somers.
Joey Pedemont was playing his best game for Hill End, ably assisted by Ben Rotheram and Jarred Martin.
Morwell East seemed frozen to the spot as Hill End added a further seven goals to two after half-time.
The East however, missed easy chances and 4.7 (31) was poor reward for its efforts.
Hill End would have been well pleased with its return of 14.13 (97).