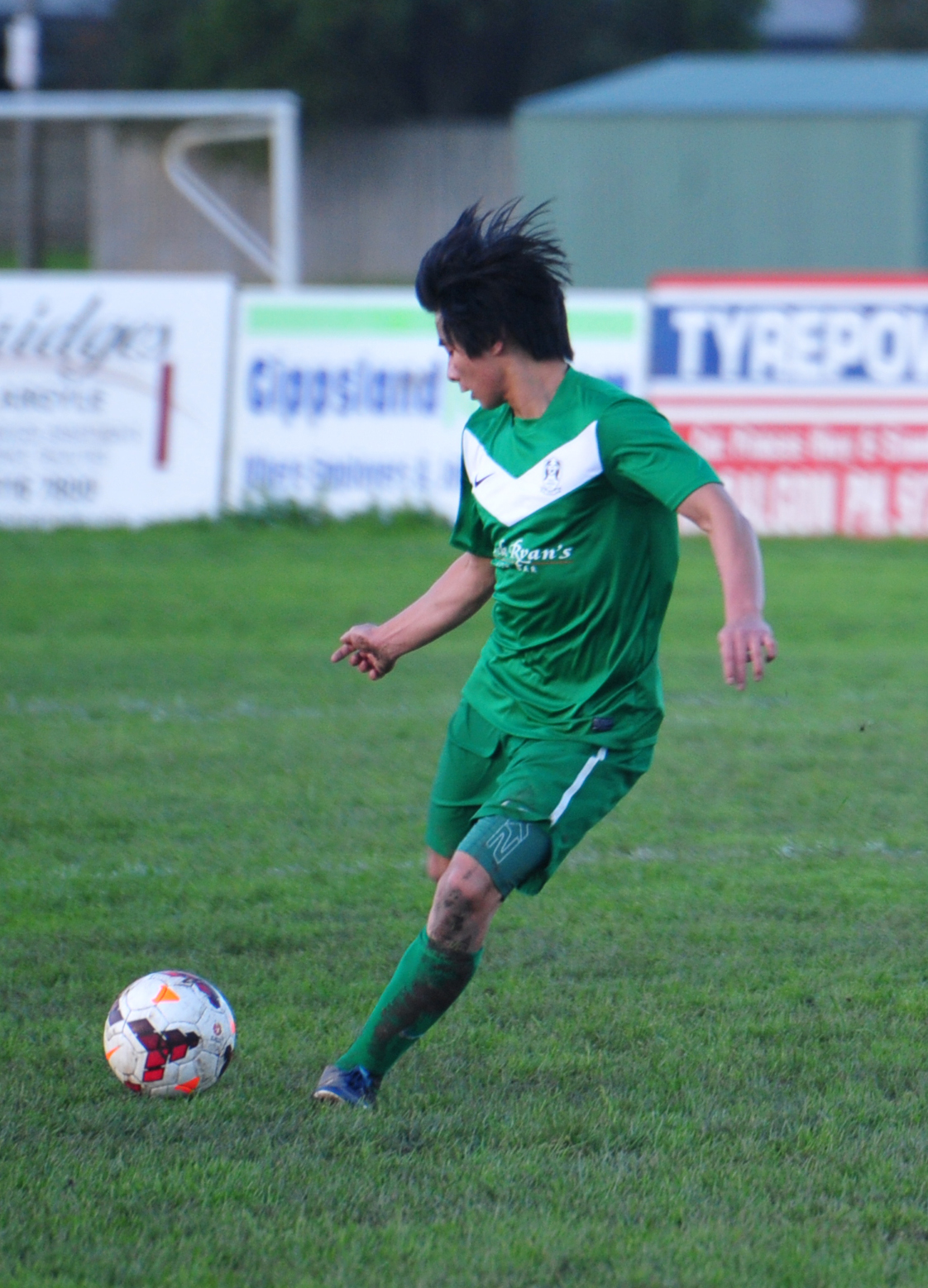 SOCCER
GSL
CHURCHILL United conjured another escape act on Sunday with a come from behind 3-2 victory over second-placed Sale United in round 21 of the Gippsland Soccer League.
Back at home on 'the paddock' at Hazelwood South Reserve, the Rams were put under the pump by a Swans outfit desperate for the three points.
The visitor controlled the first half with Ashley Ross and Tommy Nguyen causing drama for the Churchill defence.
Nguyen gave Sale a 1-0 lead after 35 minutes with a fantastic run from the halfway line to coolly finish past Churchill goal keeper Jason Sands.
Just two minutes later Churchill equalised 1-1 when Paul Riess slotted a penalty after youngster Ben Skinner was felled in the box.
Prior to the break Sands pulled off two fingertip saves to deny Sale from retaking the lead.
It was a story of two halves and after the break the newly crowned champion took control.
Another Rams youngster, Jarryd Johnson, clinically finished from six yards after a frantic goal mouth scramble to give Churchill a 2-1 lead.
The Rams then applied the Bunsen burner but were unable to snatch a sealer as Sale custodian Chris Richardson repelled shot after shot.
Churchill was made to rue missed opportunities when Sale's Jake Patterson broke through to equalise 2-2 with 15 minutes to play.
Sale pressed for a winner and was punished by the Rams with minutes remaining when Skinner scored the deciding goal for the second week in a row with a well-placed shot after a goal mouth scramble had Richardson out of position.
Churchill then shut up shop to claim the win 3-2.
This Sunday Churchill travels to Traralgon City while Sale hosts Moe in a pivotal match for finals seeding.
Monash v Fortuna
MONASH hosted Fortuna in an important match for both sides and respective ladder standings.
The game almost began perfectly for Fortuna when it was awarded a free kick outside the 18 yard box three minutes in.
Matt Ross headed the resulting delivery with power, but a diving save denied a goal on the line.
Fortuna frontman Jamie Pistrin latched on to a long ball and headed for goal only to smash his shot against the crossbar 38 minutes in.
The drought ended for Fortuna through the introduction of substitute Michael Fava, who had an immediate impact.
A long ball was held up by Pistrin, who in turn tapped it in front of a flying Fava who slotted it in for Fortuna's first, four minutes out from half-time.
Two minutes into the second half Ross was again denied a header with another last ditch save.
Fava had a chance to double his tally 58 minutes in when a piercing through ball put him one-on-one with the 'keeper but he sprayed it just wide of the goal.
Dylan Fairbrother performed an encore of last week's goal with a run down the wing past a couple of defenders followed by a neat finish.
Fava snared his second 75 minutes in after receiving a long ball to round out a 3-0 win.
Monash had a few half chances but the Fortuna goal was never under any great threat.
Moe v Pegasus
IT took a last gasp Ash Birrell penalty for Moe to salvage a point at home against a defiant Morwell Pegasus.
Despite a majority of the side backing up from the youth fixture, Pegasus forged ahead in the early going through Salah Eliaser after Moe had the better of the opening exchanges.
The Red Devils had several enterprising first half chances, but Pegs custodian Leon Cook had all the answers with a series of scintillating reflex stops.
Morwell went to the break 1-0 up, and continued to soak up Moe's pressure through the bulk of the second period while creating a couple of opportunities on the counter.
The home team's attacking raids were finally rewarded in the dying minutes, when a Pegasus handball in the box gave Moe a lifeline.
Birrell sent his penalty straight down the middle to bring scores level at 1-1, and neither team was able to find a late winner.
The result saw Moe drift further from the leading foursome, now two points off Falcons and three from Sale and Fortuna.
Falcons v NYU
A SIX-goal procession, including four from Daniel Edey, saw Falcons over the line against Newborough Yallourn United.
The Combine conceded just once in the first half, but the floodgates opened in the second 45 minutes.
Golden boot leader Jesse Kennedy maintained a two-goal gap over Sale's Tommy Nguyen with one for the afternoon, while Liam Johnson scored Falcons' other in the 6-0 win.
One point adrift of Fortuna and Sale, but with a catch up game in hand on the latter, Falcons could leapfrog its Morwell rival when they clash this weekend in the final round of the regular season.
Olympians v Tyers
A SIX-goal opening half saw Olympians and Tyers deadlocked after 45 minutes at Harold Preston Reserve, but the home team turned up the jets with three more in the second half to win 6-3.
Chris Panayiotou and Jake Budija scored braces for their respective outfits, while Olympians' new recruits Heydan and John Cook were also on the scoresheet.