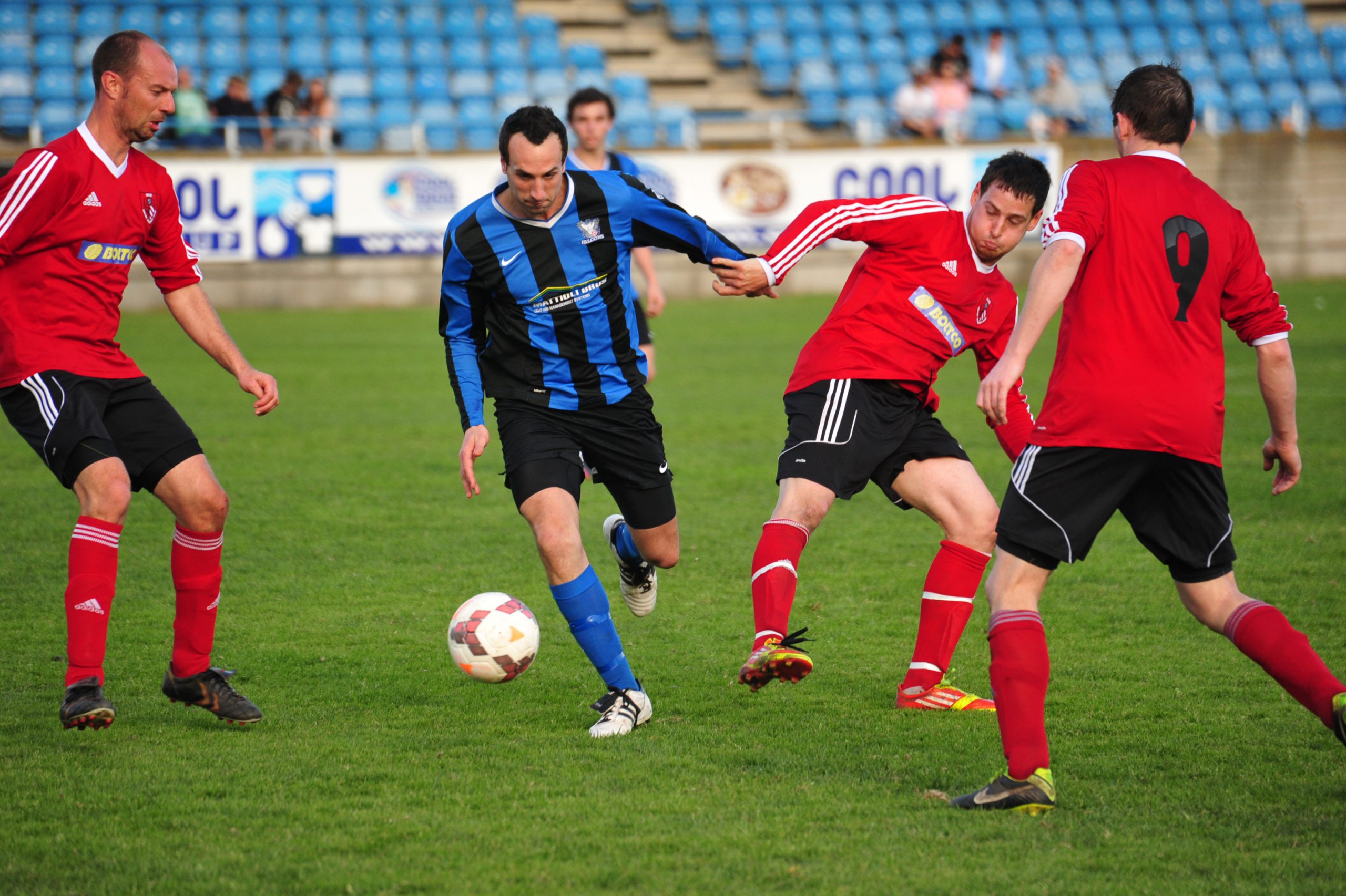 SOCCER
BATTLE OF BRITAIN
By SAMUEL DARROCH
BATTLE of Britain Cup finalists Falcons 2000 and Sale United were unquestionably two of the best sides in the Gippsland Soccer League this season.
That one will win a trophy on Saturday is fitting, that the other must miss out, unjust.
If both units turn up on Sunday, Latrobe City Sports Stadium will be host to potentially the match of the year.
However, this final will be Sale's sixth match in a 22-day period, and the grind has taken a toll on the Swans, with captain Ash Ross, key midfielder Ray Allred, first string goal keeper Chris Richardson and Dan Ledonne all unlikely to play due to injury.
With Sale also set to contest the Steel Youth Cup final, while the reserves played the Shopwel Trophy semi-final last night, senior co-coach Ross McWhirter admitted the squad's depth would be tested.
"Our other squads are in the cup finals as well so it might test our depth a little bit, but we're confident whoever comes up will fit into our structure and hopefully play well for us," McWhirter said.
At their free flowing best Falcons have the firepower to destroy any side in the league, underscored by their 4-1 demolition of Churchill in the cup. Sale has a similar style in many respects, speed on the break, a mobile midfield and a sound structural backline led by the stoic Robbie Stephen.
The Swans showed glimpses of their devastating best in the league semi-final, when they also crushed the all conquering Rams 5-1, but could not replicate that form in the league final against Moe United.
"To be honest we probably take out (from the Moe game) the intensity that's required in a grand final, which seems a bit strange because obviously we won it last year; we probably got a little complacent and didn't have the composure we needed especially in the final third," McWhirter said.
"We'll focus on getting our minds right rather than our bodies."
Falcons' BoB pedigree is enviable, having won back-to-back cups in 2009/10 before consecutive runner-up finishes.
It's been an elusive title for Sale United, which has not won the BoB Cup since forming in 1974.
The Swans came close last year losing the final to Churchill, then took out the league grand final – its first silverware in 33 years.
"It is pretty prestigious, even around our club with a few of the older members it's regarded as probably the cup to win and probably a lot higher than what the premiership would be, so it's important for us," McWhirter said.
"We've been pretty unlucky the last few years, obviously made the final last year but weren't quite ready, I think we're obviously a bit more developed as a squad and a bit more ready to hopefully have a bit of a challenge and hopefully bring some silverware home."
Falcons qualified for the final with a thundering 12-2 win over Morwell Pegasus, and looked unstoppable at times on the counter.
McWhirter said the Swans were well aware of the threat the birds posed.
"We really rate Falcons… they're very well drilled, coach Nick D'Alessandro has done a great job this season, they're really quick on the break, they're quick with their footwork and they're very skilful," he said.
"If we can nullify the impact they have coming through the centre we'll hopefully stop the ball getting to their forwards and hopefully we'll be able to lock the game away."
In contrast Falcons have a clean bill of health ahead of the final, and coach D'Alessandro is supremely confident in his squad's ability.
"We know our best football is still better than anyone's so that's what's giving us confidence ahead of the game," he said.
"Everyone's really looking forward to it, we've had sort of one bad game I feel in the last two months… that's the way the game is sometimes."
Falcons are fresh off a loss to Moe United in the league semi-final, the same opposition which nullified Sale on Sunday.
"It's a bit odd because you wouldn't think two sides heading into a final are coming off a loss, it's a bit of a different situation for us," D'Alessandro said.
"(Sale) didn't look like they played their best at all on Sunday, but for me it's a bit of a false commodity to expect them to have that sort of standard for the next game.
"We just know we have to bring our best and hopefully be a bit more adventurous and a bit more clinical in the final third which we lacked against Moe in the last game." Despite the question marks over several Swans, D'Alessandro expected some, if not all, to battle through injury for the final game of the year.
The senior match will kick off at 3pm on Sunday at Latrobe City Sports Stadium.