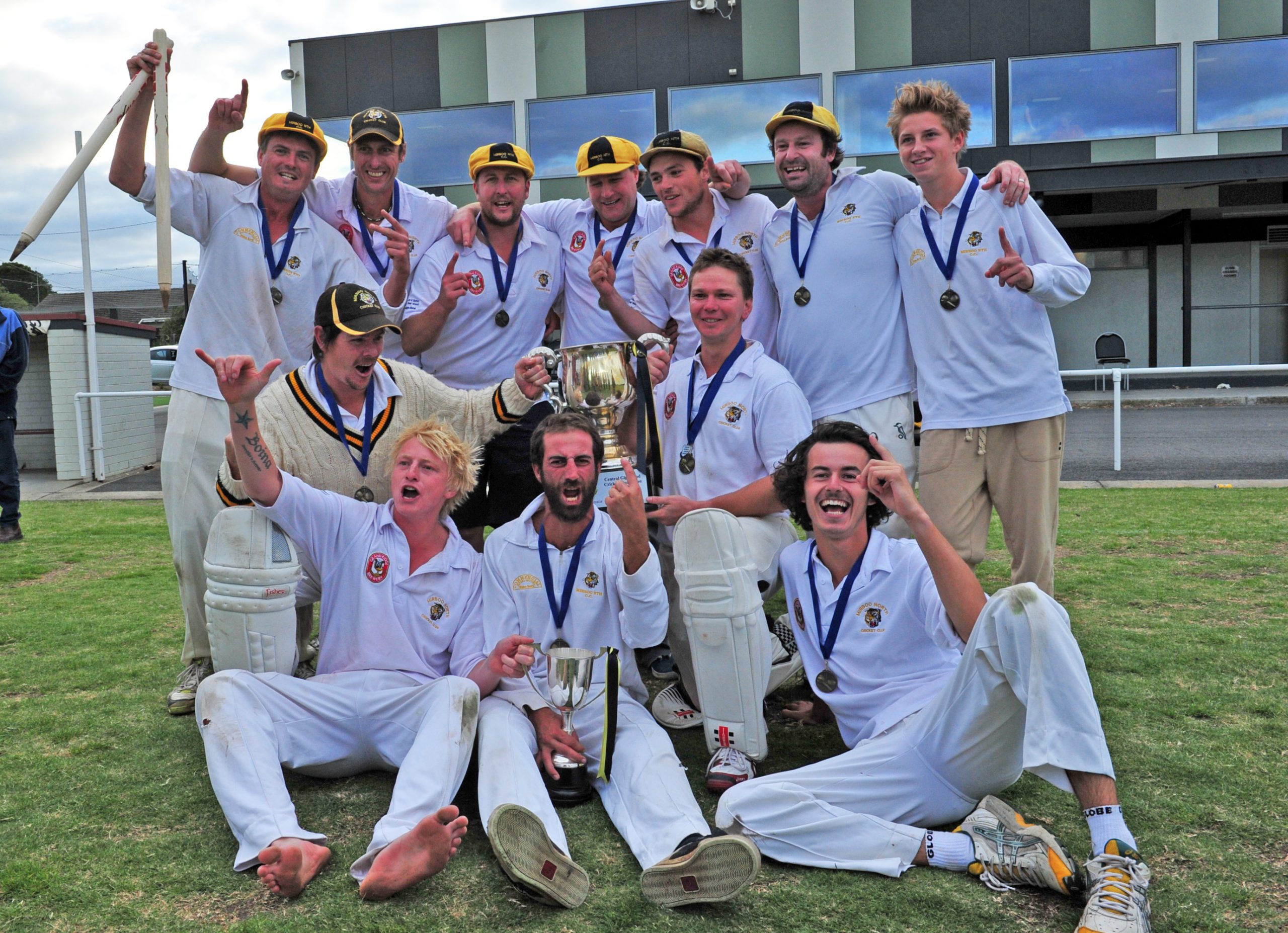 THE Central Gippsland Cricket Association season kicks off this weekend with the return of Newborough, heralding an eight-team competition.
Here's how the league's competitors stack up for 2014/15.
Mirboo North
Last season: 1st
Predicted finish: 1st
Captain: Robert Phoenix
Ins: Callum Buckley (UK)
Outs: Brett Pedlow (Leongatha Imperials)
IN the wake of an inspirational victory in one of the greatest CGCA finals in living memory, Mirboo North begins its title defence with determination to bring more success to a club that was starved of premiership glory before last year's breakthrough.
The Tigers will be without star batsman Brett Pedlow who has opted to return to his hometown club, Leongatha Imperials, but premiership captain Rob Phoenix is confident his side has what it takes to finish in the top two and defend its title.
"Latrobe, for me, are still the team to beat. They've got a good side with a settled lineup and they are the main threat," Phoenix said.
Phoenix said last season's flag was proof the Tigers approach was the correct one, and said there would be minimal changes to a winning formula.
"Clubs who jumble their lineups every week tend to struggle," Phoenix said.
"Latrobe have never done it and they've been a tough side for a long time, Moe never did it when they won all those premierships and we never did it last season.
"It was a huge factor for us, having a stable group."
Mirboo North has only one new face, that of 18 year-old Englishman Callum Buckley, an unknown quantity who could provide an x-factor.
The club has focused on promoting some of its promising junior cricketers who will be looking to make the jump to the firsts, with Riley Oddy gaining invaluable experience as 12th man in the premiership, while Paul Hinkley, Connor Williams and Hudson Kerr are also in the mix after getting a taste last season.
Latrobe
Last season: 2nd
Predicted finish: 2nd
Captain: Brendan Evans
Ins: Evan Sheekey (Yallourn North), Steven Freshwater (Carrum)
Outs: Patrick Farrant
THE dust having settled on last season's crushing grand final defeat, the competition's second-best side for the previous four seasons is looking not only to piece itself back together, but also find the courage to go one better at the fifth attempt.
To that end the Sharks have recruited Yallourn North wicketkeeper Evan Sheekey, while former club stalwart and 200-game veteran Steven Freshwater makes his return to the club.
Latrobe is making a big effort to go with youth this season, appointing Brendan Evans as senior captain to add to his duties as assistant coach, while key bat Kaushik Aphale stays on as senior coach. Although the Sharks have become used to the taste of disappointment, their new skipper believes the maturity and consistency that his side showed last year will allow them to build a significant challenge this time around.
"The kids we persisted with, and the experience we've gained from last season should hopefully see us fighting it out once again," Evans said.
Matt Brewer and Brad Aitken will both be keen to push on from contrasting fortunes last season, while young spinners Trent Roberts and Steven Hanning are prepared to battle it out for the chance to replace Patrick Farrant as the club's main spinner.
Yallourn North
Last season: 3rd
Predicted finish: 4th-6th
Captain: Patrick Spiteri
Ins: Sam Cougle (Yarragon)
Outs: Evan Sheekey (Latrobe)
A so-so campaign saw the Bombers win games they were expected to, lose ones they weren't, make the finals and bow out without much of an impact.

In an effort to freshen things up a bit and provide the spark for a big season, Yallourn North has opted for new leadership with the appointment of Patrick Spiteri as first grade skipper.

Effusive in his praise for predecessor Glenn Sheekey, Spiteri said the Bombers had not made any dramatic changes to their set-up, with Peter Petrou staying on as first team coach.

"I've played a lot of high level cricket in places like Brisbane, and in my opinion he's one of the best I've worked with. He'd certainly be one of the best coaches going around the league," Spiteri said.

The captain indicated his side's hopes of going one step further were largely up to some of the younger members of the side.

Josh Keyhoe has hit the ground running after being in poor form for much of last season, while Andrew Petrou will look to build on a solid return to the game.

The only new face so far for Yallourn North is Sam Cougle, and the incoming skipper was positive about what he offers to the side as a medium pace bowler and middle order bat.

On last season's odd-couple pairing of Keyhoe and Aidan Vesty at the top of the order, Spiteri was tight-lipped but said he had his own ideas on what the best lineup was and that the Bombers' opponents could expect a few surprises from them this season.
Morwell
Last season: 4th
Predicted finish: 3rd
Captain: Davin Charleston
Ins: Davin Charleston (CATS), David Embleton (Footscray Edgewater), Michael Mooney (Fountain Gate), Gavin Bailey (out of retirement)
Outs: Blake Mills (Casey), Riyaz Pathan (Canada)
WITH new leaders very much the theme of the upcoming season, Morwell has opted to go back to the future by appointing six-time club champion Davin Charleston as senior captain/coach, while ex-captain Craig Giddens assumes the presidency.
The Tigers have regained former first grade bowlers David Embleton and Michael Mooney, and will be hoping it gives them the extra strength to push through to the grand final after missing out in recent years.
Charleston is still settling back into life at Morwell and has been surprised by the level of talent at his disposal.
"I'm happy with the balance we have in the side at the moment," he said.
"Plenty of guys have come up through the juniors and have already got first grade experience so I don't think we're too worried about giving the kids a chance – they've already earnt it.
"Blake Mills has gone down to try his luck at Casey, but there are others looking to step up and take his place.
"Glenn Bone in particular has caught my eye, but without giving too much away there's plenty of guys there with enough ability to help us challenge this season."
On what his leadership style would be, Charleston said he offered a no-nonsense approach.
"I ask for 100 per cent effort. That's all that matters to me."
Moe
Last season: 5th
Predicted finish: 4th-6th
Captain: Andrew Philip
Ins: Dylan Lee (Rawson), Nathan Lee (Rawson)
Outs: None
MOE'S ninth consecutive title bid had a huge, Robert Phoenix-shaped hole in it last season and his absence was keenly felt as the Lions narrowly missed out on a finals berth for the first time in more than two decades. Captain Andrew Philip said although there had been some teething problems transitioning to a younger playing list, there was no doubt that his squad retained plenty of talent.
"Obviously winning all those flags in a row, we were looking a bit short term, which is something we're now trying to address and integrate some of those younger players and get them a little bit of A grade experience," Philip said.
"We'd love to make the top four, but we know where we're at and replicating what we managed last season, where we only just missed out because of some poor results in the one day games, wouldn't be a huge disappointment."
Added to this season's squad will be promising young stars Dylan and Nathan Lee from Rawson, with the latter having played a first grade match for Moe last year while also a member of the club's under 16 team.
Philip was the star for the side last season, almost singlehandedly dragging it to within an inch of a finals place, and if the Lions can get some of his younger co-stars to offer enough support then Moe could be back in the race.
Trafalgar
Last season: 6th
Predicted finish: 4th-6th
Captain: Rhys Holdsworth
Ins: Will Cheatley (Gormandale), Nathan Simpson (Newborough), Damian Mann (out of retirement)
Outs: None
TRAFALGAR is another club looking to kick on this season after promising so much on return to the CGCA, but has so far failed to deliver.
Big gun Rhys Holdsworth was the major success story last season with runs, wickets and nominations in as many representative teams as he could dream of.
Jackson Noonan also had a bumper year with the ball, making the CGCA team of the season, although a shoulder injury should rule him out until after Christmas.
The Ships have recruited Traralgon and District Cricket Association premiership bowler Will Cheatley from Gormandale to shoulder some of Noonan's workload, and brought back Damian Mann.
Trafalagar also secured the services of first grade players James Blaser and Klay Butler for at least three quarters of the season.
Holdsworth said while his team had quality, it tended to drop points against beatable teams.
"Last season we beat everyone but Mirboo North and Latrobe… that's our challenge right there," Holdsworth said.
"We're in our fourth year of development of where we want to be.
"We've got the best juniors in the league, I believe, and some of the kids from our under 16 team should be challenging for A grade next season."
The club continues to grow and develop in size with under 16s being entered in the CGCA for the first time, which should provide a path the club's active junior participants.
Both under 14 teams made the finals last season and if the club can successfully integrate most of those talented young stars into its lineup then the Ships could develop into one of the competition's top sides.
Thorpdale
Last season placing: 7th
Predicted finish: 7th
Captain: Boyd Bailey
Ins: Fraser Smith (South Africa), Ayden Kelly (Moe)
Outs: Henk and Schalke Conradie (South Africa)
AFTER finishing in last place in their debut A grade season, the only way is up for the Blues who are following on from a winless season.
Eager to taste victory for the first time in first grade, Thorpdale has recruited middle-order bat Fraser Smith from South Africa, as well as former Moe junior and promising top-order batsman Ayden Kelly.
Blues skipper Boyd Bailey said while last season his side was acclimatising to the competition and experimenting to find each player's best role, this season they had their best side firmly in mind and were out to cause upsets.
"We're definitely a chance, our goal is to win three or four games this time around. We definitely have the ability to push teams all the way," he said.
Thorpdale has built a young side approaching the peaks of their careers, with brothers Travis and Shannon Pickering, Kayne O'Connell, Jason Richardson and Steven Hibbs still developing at the top level.
Harvey Poole is the oldest member of the side, having crossed the half-century mark, but Richardson is next oldest at 24, and it is this youthful team that Thorpdale hopes will take the club forward.

"There were plenty of players coming through B grade last season… even though we didn't win many games, kids like Josh Hammond who came over from Willow Grove, played some under 16 and B grade cricket and ended up playing a bit in first grade towards the end of the season, and looks like he could be one for the future."
Newborough
Last season: Did not enter
Predicted finish: 8th
Captain: TBA
Ins: Matt Coutts, Amir Aftab (Pakistan)
Outs: None
RETURNING to the first grade competition after a one season hiatus, Newborough Bulldogs will be hoping the side they put out will live up to their moniker's reputation for tenacity.
The new-look Bulldogs have it all to do against competition that will likely view them alongside last season's wooden-spooners Thorpdale.
New coach Amir Aftab will miss the start of the season, and while the club has secured the services of former player Matt Coutts, the Dogs have retained much the same side as the one that last competed at the highest level two seasons ago.
Plenty of the club's younger players will be heavily relied on, with Royce Colgrave fast emerging as a future star.
The 16 year-old left arm opening bowler has been a force at junior level and was a standout at last season's under 15 country week.
Robert Blunt, Daniel Farmer and brothers Brenton and Liam Faltum will all be hoping to gain some first-team experience.
If Newborough can build a tight-knit side that work for and support each other, the road back to the top of the table may be shorter than expected, but expect the Bulldogs' first season back in first grade to be an extremely steep learning curve.
Yesterday's heroes – 2013/14 figures
BATTING
Andrew Philip (Moe)
Runs: 771
Average: 64.25
HS: 157*
100s: 2
50s: 4
Rhys Holdsworth (Trafalgar)
Runs: 728
Average: 80.89
HS: 105*
100s: 2
50s: 5
Kaushik Aphale (Latrobe)
Runs: 637
Average: 79.63
HS: 114*
100s: 2
50s: 5
Anthony Bloomfield (Latrobe)
Runs: 593
Average: 42.36
HS: 92
100s: 0
50s: 5
Brett Pedlow (Mirboo North)
Runs: 535
Average: 53.50
HS: 157
100s: 2
50s: 1
BOWLING
Rhys Holdsworth (Trafalgar)
Wickets: 36
Average: 17.08
Strike rate: 29.61
Economy: 3.46
5WI: 3
Rob Phoenix (Mirboo North)
Wickets: 33
Average: 11.58
Strike rate: 25.76
Economy: 2.70
5WI: 2
Pat Farrant (Latrobe)
Wickets: 28
Average: 15.64
Strike rate: 28.57
Economy: 3.29
5WI: 0
Brendan Evans (Latrobe)
Wickets: 28
Average: 17.71
Strike rate: 37.21
Economy: 2.86
5WI: 1
Brendan Brincat (Morwell)
Wickets: 26
Average: 16.04
Strike rate: 36.85
Economy: 2.61
5WI: 1