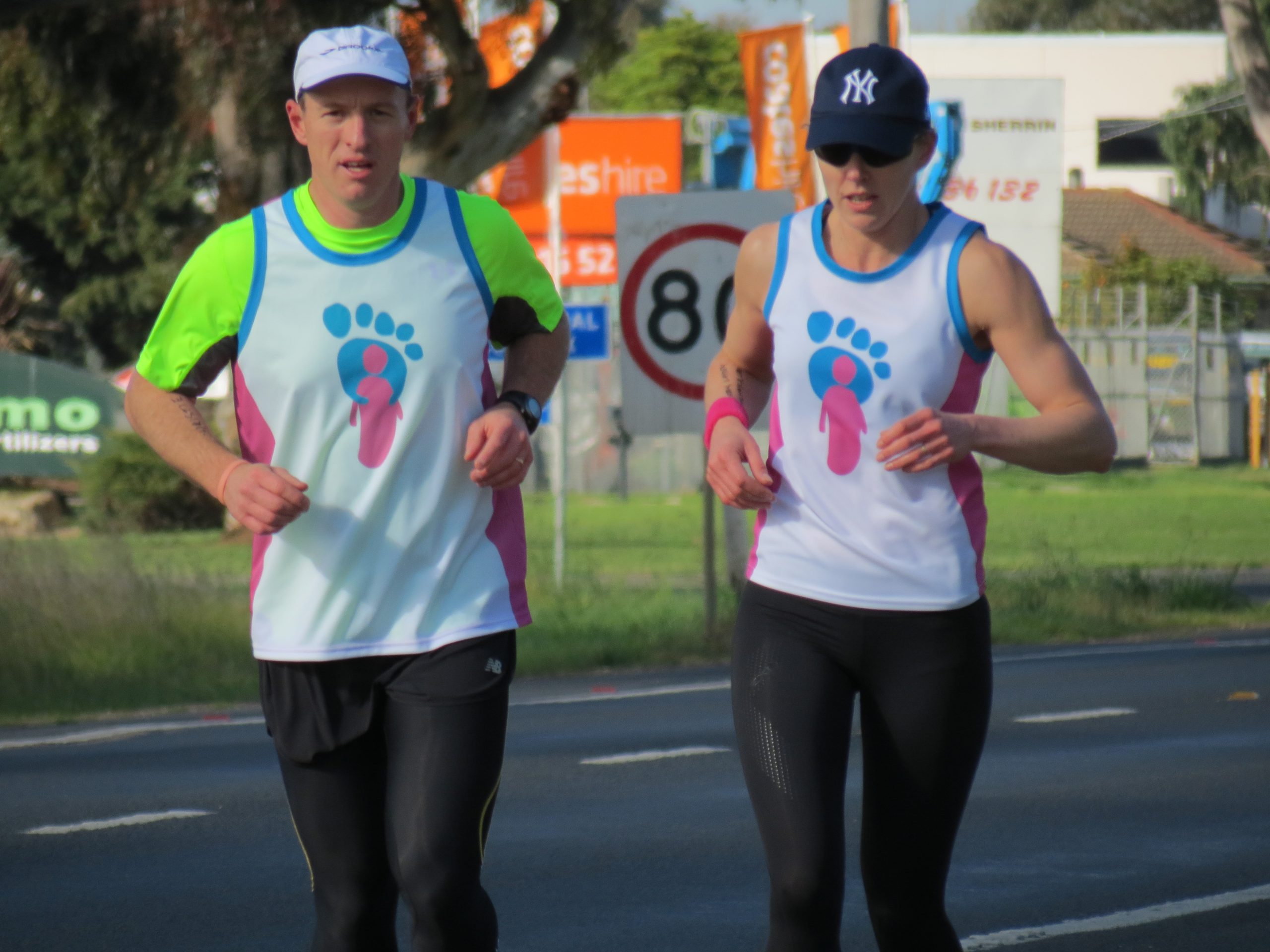 RUNNING
By SAMUEL DARROCH
A FORMER Traralgon man pushed his body to the extreme last month to support those suffering with breast cancer when he ran 422 kilometres in 10 days across Gippsland.
Sale resident Kain Jackson's 10 marathons in as many days was designed to emulate the body's response to the chemotherapy cycle, raising awareness for the 'Footprints Foundation' he co-founded with wife Nicole to help a family friend going through cancer.
The foundation provides a support network for local women and their families during treatment, performing day-to-day services such as cleaning, cooking and lawn-mowing in times of need.
"The 10 days represents the chemotherapy cycle… over that 10 day cycle it starts to attack the body, the good and the bad cells… that's what the 10 days represented, trying to put my body as close as I could to their treatment process," Jackson said.
"The only difference, from what I understand from specialists telling me, is that my body can regenerate cells."
Jackson, who has completed four past marathons, began training for his epic run upon creating the organisation last year, doing 100km per week, totalling 2600km.
His meticulous training regime could not, however, fully prepare him for the enormity of the task, which truly hit home three days in.
"I lost a kilo and a half on day two just through fluid and some muscle glycogen stores in my body, so day three I really struggled," he said.
"It got to a point, at the 21 to 22km mark, which is really early, I felt pretty ordinary… my wife got to a point where she thought about just pulling the pin completely."
Despite the torment his body went through, simple reminders of his cause were enough to keep his legs pumping.
"On my right arm I used to write who I'm actually running for, for example people I know that have breast cancer that we're either supporting or I know personally," Jackson said.
"Every time it got a little bit tough I just kept thinking back in particular to the people who are going through the breast cancer treatment and some of them aren't in the best of places at the moment.
"I just sort of kept thinking they can't stop their treatment for chemotherapy so I can't stop, I've got to keep going and just push through."
Up to five people were invited to run alongside Jackson each day, not only for his benefit, but to provide a personalised marathon experience for others.
Another helpful push along was a phone call from legendary Australian distance runner Steve Monaghetti, who Jackson shared a run with almost a decade ago.
"Certainly it was tough, mentally, physically, emotionally… something I'll probably never do again but it was an amazing experience to be involved in," Jackson said.
The run began in Sale on 4 September and traversed Stratford, Briagolong, Boisdale, Heyfield, Cowwarr, Glengarry, Morwell, Yarragon, Trafalgar, Darnum, Drouin, Poowong, Korumburra, Leongatha, Stony Creek, Meeniyan, Foster, Alberton, Yarram and Woodside before finishing in Sale.
His best time came on day one, four hours and 40 minutes, and the longest stretch was through the hills of Drouin, which he completed in just under six hours, running to a specific heart rate to manage lactic acid build up.
"I run a bit quicker than that normally and it was not my normal running pace, so it was difficult to pull back all the time," Jackson said.
Jackson said the foundation had received an increase in volunteer support since the run, and enjoyed a monetary windfall through donations.
With its increased profile, the marathon man is hopeful of expanding the service to other areas, eventually nation wide, and has begun establishing a referral system with local health authorities.
"The family can do a lot – the emotional support and being with the family members – and we can look after all those little things like mowing the lawns, garden maintenance, cleaning their house and cooking a meal here and there," Jackson said.
For more information about the Footprints Foundation and its services, visit www.footprintsfoundation.org.au or search Footprints Foundation – Sale on Facebook.