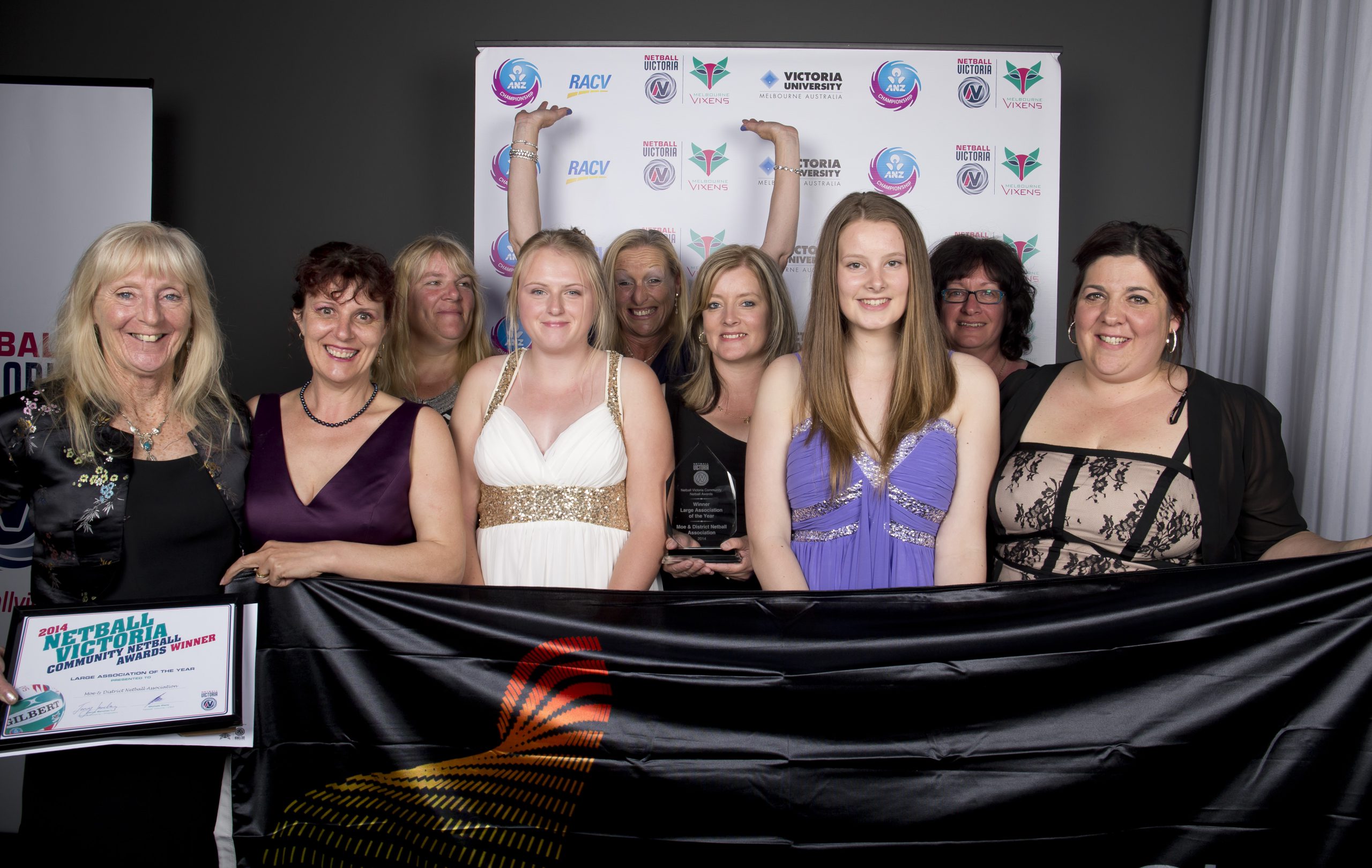 NETBALL
By SAMUEL DARROCH
MOE and Morwell netball associations were recognised at Netball Victoria's annual gala awards night on Saturday, taking out the large and small association of the year awards, respectively.
Staged at Cargo Hall, Docklands, the awards pay tribute to the volunteers that keep netballers on the courts at grassroots level.
Moe Netball spokeswoman Tamara Kennedy said the association, run by a group of about 12 volunteers, was thrilled to receive the honour.
"It's absolutely lovely to be acknowledged, not only for our committee but for our town as well," Kennedy said.
"We're a poor socio-economic town, there's not a lot of money… and we competed against those big clubs in Melbourne… all those clubs that have good socio-economics and huge amounts of money, so to be able to deliver these services is terrific.
"It just shows the commitment of people in our town."
Moe runs the largest Net Set Go program, a Netball Victoria junior development initiative, outside the metropolitan area and caters for anywhere between 700 to 1000 juniors per year.
Last season saw continued growth in both the winter and twilight competitions, with the latter attracting 76 teams, and Kennedy said numbers were swelling at a rate of 22 per cent increases per year.
The association has reached out to the region's "non-traditional" markets in recent times, engaging about 25 Sudanese youths in its netball system.
"We've been running a couple of programs to engage them, we've been talking to teachers at local primary schools… and a lot of word of mouth," Kennedy said.
Similarly, Morwell's work to engage youth and multicultural netballers was the catalyst for its nomination in the small association category.
The association joined the Net Set Go program this season, and forged new netball pathways for the region's migrant and international community.
"We've worked with the Centre for Multicultural Youth trying to develop some strategies to engage the new arrivals into the area, and to assist them to participate and look at the barriers to what's stopping them, which were around financial, transportation and a lack of understanding about how the sport works," Morwell vice president Katrina Palmer said.
"We got some grants for a Sudanese family through Netball Victoria… so they could participate; we're looking at ways we can get those communities engaged."
A Morwell squad program was also re-introduced for the under 11 and under 13 age groups to compete at representative level for the first time in a decade.
"We're hoping to raise the skills, develop those higher level players and give them the opportunity to play at a higher level," Palmer said.
She said the award was great reward for the half-a-dozen strong committee of volunteers who looked after the association.
"We don't do it for the awards, we do it because we want kids to play netball, we just want to increase the participation… it's great to see kids that want to play netball be able to play and have fun," Palmer said.
"It's nice to be recognised for the time you put in, but it's certainly not why we do it."
Gippsland was represented in three of seven categories on the night.
Churchill Indoor Netball Association and Leongatha's Mitch Price were also finalists in their categories.