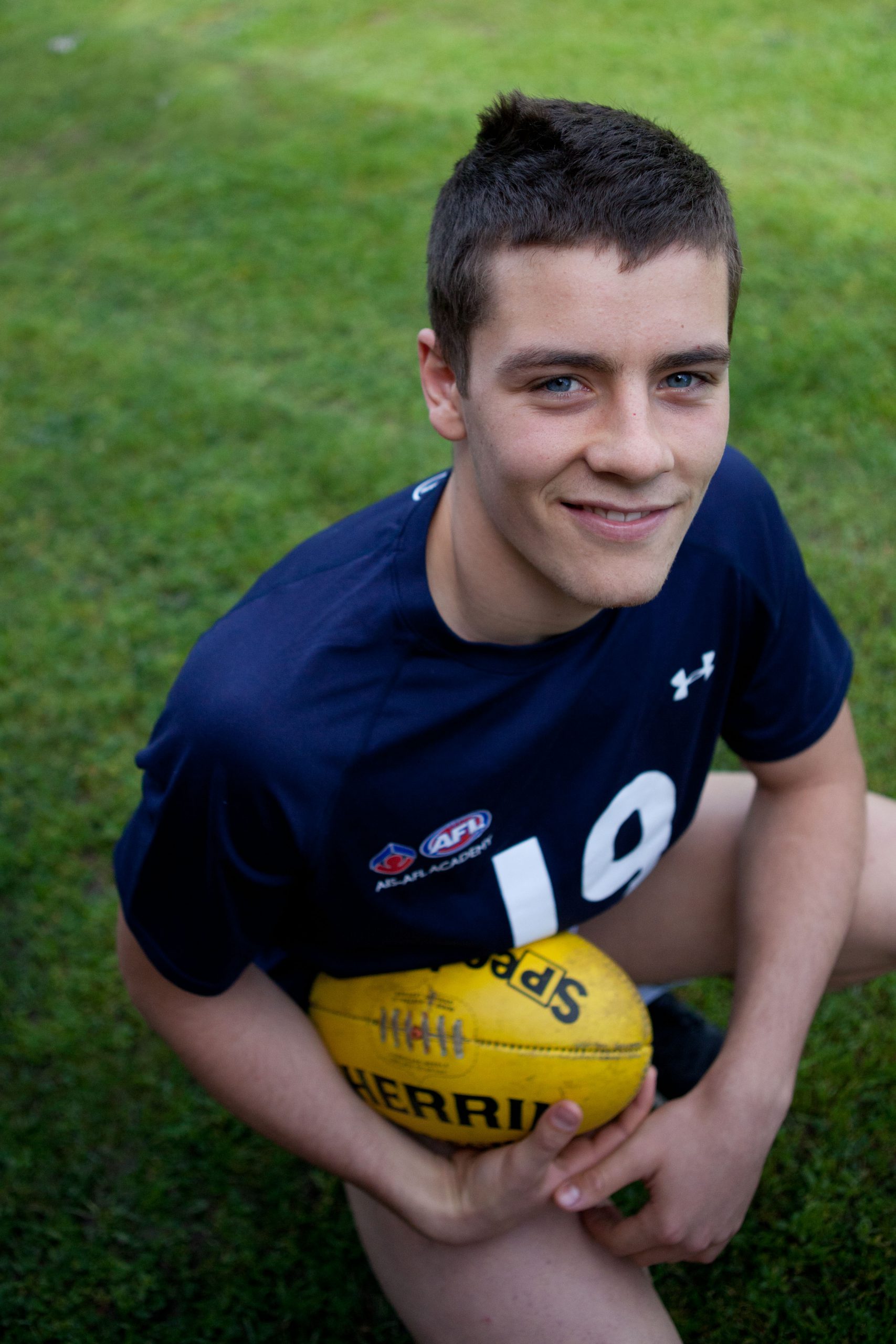 FOOTBALL
By SAMUEL DARROCH
THE Bloods may run in his veins, but Sydney Swans father-son prospect Josh Dunkley plans to make his own way in the AFL.
With dad Andrew Dunkley entrenched in the Swans hall-of-fame, the Gippsland Power 17 year-old is a strong chance for next year's father-son bidding at the champion club, but has not pinned his hopes on that eventuality.
"It's always really been there I suppose, ever since I started playing footy everyone talks about it, possible father-son, but I'd really like to think I'm making it on my own now," Josh said.
"That's why I'm doing everything right and trying to get the best out of myself so I'm not seen to just sort of be getting to that level on my dad's name or my family name, so I'll look to make my own name really and get there on my own merits."
A best-on-ground performance for the AIS-AFL Academy in this year's grand final precursor at the MCG, along with captaining a winning touring team in New Zealand, means Josh may be on several clubs' radars this time next year.

Despite the temptation to ponder the future, the 2015 TAC Cup season is as far ahead as the hard running midfielder is willing to look.
"I just want to improve my game, go to the next level. I think I've got a lot of improvement to do whether it's skills, or just strength – they focus a lot on core, sideways movement, agility and speed these days – I think everything can really improve," he said.
Hoping to emulate the feats of this year's AFL Draft Combine duo Lukas Webb and Jordan Cunico, Dunkley had the perfect grounding having played a similar role in Power colours late in the season.
However, he believes there is still work to be done to fill their shoes.
"I think I can improve my engine, I play through the midfield and push forward, I did (that role) late in the year with Power rotating with Jordan Cunico and Lukas Webb as well on ball."
Josh's footy journey traces back as far as he can remember, when he began playing Auskick with the Bulldogs in Sydney.
With generations of Dunkley men and women entrenched in the sport, Josh and his siblings were no different, brother and sister alike indulging in the family's shared passion.
Upon moving to Gippsland Josh took up with the Sale Football Club in the Gippsland League.
He was soon a premiership winner after being called up from top age under 14s to the fourths team under Neil Bristow.
Josh received a promotion to the seniors under Matt Ferguson aged 15, on return to the game from an ankle injury, and soon embraced the camaraderie at the top level.
"Ever since then I've just loved every minute; the senior boys at Sale really embraced what I brought to the team and got around me, and it's something I'll never ever forget, the way they treated me and the team and just invited me in," Josh said.
"When you walk around and you don't know all the senior players you're a bit tormented and a bit scared and intimidated by them all, but once you get inside and get to know them all you realise they're actually really good blokes and mates you'll probably have forever now."
A high achiever at GL and TAC Cup level, Josh was last year invited to take part in the AIS-AFL Academy program, which comprises the country's most talented draft prospects, alongside Power teammate Sam Skinner.

Through the academy, Josh gained an opportunity few AFL players ever do, wearing the green and gold in a Trans-Tasman showdown.
"It was a really good opportunity and (I was) really honoured to be a part of that kind of thing… representing your country, not everyone does that," Josh said.
"They push it really hard, the importance of the Australian jumper, it's definitely something none of the boys will ever forget and myself as well."
The academy also gave Josh his first taste of footy on the hallowed turf of the MCG, playing precursor matches to the AFL grand final in consecutive years.
As part of his AFL scholarship for 2014/15, Josh will spend next year playing and enjoying "work experience" sessions at different AFL clubs through the year.
He will also travel to the United States in January for an intensive three-week training camp at the AIS, Florida as one of 35 players in the national squad.
Another strong season with Victoria Country and the Power would bolster Dunkley's draft stock considerably, but the Swans will have first dibs under the father-son clause.
With the world at his feet, Josh said he was happy to put them up for the time being having just finished a season which began in January.
"It's been a pretty big year, I've loved every minute really but I'm pretty happy to have a bit of time off now," he said.