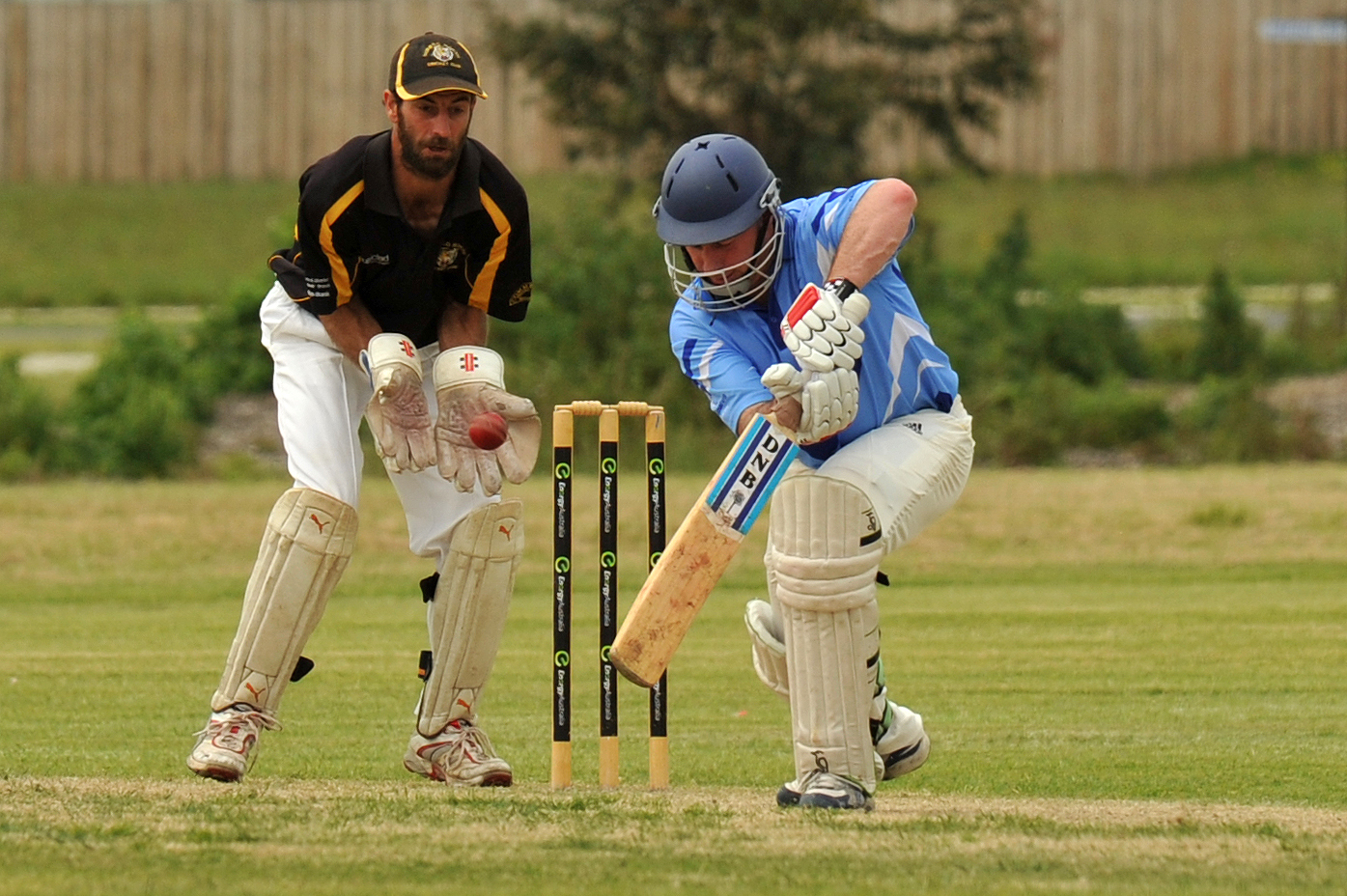 CRICKET
CGCA
Latrobe v Mirboo North
LATROBE achieved redemption in the 2013/14 grand final rematch, as Mitch Cowell's 5/28 restricted Mirboo North to 122.
Clinton Wise and Jed Alexander put on an opening stand of 40 to set the Tigers up for a big total, but former Moe dual-premiership player Chris Johnson removed both openers en route to 2/21 in his first game for the Sharks.
Cowell then cleaned up the middle order, including Rob Phoenix, last year's Matt Clarke medallist for best on ground in the grand final, for a duck.
Anthony Bloomfield claimed 2/8 to rout the Tigers for a modest total after Wise (34) and Callum Buckley (37) were the only major run scorers.
Latrobe opened up with Bloomfield and Steve Freshwater and, despite losing the latter along with several other wickets at regular intervals, were cruising towards the target until the introduction of spin on a turning wicket.
Phoenix sent down 10 overs and returned figures of 2/8, while Alexander, Cameron Le Page and Connor Williams also bowled well to tie down the Sharks.
When Williams dismissed Bloomfield for 86 the Tigers looked to be in with a sniff.
However, Latrobe got the result at the death, with veteran Tim Cranwell clearing the ropes to earn his side the points by four wickets in a dramatic finish.
Trafalgar v Morwell
TRAFALGAR Ships cruised to victory over Morwell on the back of skipper Rhys Holdsworth's 96.
The Ships lost Chris Robinson without scoring but a 56-run stand between Aiden George and captain Holdsworth steadied the innings.
With adequate support not forthcoming, Holdsworth powered on and looked set for a century before being caught behind four runs short of the milestone.
His contribution was largely responsible for the Ships' total of 187, with Morwell's bowlers struggling to contain last season's joint Byrne/James medallist for best and fairest first grade player in conditions that suited his style.
Brendan Brincat, Tim Dowe and Roger Henry were the only bowlers to have some success for the Tigers, all picking up two wickets.
Morwell began the chase well with Craig Giddens, Brendan Brincat and Mark Cukier all getting starts, but a middle order collapse saw the Tigers crash from 2/77 to 123 all out, as Trevor Cox, Nathan Simpson, Daniel Heathcote and Klay Butler each claimed two wickets to guide the Ships to a 64-run victory.
Newborough Bulldogs v Thorpdale
THORPDALE celebrated its first victory since returning to the top tier with a convincing win over a determined Newborough.
Batting first, Bulldogs young gun Royce Colgrave showcased his talent with a resolute 44.
Blair Clymo, one of Trafalgar's young guns from the under 14s made his first couple of A grade runs, while 15 year-old Bailey Somerville also made his debut behind the stumps with a polished performance.
Kayne O'Connell (2/18) and Travis Pickering (2/16) were Thorpdale's best bowlers as Newborough closed at 7/104.
Colgrave then picked up 3/33 from his 10 overs to cap a fantastic all-round performance, while Robert Blunt (1/23 from 10) and Daniel Farmer (1/8 from four) were also impressive.
The Blues were under pressure at 4/33 before a dropped catch by Mark Whitney off the bowling of Blunt gave Shannon Pickering a life.
South African Fraser Smith (117) announced himself with a century as he and Pickering put on 158 runs and pushed the total to 7/229.
Yallourn North v Moe
MOE captain Andrew Philip won the toss and elected to bat first before a calamitous display saw the Lions capitulate for 48.
Philip's 12 was the top score in a comprehensive rout as Rowan Kelly bowled a fantastic spell to take 4/22.
Brandon Bailey did the bulk of the damage, picking up astonishing figures of 4/1 from eight overs.
Glen Sheekey was relegated to the role of support act with 2/18.
Aidan Vesty and Andrew Petrou fell early but Josh Keyhoe's 38 effectively settled the matter, while Kelly hit 33* to cap an outstanding individual match.
Aaron Walshe picked up 2/11 and Shane Zoch 2/32 as the Lions went out with a whimper.
Second Grade
Moe v Trafalgar
TRAFALGAR posted 4/174 against Moe with Brendan Dawson (37) getting the Ships off to a fantastic start before some brilliant strokeplay from Jackson Noonan (61) put the eventual total well out of Moe's reach.
The Lions were unable to provide enough support to Jagbir Singh who struck 72, eventually running out of overs and closing at 7/120.
Kingsley Rajasingam was the pick of the bowlers with 2/19 while Dave Bremner and Liam Durkin both took 2/28.
Morwell v St Vincent's
GLEN Bone's towering 81 pushed Morwell to 5/196 against St Vincent's, with supporting hands from Steve Bilic (23) and Dylan Day (31*).
Brett Dowdell (2/29) was the only bowler to have any joy for the Saints.
Rob Semmler then removed both openers without scoring, en route to figures of 3/27, Dean White cleaned up the middle order with 3/44 before Glen Bone picked up two wickets to wrap up man of the match honours and skittle the Saints for 125.
Jeeralang-Boolarra v Latrobe
Tim Laaks, Peter Gilpin and Dermott Leys all got starts to help Jeeralang-Boolarra to a hefty total against Latrobe, but it was Stan Urbanic's unbeaten 64 that really put the score out of the Sharks' reach.

Trent Roberts picked up three wickets and plenty of the Latrobe bats got starts but the total proved to be a bridge too far for the Sharks.
Mirboo North v Yallourn North
JAKE Redman's 20 was the only thing preventing Yallourn North from complete humiliation, as the nine-man Bombers were humbled for 51 by Mirboo North.
Clinton Brooker was the chief destroyer with 3/17, while Josh Taylor and Dale Banks each picked up two wickets.
Brendan Van Heurck then struck 52 to seal the points for the Tigers.
Third Grade
St Vincent's v Latrobe Colts
THE young Latrobe Colts had a big victory against a St Vincent's outfit ravaged by unavailabilities.
Batting first the Colts posted 153 with Dean Burridge, Aaron Farley, Jack Aitken and Benn Zomer all getting starts.
Jayden Cargill snared 4/15 and Dylan Cooper picked up 2/6.
Roy Valentine's unbeaten 36 saved the Saints from total disaster, as the next best score was Jesse Hebbard's three.
Brendan Briggs in his first senior game blew the Saints away with 5/11, while Aitken took 3/23.
Latrobe Sharks v Newborough
COREY Dobson's 79 set up a platform for Latrobe Sharks and late hitting by Steve Hanning (22) and Troy Dwyer (36) pushed the total to 8/262.
Brothers Dave and Joshua Reynolds bowled well for Newborough, before Hanning's 3/14 shot the Bulldogs out for 49.
Willow Grove v Moe
BRODY Hams (47) and Nathan Perkins (34) powered Willow Grove to 157 against Moe.
Steve Rennie's 4/36 kept a leash on the home side's middle order and while Paul Kane and Matt Webber did their best, the total proved to be just beyond the reach of the Lions' batsmen.
Hazelwood North v Morwell
ANDREW Kays (48) and Jack Hansford (38) helped Morwell to 7/151 against Hazelwood North, but starts from Robert Byrne, Jayden Hawkins, Hayden Kimpton and Tim Duff enabled the Razorbacks to reach 9/172 and pinch the points.