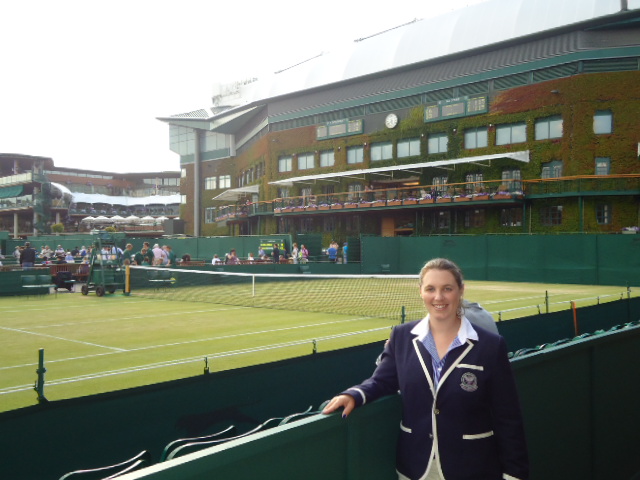 GIPPSLAND school teacher Kelly Krusic has made a life travelling the world tennis circuit, without even lifting a racquet.
Krusic will be officiating during the Traralgon ATP Challenger 2 in November – just another stop on her tennis world tour.
The Sale-based teacher has officiated at tournaments across the globe, including the French Open, United States Open and the home of tennis, Wimbledon.
Despite her exposure to the international scene, Krusic said she always looked forward to coming home and working at regional events that brought the community together.
"It's great to give something back to the sport, and players come from all over the world for these events so it's exciting to get back to my roots where it all began," Krusic said.
"It makes a great part time job while at university, and we are so lucky to be able to work at the Australian Open in our own back yard."
Krusic started her career in tennis as a ball girl at the Australian Open in 1999 before volunteering in 2003 at Tennis Victoria when she met the officials and decided to give it a go herself.
Her ultimate goal is to umpire the women's final at the Australian Open.
Tennis Australia officiating development coordinator Sof Megas said watching regional officials transition from local events to working at the Australian Open was a rewarding experience.
"It's such an incredible opportunity to work at the highest level of a sport. We are so fortunate to have talented Victorian officials who represent us on the global stage," Megas said.
Traralgon Tennis Association manager Susie Grumley, who has been heavily involved in the Challenger circuit since it came to the region last year, said it was beneficial to have high quality officials in Gippsland.
"It's great for the quality of our tournaments here to have the support of local officials. We have so many great events here at the Traralgon Tennis Complex, and it's great to see the community get involved at all levels," she said.
Tennis Australia will offer locals the chance to be on court with some of Australia's best players, with a training course in Traralgon on Sunday from 1pm to 3pm.
The course is free and registration forms will be provided on the day along with details for practical development leading up to the Bendigo Pro Tour.
For more information and to sign up, visit www.tennis.com.au/officials or phone Sof Megas on 0411 762 410 or smegas@tennis.com.au