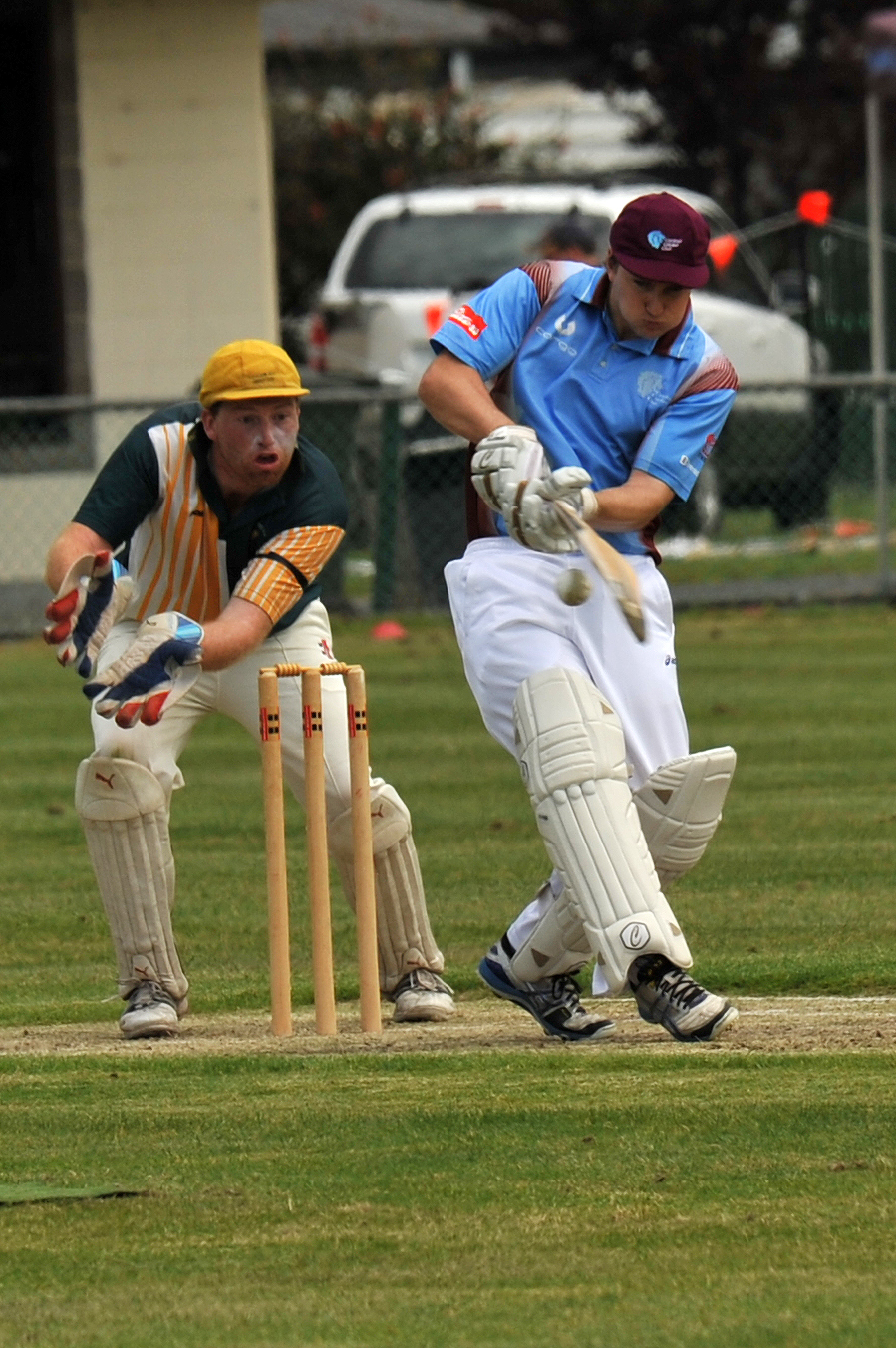 CRICKET
TDCA
GLENGARRY firmed as the Traralgon and District Cricket team to beat with a thumping win over Churchill in round three, while Rovers celebrated hard after scoring the points in a nail-biter with Gormandale.
Toongabbie v CATS
AFTER winning the toss and batting, Toongabbie lost Kevin Stoddart early for seven before Jason Veneman (26) and Skipper Matt Golding (66) put on 105 to secure a good total.
Roger Farley chimed in with 24* as the Rams reached a respectable 6/175.
Barney Webber took 3/20 to be best for CATS.
In reply CATS struggled to get a big partnership going; Rory Hare top scored with 25 before a late order fightback from Toby Eastburn (22) and Ryan Foulkes (21*) got within 16 runs at the close of play at 9/159.
Jake Westland took 4/29 in a standout effort with the ball for Toongabbie.
Raiders v Imperials
RAIDERS won the toss, but were pitiful from that point on, bundled out for 78 in 35 overs.
Mick Higgins made 24 in an otherwise desolate batting card.
Nat Campbell (3/23) and Nick Scammell (2/7) bowled well to lead the rout.
In reply Imperials cruised to their first win of the season with an opening stand of 66, all but securing the points.
Campbell had a match winning day, making 46 as Imperials declared at 2/80 after 21 overs.
Centrals v Traralgon West
BATTING first Centrals got off to a steady start of 28 with Dave Hosking (18) and innings top scorer Jamie Hall (42).
Small partnerships followed, with Jai Eccles' 28* helping Centrals reach a competitive 8/180.
Jon Bell nabbed 4/40 to be best for the West.
A disastrous start to the chase saw Traralgon West in deep trouble at 4/6.
Tim Fitch amassed a well made 53, while Rob McGregor scored 26 to get the West close at 9/145 by stumps.
Mark Rawson continued his good form with 4/27, while Marc Fenech boiled well to nab 2/15.
Churchill v Glengarry
GLENGARRY reached an imposing round high 4/253 with first use of the wicket at George Cain Oval, Churchill.
Sam Marks' 78 set the scene from the start in a strong innings, while first drop Hayden Ross-Schultz batting was also superb with 74.
Ben Julin hit up 46* as Glengarry stamped itself as a genuine contender with a devastating stay at the crease.
Churhchill faced a daunting assignment and never got close, bowled out for 145.
Matt Harvey (28), Nick Duncan (37) and Paul Metlikovec (23) were best in the fruitless chase.
Ryan Delaney, Justin Little and Frank Marks each took two wickets.
Gormandale v Rovers
BATTING first the Tigers got to 40 before Travis Switzer fell for 22.
Ryan Vickery then followed for 25 and there was more trouble when Kent Hammond departed cheaply for two and the premier fell to 3/50.
Rob Darby (33) and Shaun Barbour (72*) put on 90 to resurrect the innings, climbing to 7/173 after the allotted 45 overs.
Rovers spinner Fazz Hasan bowled superbly with 2/7 off nine overs and Greg Bramwell kept things tidy with 1/11 off nine.
Rovers started cautiously to reach 3/38 before the game changed direction.
Dean Gillard set about a rescue mission, picking up the run rate to notch 45.
Captain Peter Ingwersen made an important 37, while Todd Mann was the hero with 20* to lead Rovers to victory with six balls and two wickets to spare at 8/ 175.
Barbour was best for Gormandale with 3/25 to back up his 72*.
B grade
Imperials 3/160 (RS Mills 2/21) def Morwell Tigers Yinnar Raiders 8/156(cc) (A Quigley 82*)
CATS 93 (D Stoddart 4/22, D Barry 3/20) def by Toongabbie 1/135(dec) (R Taylor 52, D Barry 51*)
Traralgon West 73 (S Perks 4/9, C Petersen 3/24) def by Centrals 9/211(cc) (N Celima 56, J O'Rourke 49, P Quinlan 2/11)
Rovers 5/179 (E Williams 52*, J Greenwood 33, C Little 3/40) def Gormandale 162 (C Little 56, MR Brown 47, A Wilkes 3/25, A Donoghue 3/30)
Glengarry 136 (P Marks 29, G Harvey 2/6) def by Churchill 175 (S Warr 42, T Spark 40, J McGown 32, B Clegg 4/34)
C grade
Ex Students 9/227(cc) (B Greenwood 4/36) def Rovers 6/117(cc) (G Thompson 56)
Imperials 193 (B Howlett 4/18, G Warfe 3/35) def by Centrals 7/250(cc) (B Silver 102, R Patterson 66)