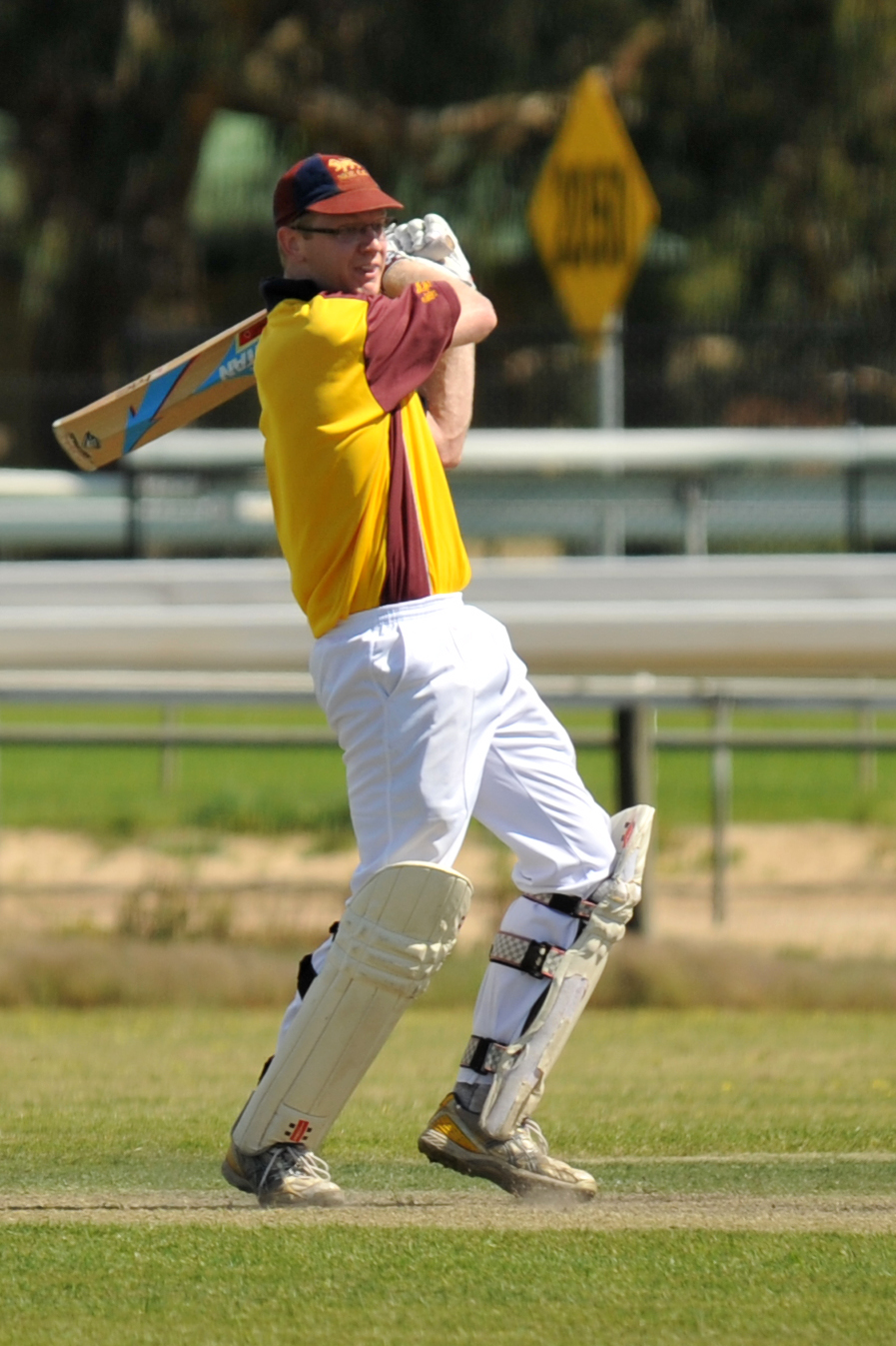 Moe v Newborough Bulldogs
MOE captain Andrew Philip won the toss against Newborough and batted first, showing no signs of mercy to post 3/306.
Centurians Philip (104) and Dale Walshe (126*) cashed in against the beleaguered Bulldogs.
Robert Blunt (1/42) toiled away and made the breakthrough at 1/103, having Sean Spiteri caught by Anthony Faltum for 51, but that only brought Walshe and Philip together who proceeded to add 175 runs.
Newborough captain Matt Coutts eventually had Philip out and then struck again not long after, removing youngster Joel Mitchell for a duck.
The Dogs were never really in the hunt but showed resolution.
Royce Colgrave (27) and John Murray (20) both did their best to grind it out but Luke Mulqueen (4/21) and Jayden Mathison (3/20) put an end to matters.
Mirboo North v Morwell
MORWELL posted 6/160 in its round six Central Gippsland cricket fixture but it was not enough to topple the powerful Mirboo North.
Skipper Rob Phoenix hammered an unbeaten 112, his second consecutive century, to see his side reach 6/256 in the all-Tiger showdown.
Batting first, Morwell lost Jesse Giardina early before Craig Giddens (41) and Mark Cukier (73) steadied the ship.
Phoenix (2/39) took two middle order wickets to dent Morwell's chances of accelerating late, but it was the disciplined bowling of Jarrod Speed (1/15 off 10 overs) and Josh Taylor (1/10 off six overs) that restricted Morwell.
Despite the loss of a couple of early wickets, Mirboo North cruised past the target four wickets down, with youngster Hudson Kerr showing great maturity at first drop.
Kerr batted almost through until the winning runs were struck.
The home side then shifted up a gear and Phoenix was particularly savage on Morwell young guns Dylan Day (0/37 off five) and Tim Dowe (0/34 off four).
Brendan Brincat was Morwell's best bowler during a tough shift, with 3/37 while Cukier picked up two wickets.
Latrobe v Yallourn Nth
YALLOURN North captain Patrick Spiteri won the toss and had no hesitation in batting first against Latrobe in warm conditions.
The Bombers lost first-time openers Josh Keyhoe and Lucas Fry early on in the piece.
When Tyler Brown was dismissed to leave Yallourn at 3/52 a stabilising presence was required.
Spiteri was joined at the crease by Aidan Vesty and the two added 88 runs as Latrobe's bowlers struggled for impact on a placid surface.
Spiteri struck 70 and Vesty 54 not out as Yallourn reached 4/167.
Brendan Evans (2/42) was the only multiple wicket-taker for the Sharks.
In reply, Latrobe's Anthony Bloomfield (48) and Justin Vajler (41) put on 87 for the first wicket, and the Sharks looked to be cruising.
Kaushik Aphale was run out after a mix-up with Steven Freshwater but the latter made up for his mistake by staying out in the middle with Matt Brewer until the winning runs were hit.
Latrobe then went on to 4/190 on a tough day for the bowlers.
Thorpdale v Trafalgar

TRAFALGAR'S Aiden George bounced back into form, striking his maiden century against Thorpdale as the Ships notched up 6/271.
Chris Robinson hit 83 to pile the misery onto the Blues. Boyd Bailey's 3/52 was the only major joy for Thorpdale, while Travis Pickering snared 2/40.
The Blues were belligerent in their response, reaching 7/197 as Trafalgar's bowlers failed to kill the game off early.
Captain Rhys Holdsworth was expensive with 2/55, a far cry from his efforts against the same opponents last season when he took 14 wickets in two games.
Kayne O'Connell (42), Steven Hibbs (45) and Boyd Bailey (48) frustrated the Ships' bowlers, with Daniel Heathcote (2/29) and Will Cheatley (2/34) the only ones to stick to task.
Morwell v Moe
PAUL Cake's 32 was Moe's best effort as the Lions were rolled for 92 by Morwell.
Roger Henry (2/12) and Shane Gniel (2/5) did the damage before Rob Semmler dismissed Jason Shearing, Zac Rendell and Lachlan Francis in successive deliveries to claim a hat-trick.
Morwell was soon in deep trouble at 6/41 thanks to Thomas Wilson's 5/23, but Gniel and Mark Smith dug in and guided the Tigers to 6/94.
Yallourn North v Latrobe
Yallourn North was dismissed for 95 by Latrobe, with Patrick Farrant (4/14) mopping up the tail.
Adam Chester (28) and Daniel Martini (29) were the best performers for the Bombers.
In reply the Sharks made short work of passing the total four wickets down; Mick Zomer's 27 guided the visitors home with no major scares.
Darren Wilkie took 2/15 for the Bombers.
Trafalgar v Rawson
Rawson was bundled out for 23 by Trafalgar.
Jakob Cassar top-scored with five, extras was the next best with 4 and four Kookaburras batsmen were dismissed without scoring.
Liam White (3/2) and Liam Durkin (3/1) cleaned up the middle and lower order, before the Ships reached 1/117.
Mark Wynne (48) made sure of the points with support from White (19*) and Jason Hopkins (38*).
St Vincent's v Thorpdale
GEOFF Dyke's 22 was Thorpdale's best en route to a dismal 95 all out, as Gary Larkin (4/13) and Brett Dowdell (2/25) had the Blues in a spin.
Justin Blair then struck 102* in his side's 3/129, while Ian Pinkerton claimed two wickets for the visitors.
Jeeralang-Boolarra v Mirboo North
Craig Blackberry's 65 powered Jeeralang-Boolarra to 7/195 against Mirboo North.
Jesse Buxton (2/20) and Brandon McKean (2/37) were the only bowlers to have any joy.
The Tigers were then all out for 43 with Andrew Soplakow's 18 the only score in double figures.
Urbanic (5/16) was the best for the Panthers.
Willow Grove v Mirboo North
JARRYD Cutler's 78 not out saw Willow Grove post 2/211 against Mirboo North, with assistance from Brody Hams (57) and Nathan Perkins (48*).
Pete Grima (1/15) and Brett Bishop (1/62) were the wicket takers.
Bishop was the only bat to get going with 30 as Mirboo North were all out for 94, the wickets shared among the Willow Grove bowlers.
Latrobe Sharks v Hazelwood North
ZAC Smith's 52 not out boosted Latrobe to 8/216 after a slow start against reigning premiers and undefeated Hazelwood North.
Rodney Croft bowled well to take 3/28.
Ash Halkett struck 30 and Steve Grover 24 to lift the total.
Jeremy Brewer (3/18) and Glen Steele (4/22) looked to have sealed the game for the Sharks before a remarkable and aggressive 70* from Brendan Ruddell saw Hazelwood North get to within 52 runs before running out of wickets.
Moe v Latrobe Colts
MOE was all out for 147 against Latrobe Colts thanks to tight bowling from Bailey Nikodemski (3/22), Toran Patching (2/11) and Jack Aitken (2/20).
Paul Kane (47) and Steve Rennie (29) added much needed runs to the Lions' total.
In reply the Colts were steady until the introduction of Rennie (4/39) and Kane (4/15) to the bowling crease saw them totally lose their heads.
Dean Burridge (49), Will Kennedy (25) and Patching (21) all chipped in but the Colts eventually fell eight runs short of victory.
Newborough Bulldogs v Jeeralang-Boolarra
NEWBOROUGH was bundled out for 89 against Jeeralang-Boolarra with only William Rilen (23) and Jason Walsh (22) getting starts.
Scott Wilson (4/16) did the bulk of the damage with help from James Armstrong (2/7) and Robert Beamish (2/14).
Beamish then made sure of the points by striking 48, as the Panthers reached 5/135.
Rilen took 2/10 while Jack Hurst, Robert Colgrave and Brody Hissey all picked up a wicket each.
Morwell v St Vincent's
MORWELL'S Richard Snell scored 42 not out as the Tigers recorded 9/176 against St Vincent's, with Wayne Arnold (4/52) and Andy Evans (2/18) doing their best to restrict the home side.
Only Glen Hebbard (26) and Dave Izard (11) reached double figures as the Saints were all out for 59, with Kevin Toseland (4/40) and Jack Sandy (6/16) polishing off the innings.