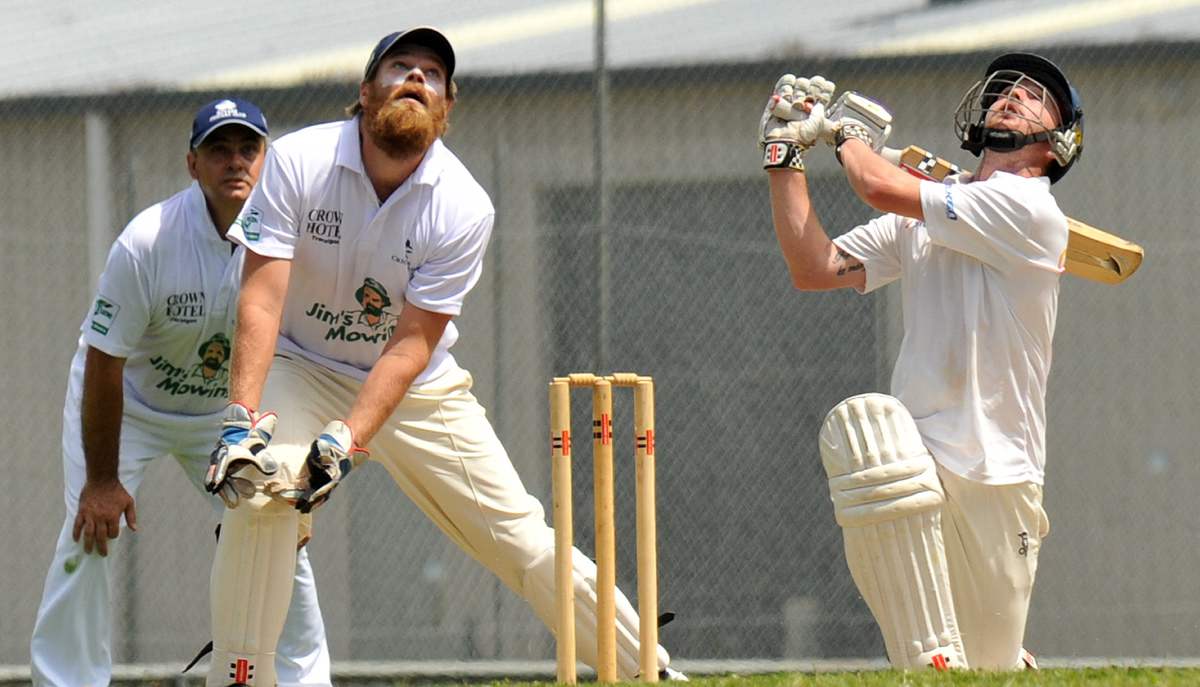 CRICKET
TDCA
BEN Julin and Jordan Gilmore set the Traralgon and District Cricket Association alight with magnificent centuries to lead their teams to big wins in a shortened round of matches after rain last week.
Reigning premier Gormandale faces a break in its perennial finals appearances after losing to Centrals in a thriller.
Ex Students v Churchill
BATTING first the Sharks lost two early wickets as Greg Munro (4) and Jackson McMahon (8) were sent back in the sheds.
Enter the in-form Gilmore who batted sensationally to control the rest of the innings with a magnificent 121.
Dylan Spence chimed in with 27 as Ex Students amassed an impressive 4/204.
Churchill never threatened and was dismissed for 135, with John Keighran top scoring with 25.
Jackson Beani bowled well to take 3/28.
CATS v Rovers
CATS could manage only 125 with first use of the wicket as Rory Hare (29) and Brad Foster (25*) saved the team from embarrassment.
Todd Mann sliced through the CATS order with 4/15 to be best with the cherry for Rovers.
In reply, Rovers was led by Nilla Thillekarathna who top scored with a match-winning 60 as Rovers passed the score in the 35th over with six wickets down.
Toongabbie v Raiders
TOONGABBIE reached 144 batting first, all due to Matt Golding who made a brilliant 70 with extras next best at 26.
Raiders were well served by Alex Lawson with 3/34.
In reply, Raiders were in a hurry as they dominated the attack to reach the target four wickets down for 146 in the 28th over.
Matt Cowling starred with 60 runs while Liam Maynard made 30 not out.
Centrals v Gormandale
AFTER winning the toss and batting Centrals stumbled early before Jamie Hall and Dean Rode put the home team on top.
Hall made 45 while Rode top scored with 67 as Centrals made a competitive 9/177.
The Tigers made fair start to the pursuit with Travis Switzer steadily compiling 21, but the loss of Al Jenkin (3) and Kent Hammond (25) to lbw decisions proved disastrous.
A late order rally saw Shaun Barbour (37) and Chris Bell (36) put the Tigers within 30 runs with four wickets in hand, but an inspired spell from Mark Fenech (5/35) saw Centrals home as they bowled the Tigers out for 172, five runs shy of the target.
Traralgon West v Glengarry
TRARALGON West struggled with the willow and set Glengarry 103 to win after slumping to 9/102.
Tim Howe top scored with 32 in a disappointing batting card.
Frank Marks took 3/8 to claim best figures for Glengarry.
Ben Julin was superb in the run chase, bashing a century off 77 balls to end up making a mammoth 158 which included 12 sixes and 10 fours.
Sam Marks continued his great form with 70, while Jarrod Allan made 31 to help Glengarry post 4/298.
TDCA B grade
Gormandale 8/178(cc) (AL Heard, 70 W Jenkins 57*, D Churchill 2/8) def by Ex Students 4/181 (P Richards 70*, J Kerry 37*, D Churchill 30, C Little 2/30); Churchill 9/188(cc) (R Jellis 47, R Metlikovec 44, CS Dekaste 3/18, C Mustoe 3/27) def Traralgon West 9/173(cc) (P Quinlan 60, J Van Berkel 51, T Spark 5/44) Glengarry 168 (P Henry 60) def Toongabbie 127 (B Power 3/25, W Broughom 3/25); Morwell Tigers Yinnar Raiders 9/138(cc) (D Burrows 37, S Perks 3/16, L Pollard 2/30) def by Centrals 5/144 (J O'Rourke 40, J Winters 2/10, RJ Kerrison 2/32); Rovers 195 (O Syed 54, A Donoghue 43, J Scurlock 4/39, AT Wilhelm 3/37) def CATS 7/156(cc) (D Cooper 32*, M Manthilake 3/16).
TDCA C grade
Traralgon West 5/236(cc) (A Bermingham 71, D Smith 3/48) def Toongabbie 7/210(cc) (D Westland 133*, B Peavey 2/14); Churchill 1/78 (K Hutchinson 33*) def Rovers 64 (A Baker 5/13, B Flanigan 3/8); CATS 61 (J Cooke 2/6, W Watson 2/10) def by Centrals 4/161 (D Kyle 79*, W Watson 45, J Morris 3/29); Imperials 5/158 (D Pryde 2/21) def Ex Students 152 (N Oates 50, A Bentley 27).