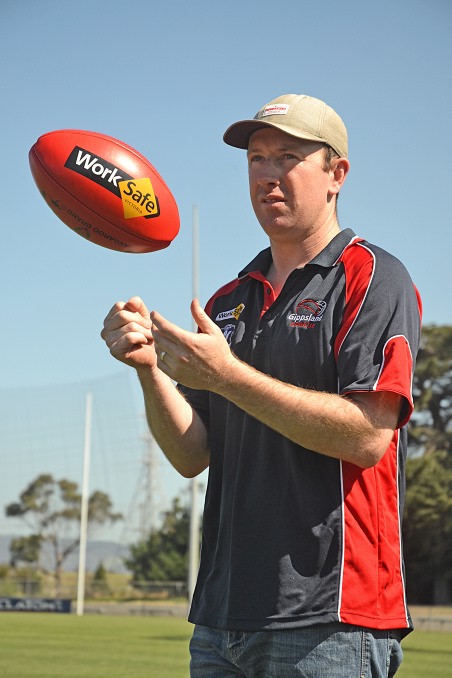 FOOTBALL
GIPPSLAND LEAGUE
STEVE Hazelman has been appointed as Gippsland League interleague coach for the next two years.
A Gippsland Power graduate and former St Kilda supplementary-listed player, Hazelman has a long and decorated history as a player and coach.
Hazelman won the 2000 premiership with Traralgon as a 19 year-old and returned to the club as coach in 2009-10, playing in the 2011 flag under Josh Jennings, before retiring at the end of the season.
In between, the hard-nosed centreman won three AFL Canberra premierships with Belconnen and coached Goulburn Valley Football League club Shepparton United and North Gippsland Football Netball League side Gormandale.
Other career highlights include league medals at Belconnen and Gormandale, four club best-and-fairest awards and being a member of the 2004 All-Australian Country representative team.
Gippsland League fell to ninth on the AFL Victoria Country Championships rankings with this year's defeat to Bendigo Football League and hosts 10th-placed Yarra Valley Mountain District Football League on the weekend of 23 and 24 May.
The match will be a replay of the 2013 clash, which Gippsland League won by 84 points.
Hazelman replaces outgoing Morwell coach Harmit Singh and was looking forward to helping the league rise back up the rankings.
"Our current interleague ranking of ninth isn't a true reflection of the standard of football in the major league in Gippsland and with the backing of the Gippsland League board we will endeavour to do everything we can to get the best players playing and putting our league back in the top six,'' Hazelman said.
"With six new coaches coming into our league at club level for next season our competition looks set for a new look with clubs actively recruiting, which will hopefully make our interleague team as strong as it's been for some years.''
Hazelman urged the region's football community to mark the interleague weekend in their calendars and throw their support behind the team.
"It is important all the clubs and supporters get behind the interleague concept as it creates a flow-on effect back to club level, with the standard of football improving with good interleague results,'' he said.
Gippsland League chair Terry Flynn was delighted with the appointment.
"It's fantastic for our league to recruit such a high calibre coach and with Steve's coaching attributes and experience we felt it was the right appointment for the league,'' Flynn said.
"The board was pleased we could find an independent coach who can focus on the Gippsland League team and meet the challenges over the next two seasons.''
Flynn also thanked Singh for his service to the league and wished him the best for his future coaching endeavours.
The venue for the 2015 country championships clash is still to be confirmed, but the day will also likely include an under 18 football match and netball games.