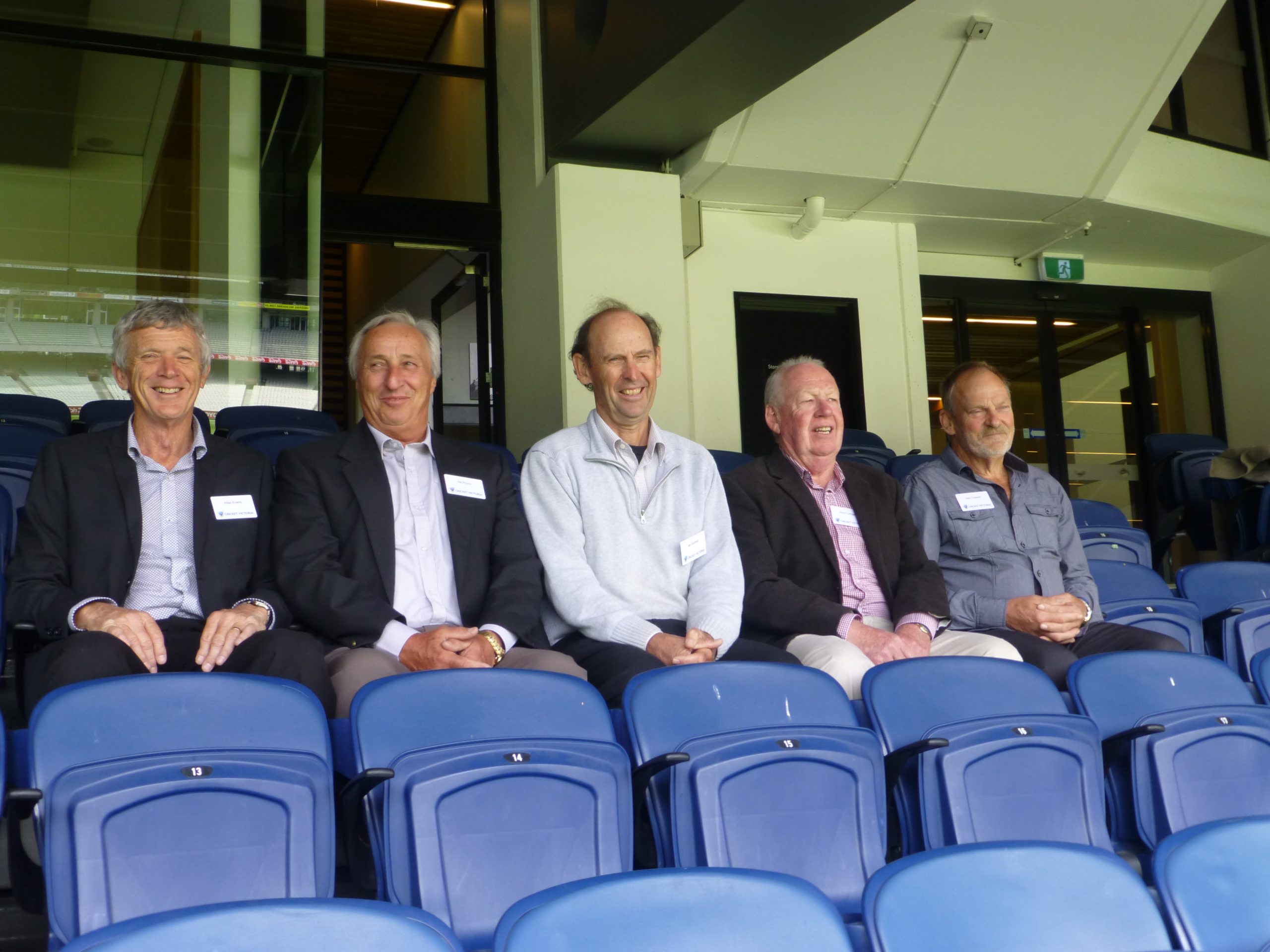 CRICKET
By SAMUEL DARROCH
RELATED COVERAGE: Cricket veteran backs "timely" review
HALF centuries are a special achievement on the cricket pitch, but Mirboo North's Ian Southall has been applauded for a 50 with even more significance.
The 63 year-old was acknowledged for five decades of service to the game in a special presentation at the Melbourne Cricket Ground last month, alongside a group of former rivals and mates he now plays with for the Gippsland Goannas.
Allan Evans, Val Popov, Kevin Lanigan and Alex Dowsett were also recognised in a sombre ceremony, which was subdued as the tragedy surrounding Phillip Hughes lingered over proceedings.
Despite the solemn mood, Southall said the occasion was an overwhelming experience following a lifetime of dedication as a player, coach, volunteer and administrator.
"To go to the MCG and to be presented by (Cricket Victoria chairman) Geoff Tamblyn and (chief executive) Tony Dodemaide a certificate to say 'thank you very much' (was humbling)," Southall said.
"Tamblyn's comments were no matter how much sponsorship we get for cricket Victoria it's the volunteers at grassroots level that keeps this game alive."
A prolific opening bowler, Southall played most of his cricket in the Sale-Maffra competition for Rosedale-Kilmany and won almost half a dozen A grade premierships.
Southall also enjoyed success at Gippsland Cricket League level, where he represented his association against the likes of Australian cricket Cameron White's father Russell.
He continued to compete at the top level in to his 50s, before moving to Mirboo North about a decade ago and joining the Tigers.
While Southall still dons the yellow and black cap on occasion for the current Central Gippsland premier, his primary focus has been developing the previously struggling club as a coach and volunteer.
Southall has witnessed, and helped drive, a huge boom at Mirboo North since his arrival – one of the most rewarding experiences of his cricketing career – culminating in a breakthrough senior premiership for the club last season.
The 27-year drought breaking final against Latrobe, in which skipper Rob Phoenix scored a mature century to guide the Tigers home, was among the highlights.
"Seeing a struggling club when I came to Mirboo North now blossom into the club that it is, that's where you can make a difference with cricket, creating that culture," Southall said.
The long-serving coach has looked after juniors for many years, with particular focus on under 14 and 16 age groups where competition from other sports is strong, and remains an assistant at the Tigers in the latter division.
Under his watch many have graduated to represent Gippsland Pride, and Southall has had an influence over the likes of national player Travis Birt at GCL under 18 level.
An ambassador for women's cricket, Southall reckons the recent addition of an all-girls under 12 team at Mirboo North has been a revelation, as the female pathway continues its rapid expansion.
More than just a game, Southall views cricket as a great teacher of teamwork and life skills for youth.
"In my lifetime I've seen small communities, and youngsters, embrace the game and create a social and sporting environment that's cohesive but also teaches them team rules and being able to play in life and how life should be really about how you conduct yourself in a team environment," Southall said.
"Not one individual can rely solely on themselves as they move through life, they need to be in that social interaction and that's where team sports are extremely important.
"If you talk about the Australian character that's one of the things that probably, not sets us apart, but is one of those inherent characteristics of Australian life."
As age slowed his pace on the speed gun, Southall joined with the Gippsland Goannas, which competes in the Victorian Over 60 Cricket Association fortnightly.
Along with three other Goannas, Southall recently tasted success in division one at the national titles while representing Victoria Country.
He said while the speed of the game at the veteran level dropped down a notch, the competition was as strong as any tier of the game.
"Whilst the bowling is a little slower it's a lot more accurate and… the batting is very good because once you've learnt the technique, the mastery of the art of batting and especially playing straight and waiting for the right ball you can make runs at any given stage of your cricketing career," he said.
"These guys that I played with have been fantastic mates, even though we played against each other we have a really good bond.
"The passion is still there and you've got a skill level, it's great to be able to go back and work with your peers at that level again. Maybe not as hard and fast as what you did when you're a youngster, but it's the comradeship as well."
Southall said cricket had honed his competitive nature, built confidence and enabled him to communicate with his community in his other passions and worklife.
Here's to 50 more years for a Gippsland legend.