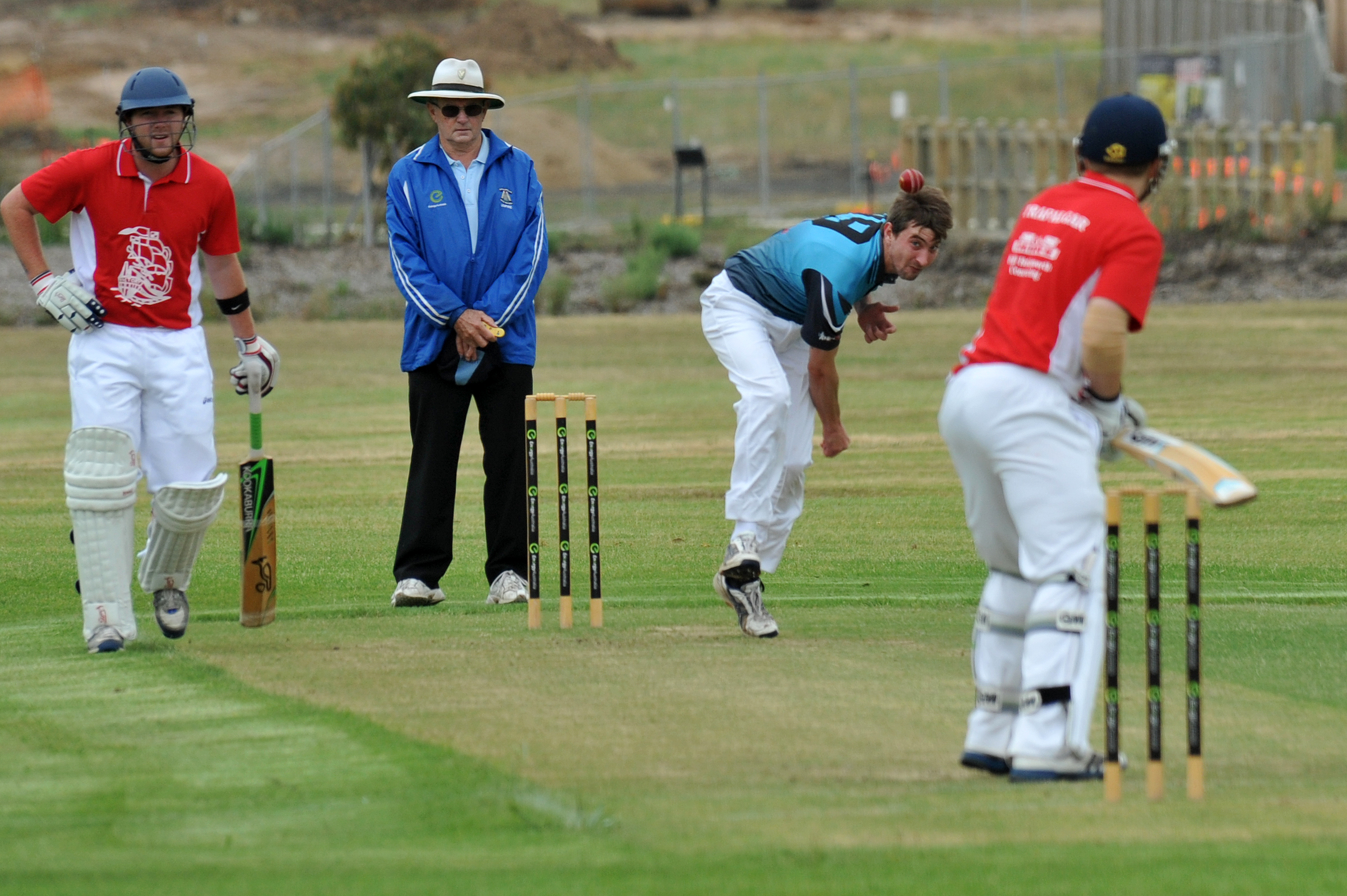 CRICKET
CGCA
LATROBE paid a heavy price for an abysmal fielding effort as Trafalgar posted an opportunistic 4/164 against the Sharks in round 10 of the Energy Australia Cup.
The home side started well, with Chris Johnson clean bowling Jackson Noonan.
When Will Cheatley hit the ball straight to Matt Brewer at point the Ships could have been in serious trouble. However the catch went down and Cheatley, in his first game as captain of the senior team, rubbed salt into the wound by striking 45.
Aiden George played well for his 43 while Nathan Simpson struck two huge sixes in an aggressive 31 to set up a competitive total.
The Sharks dropped five regulation chances that seriously blunted the effectiveness of their bowlers.
Anthony Bloomfield was the best of the trundlers, taking 2/30.
Latrobe got off to the worst possible start with the bat, losing Bloomfield in the first over for a duck before Justin Vajler and Matt Brewer consolidated with a 55-run stand.
Noonan removed Brewer on his way to 3/26, and the match ebbed back and forth before Kaushik Aphale (28) holed out to Nathan Simpson off the bowling of Chris Robinson (3/16).
Daniel Siddle (22) and Brendan Evans (19) did their best and got the Sharks close, but Trafalgar's bowling attack was too disciplined.
Tim Cranwell smashed a Cheatley delivery back at the bowler in the final over with nine runs needed for victory, and a deflection saw Mitch Cowell unluckily run out at the bowlers' end to give the Ships the points.
Mirboo North v Moe
YOUNG gun Hudson Kerr struck a superb 89 to lead Mirboo North to 6/190 against Moe.
The Tigers started poorly as Luke Mulqueen removed both openers en route to figures of 2/29, bringing Kerr and Shane Peters (51) together with the score at 2/16.
A 126-run partnership saw the home side to 142 before Nick Clarke (3/44) took some late wickets to prevent 200 being breached.
The Lions lost Sean Spiteri (10) and Andrew Philip (5) early before youngsters Joel Mitchell (40) and Nathan Lee (45) put together a 77-run stand.
The partnership was broken by Jarrod Speed on his way to figures of 5/30, supported by 3/30 from captain Robert Phoenix.
A middle order collapse ensued, but Luke Mulqueen (19*) and Damon Bednarski (13) did their best to get Moe over the line, putting on 28 runs.
However the game was over when Speed dismissed Bednarski and Clarke soon after to bowl the Lions out for 160.
Kerr capped off a great all round match with two catches and two stumpings with the gloves.
Yallourn North v Newborough Bulldogs
LEIGH Colgrave (38) and Mark Whitney (25) were the only Bulldogs batsmen to reach double figures, holding together a total of 94 in 45 overs.
Brandon Bailey (3/15) and Will Lawrey (3/14) reaped the rewards after tight bowling early on by the likes of Rowan Kelly (2/22).
Josh Keyhoe secured the points on his own with a smashing 126, captain Patrick Spiteri chipped in with 54 and Aidan Vesty scored 33* to push Yallourn North to a final score of 8/302.
Troy Oakley was Newborough's best bowler with 4/58 from nine overs.
Daniel Farmer's 10 overs cost the same for the return of two wickets, Newborough captain Matt Coutts nabbed 1/48 from his 10 but the most punishment was reserved for Mark Whitney who ended with 1/73 from 10 overs, and Robert Colgrave – 0/51 from six overs.
Thorpdale v Morwell
FRASER Smith struck 53, supported by Ayden Kelly with 30, to see Thorpdale to a competitive 8/175 against Morwell.
The Tigers' bowling attack, weakened by the departure of David Embleton to MTY Raiders in the TDCA, struggled for impact with Brendan Brincat, Tim Dowe and Craig Giddens all claiming two wickets without restricting the flow of runs.
Jesse Giardina's 71 guided Morwell to the points after the Tigers endured a torrid start to the chase.
Brincat struck 63, taking full advantage of Thorpdale's struggles with the ball.
Kayne O'Connell (2/37) and Travis Pickering (2/36) bowled well, while Shannon Pickering (0/26 off 10) was useful, but the rest of the seam attack struggle to contain.
Ayden Kelly (0/20 off two), James Durkin (1/22 off one) and Boyd Bailey (0/21 off three) were ineffective and let the Tigers batsmen off the hook as Morwell reached 7/226 to win the day.
Yallourn North v Rawson
RAWSON secured a win over Yallourn North, with Jack Hudson (35) and Ben Rotheram (57) pushing the score to 4/137.
The Bombers were all out for 120 as Peter Falls (3/3) and Hudson (3/26) secured the win.
Jeeralang-Boolarra v St Vincents
ST Vincents crashed to 39 all out against the Panthers.
Peter Gilpin was the chief destroyer with 5/20 while Angus Peter took 3/7.
Tom Beamish's 26 made sure of the points after an early scare at 3/14.
Norm Evans (2/5) and Shine Shanmoghan (2/6) were the best bowlers for the Saints.
Trafalgar v Moe
RHAIN Howarth-Ross (37) and Paul Connolly (20) propped up Trafalgar's total of 132 in the face of a destructive 6/24 from Paul Cake.
Moe then collapsed to 50 all out thanks largely to Jason Hopkins' 4/9.
Robert Blunt – in his first game for Moe after moving from Newborough – was the top scorer with 15 at number 10.
Latrobe v Thorpdale
ASH Halkett (38) and Zac Smith (23) helped Latrobe to 160 against Thorpdale, after most of the top order threw their wickets away with poor shot selection.
Liam Swallow (3/13) and Josh Hammond (2/14) were the best bowlers while there were also two run outs.
Thorpdale closed at 7/138 as Jon Hayes (2/12) and Brendan Wynne (2/31) limited the Blues.
Brian Hammond (39) and David Ferguson (27) were the Blues' major contributors.
Morwell v Mirboo North
TONY Spiteri's 46 was the only bright spot in Morwell's dismal total of 108, damaged by 4/23 from Brandon Bradshaw.
Mirboo North closed at 8/116 after Brendan Van Heurck's 35 guided the chase and staved off the efforts of Shane Gniel (3/18) to spring an upset.