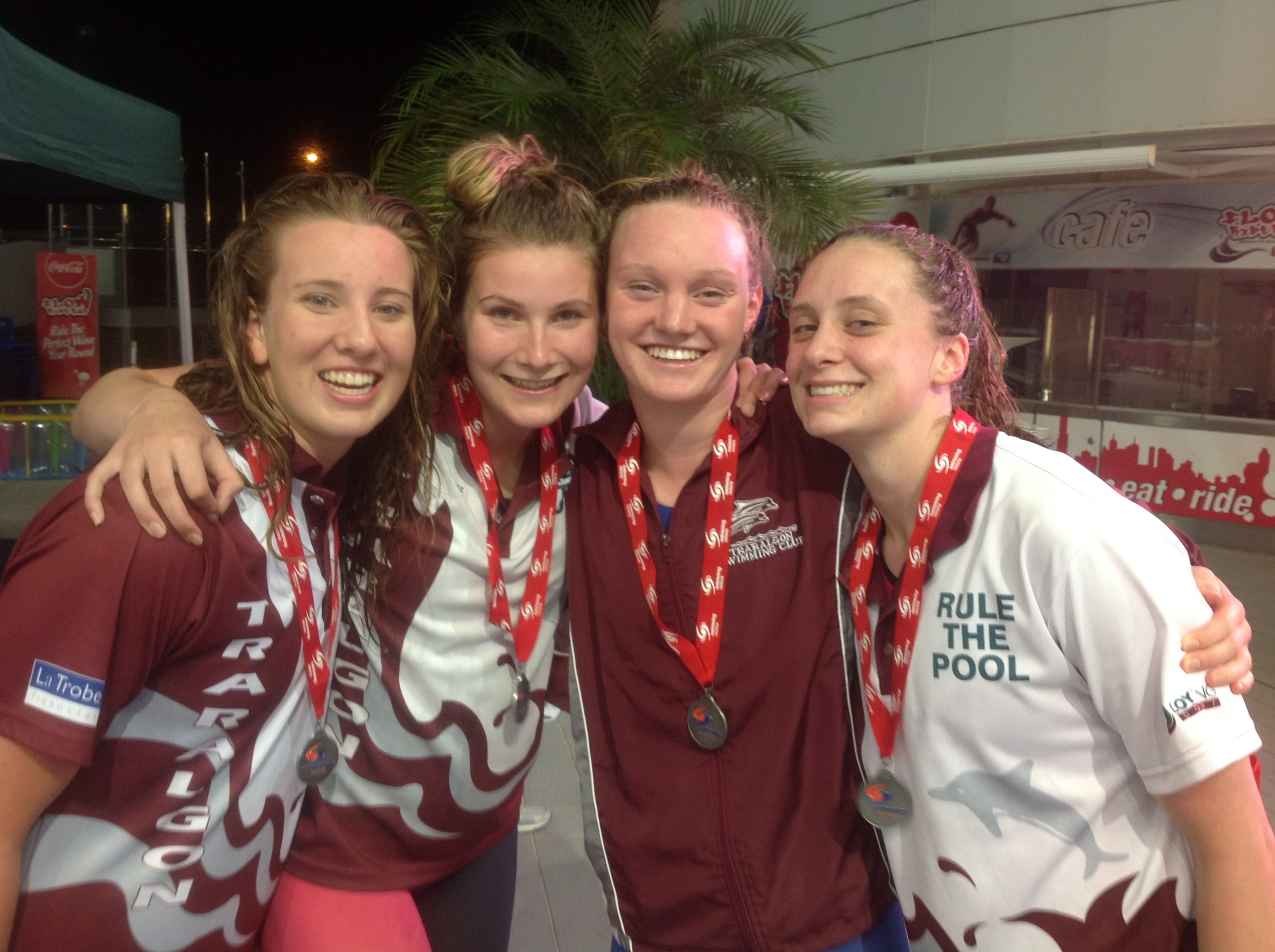 A HAUL of 33 medals and 20 records saw Traralgon Swimming Club emerge from the recent Victorian Age Championships as number one country club and fourth in the state.
The club achieved five gold, 18 silver and 10 bronze medals, along with 19 Gippsland and one country record at the Melbourne Sports and Aquatic Centre.
Senior head coach Brian Ford was ecstatic with the result.
"We had (our) biggest representation ever with 46 individual swimmers," Ford said.
"The goal was to finish top five in the state so to come fourth and comfortably ahead of most of the other Metropolitan clubs was an amazing achievement.
"It is a testament to our quality of swimmers, coaches and parents for our goal to be realised and surpassed."
Sixteen swimmers shared in the medals and the best performance came from 17 year-old Georgia Tsebelis in her last competition for the club prior to joining the army.
Georgia won one gold (50 metre freestyle – 26.56 seconds) and four silvers (100m backstroke – 1.04.31, 200m individual medley – 2.23.90, 200m backstroke – 2.20.80 and 100m free – 58.27), with four Gippsland records.
Mikaela Cornelissen (16) again had a successful meet with gold in the 100m butterfly (1.01.99) and three silvers (100m back – 1.04.86, 50m free – 26.64, 100m free – 58.64).
Connor O'Neill (14) won gold in the 200m back in a breakthrough time of 2.11.68 and followed it up with a 1.02.36 in the 100m back for bronze.
Melina DeCort won gold in the 14 years 100m back (1.06.45) and two bronzes in the 200m back (2.22.68) and 400m IM (5.27.04).
The other gold medallist was Lauren Akers (14), who won the 100m fly (1.05.82) and gained silver in the 400IM (5.20.25) and bronze in the 200IM (2.30.04).
Consistent 14 year-old Alex Tsebelis swam several finals to finish with a silver in the 100m fly (1.00.39) in Gippsland record time, while 16 year-old Caiden Gill, the fastest swimmer to ever come out of Gippsland, won silver in the 50m free (23.54) and 100m free (51.69), the latter a new Gippsland record.
Ellodie Reid (14) showed she was back on track after a shoulder injury with silver in the 200m back (2.21.51), 400m free (4.33.36) and 200m free (2.10.46).
Harliai Curthoys-Davies, the club's satellite swimmer from Swan Hill, won silver in the 100m back (1.15.25) and bronze in the 200m back (2.43.87) and Jordyn Cargill, an up and coming 10 year-old, won bronze in the 11 years and under 100m fly (1.15.73).
This was also a Gippsland record and together with records in the 50m free (31.17), 200m fly (3.01.66), 200IM (2.51.89) set five new marks in total.
The final record breaking swims came from 10 year-old Caydence Bezzina, who swam the 11 years and under 100m back in 1.17.86 and went faster again in the final (1.17.84).
Traralgon's relay teams were again competitive winning two silver and three bronze medals.
The boys' 14 years relay teams of Alex Tsebelis, Locke DeGaris, Mitchell and Connor O'Neill won silver in the 4x50m free relay (1.43.87) – a new Gippsland and Country record – and bronze in the 4x50m medley relay (1.57.30).
The four girls in the 14 years free relay – Alice Peddle, Lauren Akers, Ellodie Reid and Melina DeCort – won bronze in the 4x50m free relay (1.52.90).
Ellodie then joined Mikaela Cornelissen, Georgia Tsebelis and Maggie O'Keefe to win silver in the 18 years and under 4x100m free relay (3.57.76).
The boys 16 years 4x100m free team of Caiden Gill, Mitch O'Neill, Riley Akers and Alex Tsebelis also came home in a record time of 3.42.72.
The club now turns its focus to the Victorian Open Championships this month, followed by the most important country competition for the year – the Victorian Country Championships to be held in Geelong over the Australia Day weekend where the club will be vying for its 15th win in 16 years.
"Country Championships is the pinnacle of Country swimming and we are planning for a big meet from our team," Ford said.
"We are going for a record number of wins and our swimmers will be working hard to achieve our team's goals."