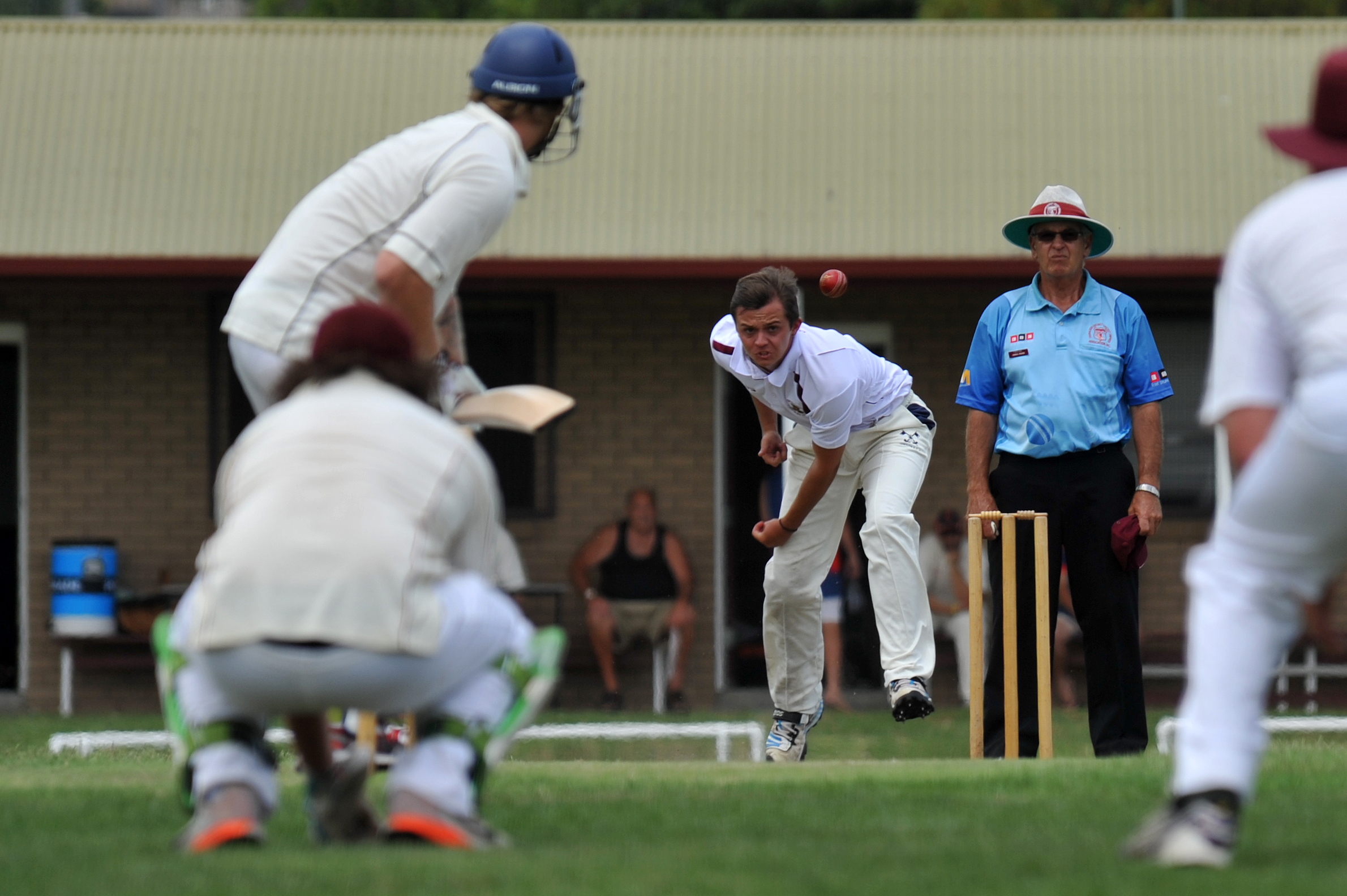 CRICKET
TDCA
RICK Battista and Rory Hare each produced brilliant maiden centuries to put their sides in commanding positions on day one of round 10 in Traralgon and District cricket.
Glengarry v Rovers
TOP of the table Glengarry got off to a great start of 64 batting first with Paul Henry (42) and Ryan Delaney (27) setting the scene for a big total.
Ben Julin chimed in with 34, while four other batsmen made double figure starts but could not go on as Glengarry was bowled out in the 69th over for 175.
Greg Bramwell claimed 4/58 off 28 overs and Ric Martin produced impressive figures of 4/9.
In reply Rovers lost Simon Duff for a duck and went to stumps 1/24.
MTY Raiders v Traralgon West
RAIDERS have already won on first innings after dismissing Traralgon West for 88 in 58 overs.
Corey Rogers' 20 was top score in a dismal total.
Ross Whelpdale and Zac O'Connell took four wickets for Raiders, who finished the day at 2/94.
Churchill v Imperials
IMPERIALS set Churchill 183 to win after winning the toss and batting.
Daniel Hamilton and Brad Sizeland both made 41 to share top score, while Ross Williams (22) and Joel Randall (23*) got Imperials to a reasonable score.
John Keighran nabbed 4/46 to be the Cobras' best.
Churchill has 0/11 in reply.
Toongabbie v Ex Students
IN a bizarre move Toongabbie won the toss and sent Ex Students into bat.
The bold plan proved disastrous as the Sharks belted a whopping 5/296 before declaring.
Rick Battista finally showed his abundant talent with a withering 111.
Dylan Spence (75) also stood out with his first half century in a few seasons, while Greg Munro continued his good form with 53.
Matt Golding took four of the five wickets to fall.
In reply Toongabbie reached 0/8 before stumps.
Gormandale v CATS
CATS batted first after calling right and at 2/11 looked in trouble.
Rory Hare was batting well but needed a partner, and several of his cohort delivered.
Barney Webber (21), Scott Kelsey (25), Michael Bloomfield (45) and Jamie Cochrane (25*) all did what was needed as CATS amassed a handsome total of 248.
The day belonged to Hare who made his first A grade ton in a superb batting performance which yielded 113 runs.
Adam Brady and Chris Bell each took three wickets.
Gormandale batted for seven overs and were 1/25 having lost Travis Switzer for 13.
TDCA B grade
Traralgon West 6/269 (M Rogers 73, CS Dekaste 64 GD Sanders 2/24) def MTY Raiders 7/266(cc) (CS Stanlake 113, MR Waller 46, J Hogan 2/33); Ex Students 199 def Toongabbie 77; Imperials 143 (J Thatcher 38, R Velardi 3/6) def by Churchill 5/305(cc) (B McQuillen 124*, R Velardi 100, R Morley 2/61); CATS 3/129 (AT Wilhelm 78*, S Gamble 2/16) def Gormandale 120 (J Scurlock 4/30, J Motta 3/15); Rovers 165 (A Wilkes 38, J Porter 5/17) def by Glengarry 7/258(cc) (P Marks 114, R Marks 41, A Wilkes 3/33)
TDCA C grade
Churchill 219 (B Robinson 88, S Falla 3/26) def by Traralgon West 7/266(dec) (J Trew 67, J Griffiths 42, P Van Rossum 3/24); CATS 99 (S Wernham 38, T Broughom 2/12) def by Glengarry 1/253(cc) (B Arber 121*, A Hodson 115); Ex Students 166 def Toongabbie 65; Imperials 4/113 (B Wells 46*, M Thillekarathna 2/21) def Rovers 9/107(cc) (G Thompson 57, JM Shankland 4/9, A Johnstone 2/27)