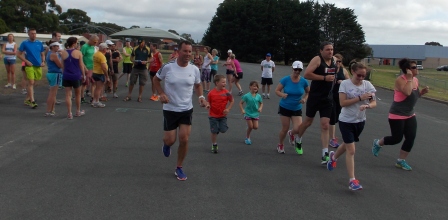 RUNNING
WITH less than three weeks until the popular Latrobe City Community Fun Run and Walk on Sunday, 1 March, Traralgon Harriers' Water tower five kilometre handicap last Thursday was a perfect time-trial opportunity.
First over the line and a minute clear of her competitors was Georgie Jenkins in a corrected time of 26 minutes and 33 seconds.
Being a Summer Championship race, Jenkins also earned full race points (100) and will likely have her handicap increased from three to about four minutes.
Paddy Horgan (24.29) and Daniel Brick (22.46) were again included in the top three places.
Katie Lee, Ashlee Turrell and Jenkins were among the newcomers testing the waters of social running with the Harriers.
On the competitive side, there were some tight duels between competitors off the same handicap.
Mark Peek and Jason Irvine, Sue Elsdon and Edi Murat, Katie Lee and Ashlee Turrell, and Anne Johnson and Tania Rong were all duos battling it out to the line.
The fastest runners overall included Brett Van Der Velden (18.13), Mark Micallef (19.35) and Glenn Graham (20.01).
Among the closely matched women were Karen Graham (21.08), Molly Irvine (21.12) and Kathryn Preston (21.52).
This Thursday's run is the Clarkes Road 6km handicap.
The start is on a dirt track near the Traralgon Reservoir about 500m from the intersection of Clarkes Road at Hazelwood North, Mattingly Hill Road and Sanders Road.
Included also is an intermediate race of 3km and a junior run of 2km.
Race start time is 6pm.
For more information visit www.traralgonharriers.org.au