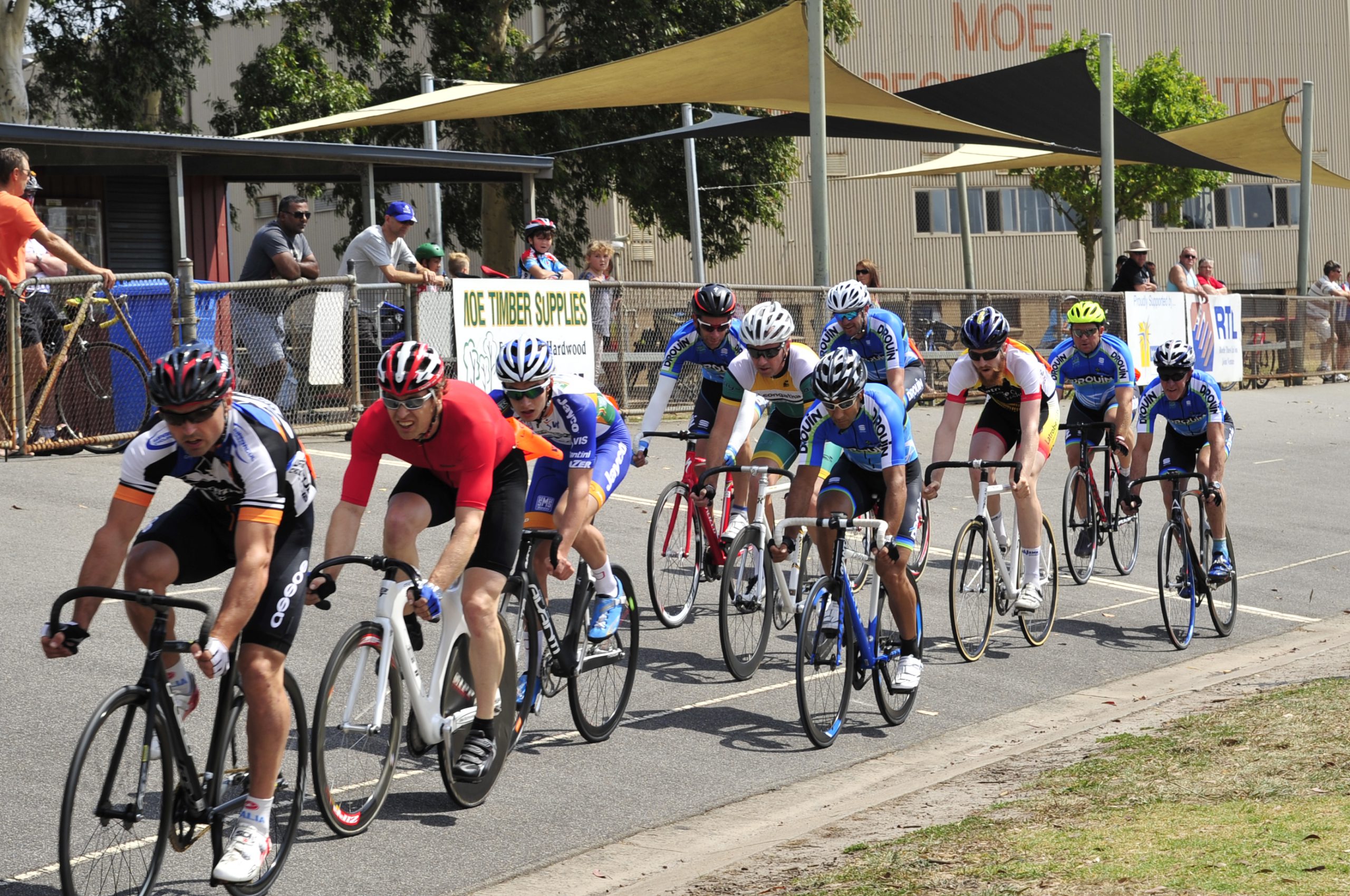 CYCLING
TEENAGE speedster Tylah Meunier overcame a field containing three former champions to take out the Bob Whitford Memorial Wheel race this month in Newborough.
The 16 year-old Warragul rider eclipsed past winners Brett Rollinson (2008), Ben Meadley (2013) and Lex Townley (2014) to win the prestigious handicap race off 180 metres from Latrobe City Cycling Club's Ash Kozak in second.
Newly crowned national under 19 team sprint championship anchor man, Thomas McFarlane managed to reach the podium in third riding off scratch, while local Danny Gafa was fourth off 20m in the 2000m event.
The 20-race program was well received by competitors, despite a downturn in senior entries, and produced some great racing in all categories.
In the junior 1500m wheel race, scratch marker Warragul's Macca Parkinson riding from -15m took the win from Thomas Fitzgerald (30m) and Jack Edebohls was third from 60m.
The senior 1000m handicap was won by LCCC's Kozak (scratch) followed by veteran Warragul rider Trevor Rollinson (10m) and Brett Kennedy (30m), also from the Warragul club, took third.
LCCC's Gafa (15m) took the win in the 1000m handicap from McFarlane and Rollinson (20m).
Margaret Gravett, a member of the Whitford family, was on hand to present the place getters with their prize money and present the perpetual and winner's trophy to Tylah.
EVENT 1 Junior Scratch 6 laps
1st Jack Edebohls 2nd Kaleb Jans 3rd Lachlan Jagoe
EVENT 2 Senior All in Scratch 16 laps
1st Thomas McFarlane 2nd Danny Gafa 3rd Matt Parkinson
EVENT 3 Junior 50m Handicap
1st Ki Budeja (60m) 2nd Felicity Waddell (55m) 3rd Drew Makepeace (65m)
EVENT 4 Heat 1 Senior Keirin – First 2 to Final, Next 2 to B Final
1st Brett Rollinson 2nd Martin Lama 3rd Steve Muggeridge 4th Bruce Evanson
EVENT 5 Heat 2 Senior Keirin – First 2 to Final, Next 2 to B Final
1st Danny Gafa 2nd Matt Parkinson 3rd Trevor Rollinson 4th Ash Kozak
EVENT 6 Heat 3 Senior Keirin – First 2 to Final Next 2 to B Final
1st Thomas McFarlane 2nd Tylah Meunier 3rd Ben Meadley 4th Paul Makepeace
EVENT 7 Junior 1000m Handicap
1st Macca Parkinson (-10m) 2nd Jack Edebohls (40m) 3rd Ki Budeja (80m)
EVENT 8 B/C Keirin Final
1st Ben Meadley 2nd Paul Makepeace 3rd Ash Kozak
EVENT 9 A Keirin Final
1st Thomas McFarlane 2nd Danny Gafa 3rd Brett Rollinson
EVENT 10 Junior 1500m Handicap
1st Macca Parkinson (-15m) 2nd Thomas Fitzgerald (30m) 3rd Jack Edebohls (60m)
EVENT 11 Senior 1000m Front Markers Handicap
1st Ash Kozak (Scr) 2nd Trevor Rollinson (10m) 3rd Brett Kennedy (30m)
EVENT 12 Senior 1000m Back Markers Handicap
1st Danny Gafa (15m) 2nd Thomas McFarlane (Scr) 3rd Brett Rollinson (30m)
EVENT 14 Junior Elimination Race
1st Thomas Fitzgerald 2nd Jack Edebohls 3rd Macca Parkinson
EVENT 15 Senior B/C Elimination Race
1st Brett Kennedy 2nd Ash Kozak 3rd Steve Muggeridge
EVENT 16 Senior A Elimination Race
1st Thomas McFarlane 2nd Paul Makepeace 3rd Danny Gafa
EVENT 17 Junior 4km Scratch
1st Thomas Fitzgerald 2nd Macca Parkinson 3rd Kaleb Jans
EVENT 18 Bob Whitford Memorial Handicap 1500m Wheel
1st Tylah Meunier (180m) 2nd Ash Kozak (170m) 3rd Thomas McFarlane (Scr) 4th Danny Gafa 20m
EVENT 19 Senior B/C Moto Pace
1st Brett Kennedy 2nd Trevor Rollinson 3rd Ash Kozak
EVENT 20 Senior A Moto Pace
1st Thomas McFarlane 2nd Danny Gafa 3rd Marin Lama