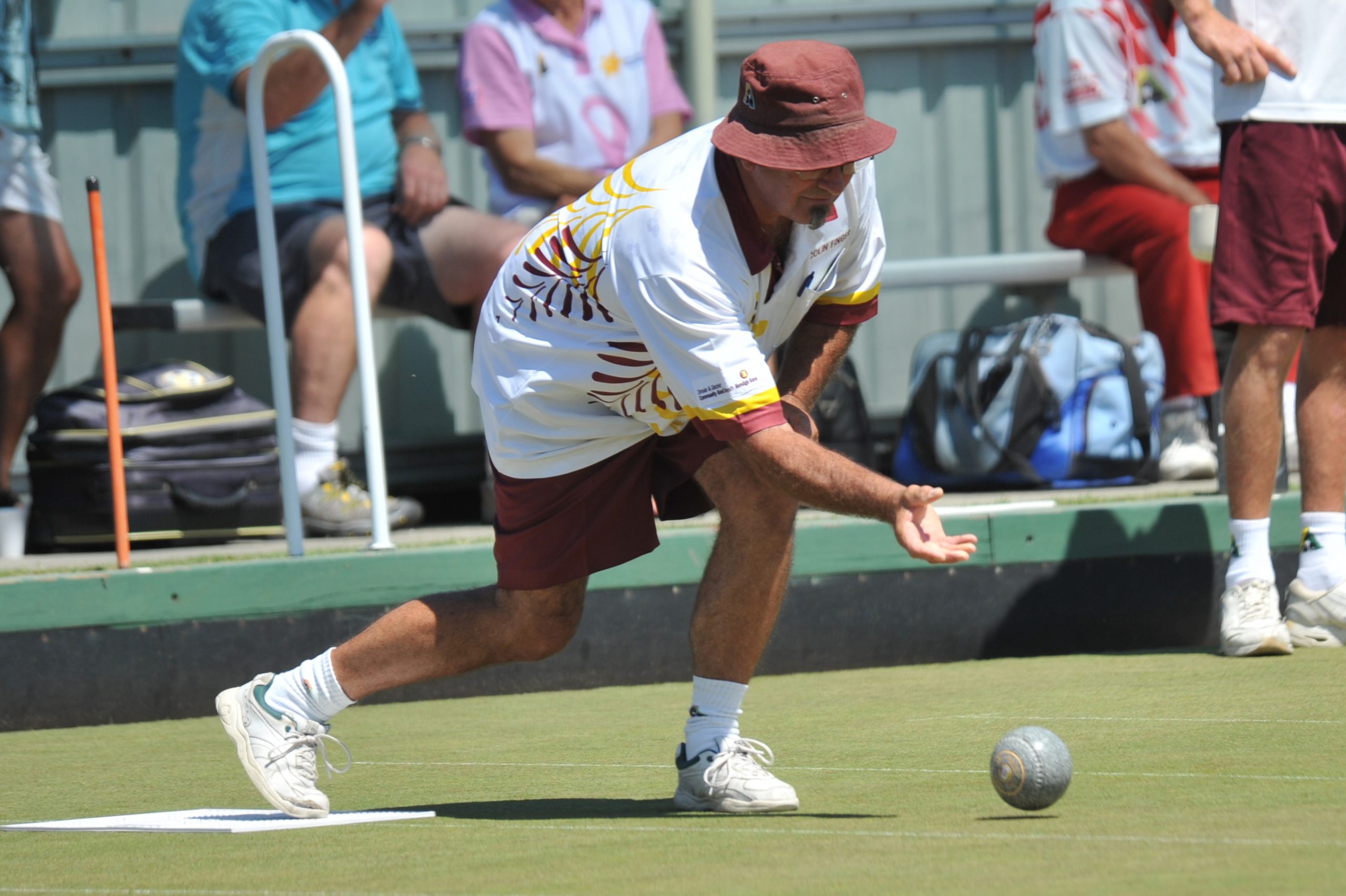 LAWN BOWLS
YALLOURN booked its place in the West Gippsland Bowls Division one pennant final with victory over Drouin in front of a strong crowd at Trafalgar on Saturday.
The best bowling conditions for the season made for an epic contest, with temperatures high and increasing during the day but bereft of the problematic wind which has plagued the season.
The green was running at 16 seconds, ideal for division one standard bowling.
With a coveted grand final berth on the line the first few ends were tit for tat up until tea time with Yallourn holding a three-shot advantage.
After tea Yallourn forged ahead and finished with a win on three of the four rinks and a score of 89-72 shots to book a rematch with Traralgon at Trafalgar on Saturday.
George Lambos and his team of Jeff Wetzel, Charlie Ward and Alec Houston drew Ian Smethhurst, Ross Anderson, Robert Burke and Michael Fleming.
Lambos had an interesting tussle with reigning Latrobe City Classic Pairs champion Smethurst until the 17th end with the former holding a six-shot lead.
A late consolidation period saw Lambos and company register a winning score of 25-15.
Kevin Lovett's quartet of Max Grubb, John Hannant, who was substituted for Allan Ryan at tea time, and Jim Lawrence went down to David Ashby and his foursome of John Bulmer, Ian McCartney and Paul McGrath 21-23.
Ashby had a commanding lead early in the game but Lovett fought back in the later stages.
Allan Grubb led Barry Daley, Greg Lewis and Neale Houston to a lead of a couple shots against Mark Atkinson's men, Dave Hendrick, Col Finger and Dennis Throup, until the 11th end when Grubb scored five shots.
From that moment the result was never in doubt and the Yallourn men won, 24-16.
Ken Capper and his Yallourn rink of Nosha Michaels, John Backman and Peter Phillips snuck over the line against John Leighton's team of Maureen Leighton, Stephen Barr and Stephen Edwards with a score of 19-18.
Burke had a breakout afternoon and demonstrated it is not necessary to be a member of the younger brigade to produce good bowls.
Drouin was unable to recover from losses of five and six shots, and found it difficult to recover.
Yallourn will now face Traralgon in the grand final in a rematch of their semi-final last fortnight.
TRARALGON duked it out with Yallourn at Trafalgar last Tuesday for a spot in the midweek pennant grand final.
Traralgon's team of Kaye Garry, Marion Cartledge, Marje Lawrence and Val Crane were away to a flying start on their rink and had a big pickup of five shots on the second end.
Their rink opposition from Yallourn was Joan Goldie, Bev Luck, Helen Grubb and Sandra Gates.
Garry's team continued to pick up multiples with ease and went on to win convincingly with a score of 35-8.
Traralgon's team of Dettie Wylie, Dianne Bau, Glad Cornwall and Pat Trewin were up against the Yallourn team of Fran Clark, Heather Mooney, Denise Ryan and Julie Jackson.
Trewin was leading extremely well and made it difficult for Yallourn to feature.
Ryan stood tall for Yallourn in the later stage of the game and created headaches for Traralgon.
The game went down to the wire with Yallourn winning a close battle 21-19.
Traralgon's team of Wendy Scott, Shirley Whitechuch, Faye Minter and Di Richards drew the Yallourn quartet of Lorraine Steel, Yvonne Harvey, Jo-Anne Michaels and Peggy Reed.
The game went back and forth for most of the journey with the two skips, Scott and Steel, demonstrating their experience.
The seconds and thirds of the Yallourn team dominated after 40 ends and Scott did well to keep in touch.
Yallourn managed to record a good win 24-19.
The overall score was 73-53 shots in Traralgon's favour which was due primarily to the dominance of Garry's team.
Traralgon now proceed to the 3 March final.
Yallourn will play the preliminary final against Drouin, which accounted for Traralgon RSL 81-49 in the other semi-final, tomorrow to see who proceeds to the decider.
Div 1 Yallourn 89 Drouin 72
Div 2 Morwell 105 Garfield 81
Div 3 Warragul (2) 88 Drouin (2) 87
Div 4 Warragul (3) 82 Boolarra 76
Div 5 Yallourn (4) 71 Traralgon RSL (3) 62
Div 6 Traralgon (6) 43 Yallourn (5) 42
GRAND FINALS Saturday 28 February
Div 1 at Trafalgar – Traralgon v Yallourn
Div 2 at Yallourn – Neerim District v Morwell
Div 3 at Morwell – Club Yallourn (3) v Warragul (2)
Div 4 at Yallourn – Morwell (2) v Warragul (3)
Div 5 at Trafalgar – Traralgon (5) v Yallourn (4)
Div 6 at Yallourn – Warragul (4) v Traralgon (6)
WGBD Midweek Pennant semi-finals
Div 1 Traralgon 73 Yallourn 53, Drouin 81 Traralgon RSL 49.
Div 2 Morwell 66 Yallourn (2) 58, Moe 74 Neerim District 57.
Div 3 Traralgon RSL (2) 83 Traralgon (3) 62, Warragul (2) 96 Moe (2) 57.
Div 4 Longwarry 73 Morwell (3) 16, Drouin (4) 66 Drouin (3) 31.
Preliminary Finals
Tuesday 24 February at Trafalgar
Div 1 Yallourn v Drouin; winner plays Traralgon in Grand Final
Div 2 Yallourn (2) v Moe; winner plays Morwell in Grand Final
Div 3 Traralgon v Warragul (2); winner plays Traralgon RSL (2) in Grand Final
Div 4 Morwell (2) v Drouin (4); winner plays Longwarry in Grand Final