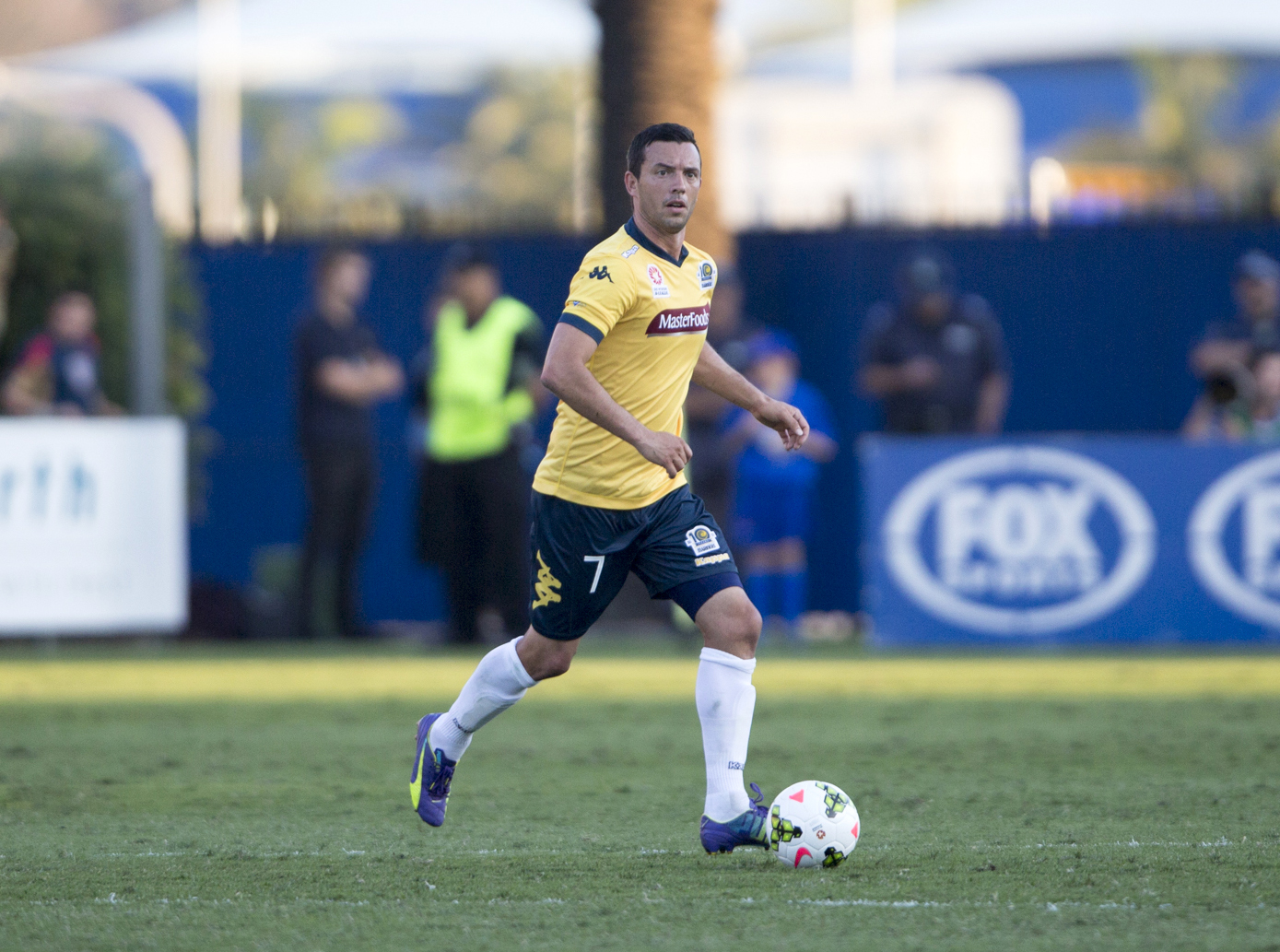 SOCCER
A-LEAGUE
By SAM DARROCH
MORWELL'S most decorated soccer export John Hutchinson will call time on his illustrious career at the conclusion of the A-League season, but refuses to take a bow before the curtains close.
The Central Coast Mariners captain and club stalwart of 10 years is poised to equal the all time A-League appearance record of 221, currently held by Matt Thompson, should he take the field against Newcastle this weekend.
He has appeared in national colours for both Australia and Malta in a professional career spanning 19 years, and has skippered the Mariners to an A-League premiership.
It's all trivial if you ask Hutchinson – the task at hand is all that matters.
"I think once I've retired I'll sit down and look at what I achieved as a player, but right now I just take it game-by-game and I'm not really too worried about personal accolades; I'm more worried about what the team's doing and winning football games for the moment," Hutchinson said.
"I try not to pay attention to stuff like that, I just enjoy playing football and I still get my fill out of playing every week and turning up to training."
The 35 year-old's future had been under the microscope prior to his retirement announcement last month. The foundation Mariners player said he wanted to finish on his own terms, still at the peak of his powers.
"I knew the time was coming on the end of the career, but pretty much I wanted to retire on top and make sure I didn't hang around for one season too many," he said.
"The main thing now is just to enjoy it, go to training every day with a smile on my face and just enjoy what I've been doing for the past 19 years."
The Gippsland native grew up playing for his father Paul's club, Morwell Pegasus, from the age of three. He became a regular for the under 16s at age 11, and the senior team at 13.
Hutchinson never made a Victorian side in his youth, but a peerless work ethic saw him ultimately rise above his talented cohort.
"It was just working hard all the time, training and I kept dreaming of playing football professionally as a kid, that's what I wanted to do and you had to sacrifice a lot of things," he said.
"(There was) a lot of things that kids were doing at my age that I would have loved to have gone and done but I chose football over those kinds of things and I'm happy I did now."
At 16, he won the local league flag with Pegasus, and was scouted at an ensuing exhibition match against the National Soccer League entity Gippsland Falcons by then coach Frank Arok – a one-time Socceroos boss.
There he played alongside the likes of Moe local Manny Gelagotis before being picked up by Northern Spirit in 2001.
When the NSL collapsed, Hutchinson was among a host of players and coaches who moved to Gosford and formed the backbone of the Mariners.
Given his chance by Lawrie McKinna, he became a mainstay of the senior team and has not looked back, except to acknowledge those who sent him on his way.
Current Gippsland zone development officer Mark Cassar, former Pegasus coaches Sean Byrne (dec) and Gerry Clarke, along with the likes of Gelagotis were all formative influences on the now giant of Australian football.
"I had some really good people in my corner helping me along the way and I still stay in touch with those people and I'm always grateful for what they'd done for me growing up, I'll never forget what they did for me," he said.
While the versatile midfielder is yet to decide on his post-playing career, he has begun to prepare for life beyond the spotlight.
Both club and player are keen to continue their relationship in some capacity, and Hutchinson has secured his UEFA B coaching licence, with the A licence in his sights.
"I know the Mariners have spoken to me about looking after me, I've been there 10 years so hopefully something comes of that, but if it doesn't I'll look around and see what's about and make sure the job suits me," he said.
Hutchinson also hopes to continue building pathways for Gippsland juniors to follow his lead to the pinnacle of the sport.
In partnership with Cassar, he has already hosted two promising young talents – Baley Row and Lachie Galea – for stints at the Mariners, and intends to expand that program.
"That's a big part of (what I want to do post career). I'd love to bring teams up here and play against our academy team and youth team and give people opportunity," he said.
"In the past we've had one player come up a year, but I'm hoping to bring teams up that are playing in Gippsland… so they can see what kids are like apart from what they see down there.
"They can see what it takes and hang around the first team at Mariners and watch them train, be involved in that kind of stuff and see how hard they work, even though they're in the A-League, how hard they work to improve themselves as footballers, it's a great lesson to the kids."
As a fitting tribute to a legend of the league, a testimonial match between a Mariners XI and Hutchinson's XI – comprised of Central Coast old boys – will be staged in late May.
The match will celebrate the Victorian's loyalty to his adopted New South Wales club – he and Archie Thompson are the only remaining players still with their original A-League franchises.
"It's more of a get-together to say thank you to the players I've played with and the fans as well to say thanks for 10 years of support," Hutchinson said. With his curtain call fast approaching, the Maltese former Falcon will depart as one of the all-time greats of Australian football.
While he'd prefer to exit stage left, the standing ovation will go on long after his final act.