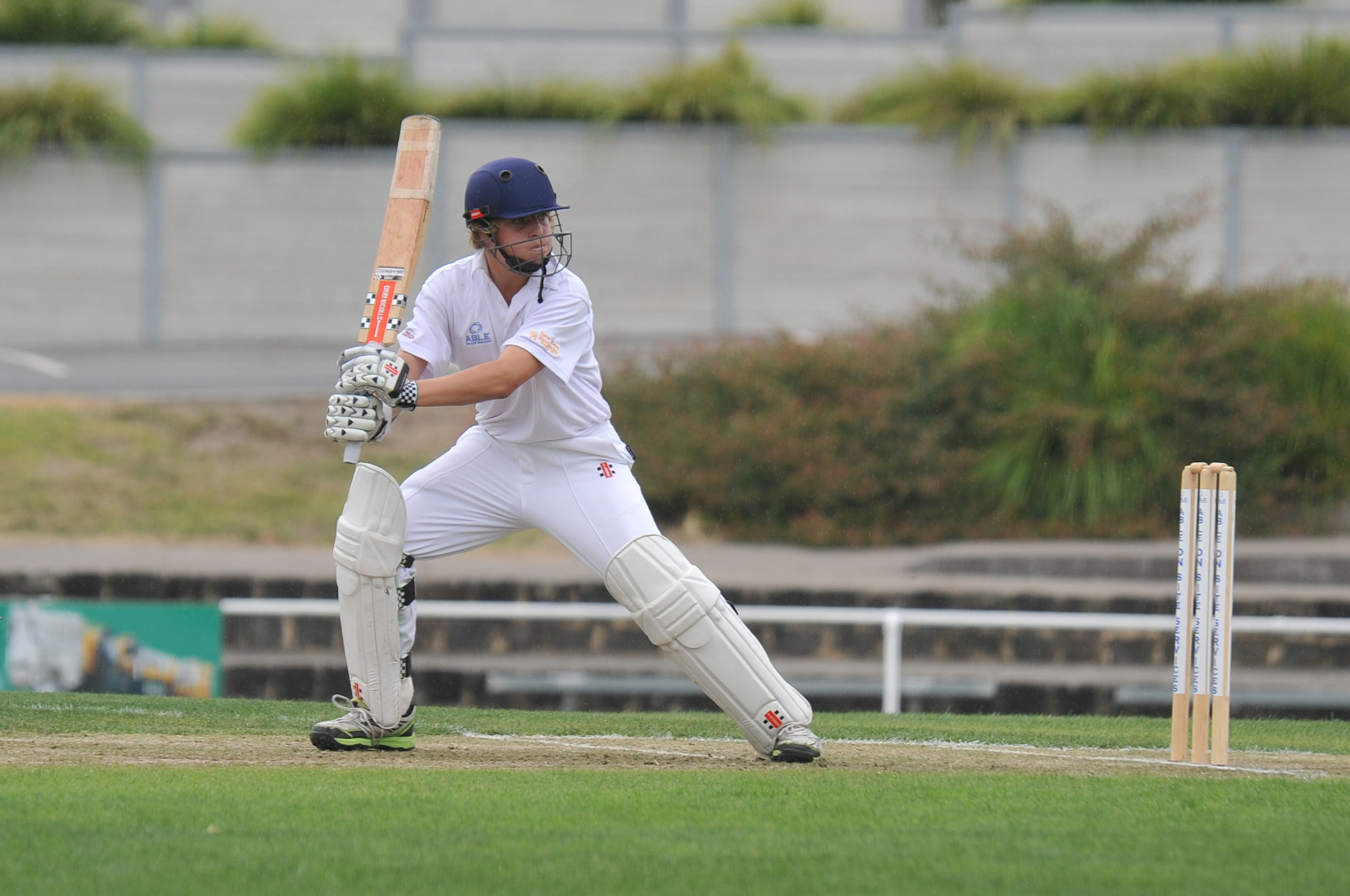 The Energy Australia Cup grand final rematch currently hangs in the balance, with Mirboo North bowled out for 169 and Latrobe currently 2/53 in reply.

The Sharks got Jed Alexander and Hudson Kerr out early, but Josh Taylor (46) and Shane Peters (72*) got the innings back on track.
Jamie Brierley managed to dismiss the well-set Taylor and when captain Rob Phoenix offered a return catch first ball, the Sharks were back in the hunt.
The Tigers crumbled to the seam and swing of Brierley (3/28) and Brendan Evans (4/52) to be struggling at 8/100, four of their batsmen failing to score.
Peters needed a partner to stick around with him to eke out a defendable total and he found just that in the willing Jarrod Speed.
Together the pair put on 65 before Kaushik Aphale broke the stand, and when Liam Smit was run out without facing a ball the home side was all out for 169.
With Justin Vajler suffering a knee complaint Mark Lawrence was promoted to open and felt the heat.
The Tigers' attack knew early wickets would be the key to winning the match.
Lawrence was out for 10 and when Phoenix picked up Matt Brewer for 12, the nerves were starting to show.
The experienced duo of Aphale and Anthony Bloomfield saw the Sharks to the close with no further losses and both know they will need to build a big partnership to get Latrobe across the line.
Morwell v Trafalgar
Morwell put its foot to the pedal with an outright victory its only chance of keeping its slim finals hopes alive.
Brendan Brincat was the only bat to spend time at the crease and do some damage.
His aggressive 64 pinned Trafalgar's bowlers back, but wickets fell too regularly at the other end for them to be under the pump for long.
Daniel Heathcote (3/47) bowled well with the new ball to hurt the Tigers' early chances before Will Cheatley (4/39) mopped up the tail. Declaring after just 54.2 overs, Morwell made a fantastic start with the ball getting James Blaser caught behind for a duck in the opener's 100th senior appearance.
Captain-coach Davin Charleston was the man who got the breakthrough and he struck again shortly after, dismissing Rhain Howarth-Ross for 13 to leave the Ships 2/29.
Trafalgar skipper Rhys Holdsworth and Aiden George steered their side to the close of play without further loss, finishing at 2/78.
Moe v Yallourn North
Moe's 134 looked too thin to be enough against Yallourn North.
However, on a treacherous pitch at Ted Summerton it proved to be more than enough as the Bombers were humiliated for just 31.
The ever-reliable Andrew Philip struck a fine 50, but the next best contributor was Justin Mathison with 20 as Lucas Fry (5/38) and Jeremy Butler (3/13) took full advantage of the conditions.
The Bombers completely capitulated in the chase.
Butler top scored with seven, but his total was eclipsed by eight extras.
Jayden Mathison recorded an extraordinary 8/8 and was denied the chance of taking all 10 by Luke Mulqueen who picked up 1/8, and by Yallourn North bowler Rowan Kelly who left the game early and was not available to bat.
The Lions will push for outright points next week and if Latrobe can knock off Mirboo North, Moe will complete a fantastic season by finishing on top of the ladder.
Thorpdale v Newborough Bulldogs
Thorpdale posted 222 thanks largely to Jason Richardson's fighting 60.
Fraser Smith (35) and Kayne O'Connell (28) got the Blues off to a great start before Douglas Flakemore, in his first Energy Australia Cup match for Newborough, picked up 5/57 with assistance from Troy Oakley (2/25).
Richardson currently has 3/15 and the Bulldogs sit at 4/67.
Leigh Colgrave is the current top scorer with 21.
SECOND GRADE
Moe v Latrobe
Latrobe's 5/210 was too much for Moe to chase, thanks to a towering 97 from Evan Sheekey.
Brad Aitken (49) and Michael Zomer (31) also had major contributions, the former featuring in a 148-run partnership with Sheekey.
Paul Cake was Moe's best with 2/25.
In reply Moe was never in the hunt and closed at 8/167.
Cake top-scored with 50 but Jon Hayes (2/23) and Brendan Wynne (2/36) restricted the Lions.
Trafalgar v Jeeralang-Boolarra
Trafalgar was humbled for 68 by Dermott Leys (4/8) and Peter Gilpin (4/23).
Craig Blackberry (40*) and Stan Urbanic (33*) then made sure of the points as the Panthers closed at 2/82.
Craig Nielsen picked up both wickets in a result that sent the Ships sinking out of the four.
Mirboo North v Thorpdale
Thorpdale's 57, which took a sleep-inducing 42 overs to complete, never looked like being enough against Mirboo North.
Connor Williams (5/9) ran rings around the Blues' clueless batsmen before Mirboo North piled on 7/237.
Andrew Soplakow struck an aggressive 70.
Ian Pinkerton was Thorpdale's best with 3/36.
St Vincents v Rawson
St Vincents posted just 101 against Rawson, with Alex Sword (3/8) and Jack Hudson (3/27) pegging the Saints back.
Ryan Collins and Ben Rotheram (both 31) then made sure of the victory by racing to 4/116 in just 25 overs.
Brett Dowdell (3/13) was the only bowler to have any joy for the home side.
Yallourn North lost on forfeit against Morwell.
THIRD GRADE
Hazelwood North 6/210 (R Byrne 58*, J Hawkins 41) d Mirboo North 8/177 (J Buxton 58), Latrobe Sharks 7/154 (P Mooney 39*) d Willow Grove 141, Jeeralang-Boolarra 5/200 (T Laaks 109*) d Morwell 9/163 (R Francis 41), Newborough 119 (B Hutchison 37, R Whitney 4/10) lt Moe 6/129 (C Devent 38*, B Hoekstra 3/33), Latrobe Colts 8/131 (G Hayes 30) d St Vincents 97 (G Atkinson 38, B Zomer 3/22).