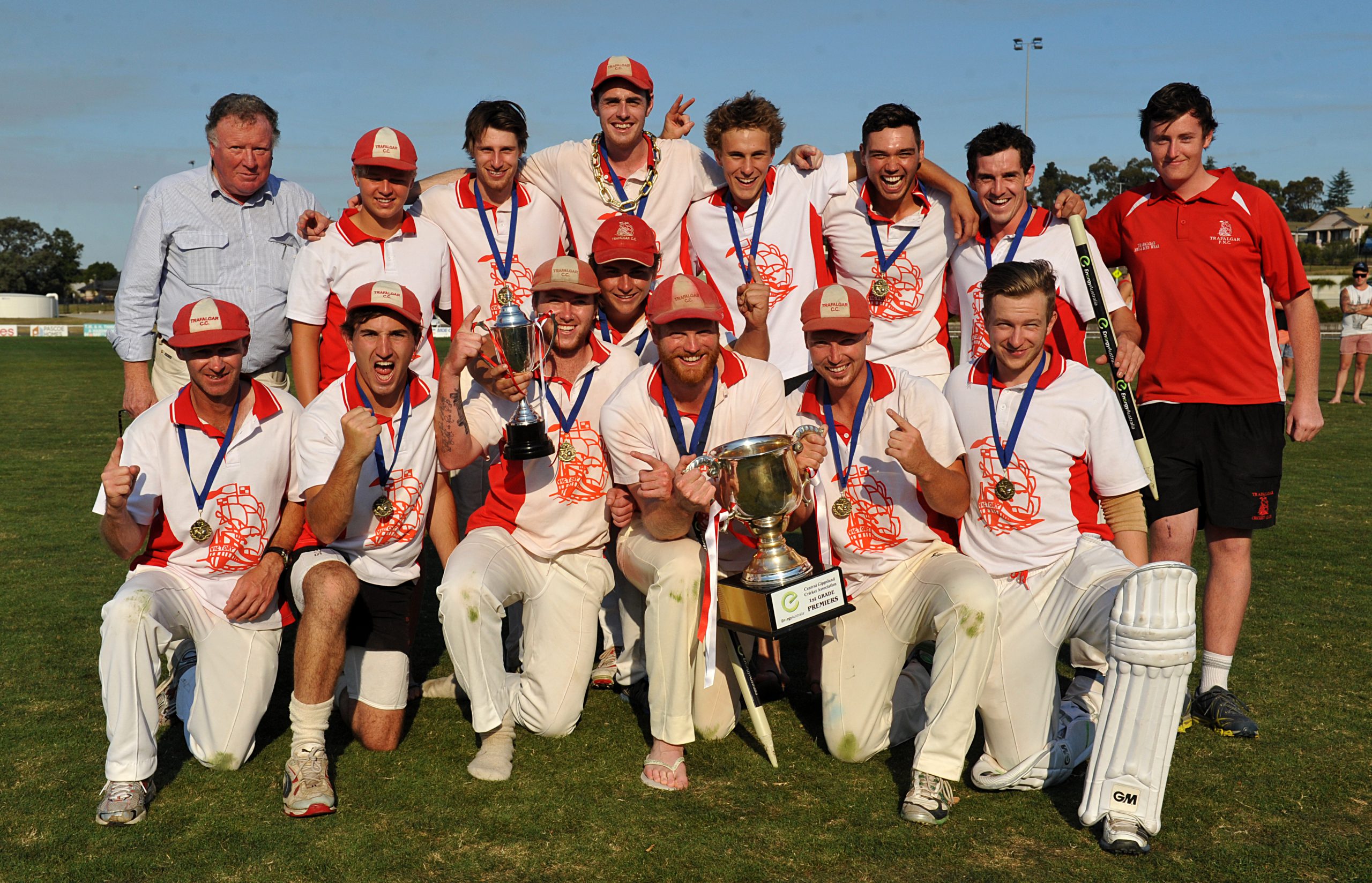 TRAFALGAR broke through for its maiden Central Gippsland Cricket Association premiership yesterday, breaking Latrobe hearts with an outright victory by eight wickets at Ted Summerton Reserve, Moe.

Will Cheatley's 6/31 reduced Latrobe to 99 all out on Saturday, which Trafalgar reeled in comfortably to end day one at 7/164, thanks largely to 98 from opener James Blaser.
Unwilling to surrender a fifth consecutive grand final without a fight to the death, Latrobe chased an outright win and set the Ships a modest second innings target which they rattled off for the loss of two wickets.
Ships captain and anchor Rhys Holdsworth said the immensity of the achievement had not yet sunk in.
"I can't describe it to be honest, it hasn't really sunk in for me yet. It's probably been five years in the making, we've rebuilt and we've got a good future ahead," he said.
"It was an awesome effort, unbelievable to be honest, they way we played today we would have beaten any side I think."
The result was shattering for the Sharks, who were condemned to a fifth consecutive runner-up finish.
There was nothing but respect for their efforts from Holdsworth, who commended their endeavour to pursue an unlikely outright win.
"To their credit they're a pretty proud club and we knew they wouldn't just roll up today and give it to us on a plate so we knew we would have to fight to the end, and credit to them they fought it out to the end but our boys put it together on the day, so unreal," Holdsworth said.
"They've got some actual legends of the CGCA in their team and unlucky for them but we're striving to be like them, a real powerhouse club, so hopefully we get to play them again next year in the granny."
Latrobe captain Brendan Evans had to settle for silver in his first year in charge. After years of grand final heartache, the skipper was crushed by the loss but acknowledged Trafalgar had been the better side.
"To win a flag, and the way you've done it, you outplayed us," he said during the post match ceremony.
Cheatley's day one heroics earned him man of the match honours and the Matt Clarke medal.
The former Gormandale star was tipped by his skipper to have a huge say in the outcome, and fulfilled the prophecy emphatically.
"We stuck together we fought it through, we won it from fourth. From where we were a few years ago this has been fantastic," Cheatley said.
The only thing Latrobe managed to win was the toss on Saturday, and Evans elected to bat first.
Anthony Bloomfield departed early for four, before Matt Brewer and Justin Vajler cobbled together 45 for the second wicket – the biggest partnership for the innings.
Both departed for 24 at the hands of Daniel Heathcote (3/25), and when he removed Evan Sheekey for three Cheatley destroyed the middle and lower order.
Chasing a modest target, an aggressive Blaser almost eclipsed Latrobe's score single handedly, but he seemed to be playing on a different pitch.
Modest contributions from Nathan Simpson (23) and John Asmussen (23 not out) helped lift the Ships to 209 all out after the innings resumed yesterday morning.
Sharks spearhead Chris Johnson did his best to emulate Cheatley's heroics, claiming 6/64 to lead the charge with the ball.
Not content to roll over, Latrobe batted again in an attempt to salvage the match with an outright win. The mission began poorly with Bloomfield ousted by Cheatley for a duck, though Vajler steadied the ship with 47.
With the entire order chiming in with runs here and there, Latrobe was all out for 154 in 44.3 overs, setting a second innings target of 45.
Trafalgar took up the challenge with some 20 odd overs remaining in the day, and reached the mark in 12.1 overs.