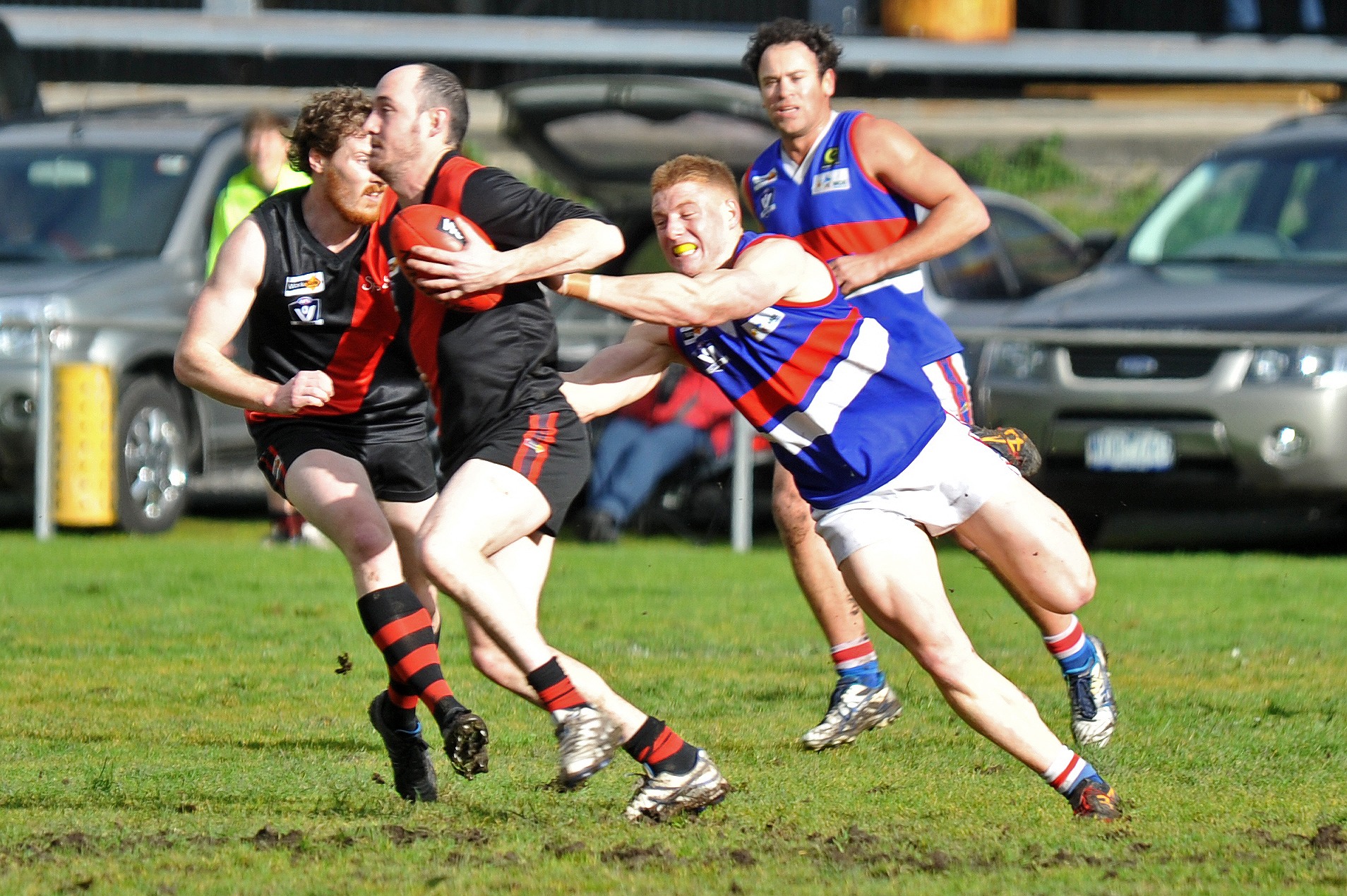 RELATED COVERAGE: MGFL season outlook
RELATED COVERAGE: Tigers change their stripes (netball)
TRAFALGAR and Newborough will take top billing in the opening round of MGFL matches on Saturday.

Both clubs are in a rebuilding stage under non-playing coaches Jason Macfarlane and Dean Caldow respectively.
Newborough is still bleeding after its one-point loss in the 2014 grand final but will try to forget the heartache and get on with the 2015 season.
The Bulldogs finished top of the table last year in what was an impressive season bar one game.
The loss of last year's key trio, coach Glenn Michie, league best and fairest Daniel Risol – who departed to coach Woodside – and Mick Gelagotis to the Omeo Football League, will be hard to replace.
A host of background players must now take on a major role for the Dogs if they want to be a competitive force again.
Trafalgar, as usual, will rely on home grown talent and with Mick Farrell and Chris Kyriacou back the Bloods will take some beating.
Editor's pick – Trafalgar
REIGNING premier Mirboo North is all primed for a third flag in-a-row and a big test will come against a heavily reinforced Hill End, which has been on the recruiting trail.
The Hillmen lost their appointed coach in Brad Sinclair but last year's incumbent Phil Town has stepped in to keep pre-season on track.
The void left by Matt Mosley and Uliando Amburupa departing for Warragul will be tough to fill, but the Hillmen have recruited players from Ellinbank FL in a desperate move to cover the loss. Two players who have excited the faithful are Lachlan Fanning from Newborough and Mutsy Mooka from Cairns.
The return of former coach Justin Rea will add height but the lack of a key forward could be a problem for the Hillmen.
Mirboo North have few changes at this stage until clearances are finalised but should again boast a powerful lineup.
Weight of expectation may be the biggest hurdle, with the pressure on to repeat the previous two years' efforts and take out a third flag.
Editor's pick – Mirboo North
Yinnar v Yallourn-Yallourn North

BOTH teams will be under the watchful eyes of new coaches when Yinnar tackles Yallourn-Yallourn North.
Nick Lecchino (Yinnar) and Adam Bailey (YYN) know each other well, having been united at Morwell.
YYN pulled the biggest coup in the league when they signed Bailey to coach, prior to him winning the Gippsland League best and fairest award, and he has enticed some former Bombers to return home, which will make them a lot stronger this season.
Yinnar has gone for the non-playing Lecchino, who faces a challenge to keep the Magpies near the top.
YYN has done its homework and recruited well which gives it the potential to get off the bottom; the return of Campbell McInnes, Tom Hutton, Tim Phillips and Shane Galea will boost the Bombers.
Overcoming Yinnar will be no simple task, as the side has lost a few players while picking up some talent in Jaime Aitken, Julian Blackford and Justen Fulton.
A tough game to pick at this early stage.
Editor's pick – Yinnar
TWO underachieving sides will be out to start their year on the right foot when Morwell East and Thorpdale collide.
The Hawks will take the field under non-playing coach Chris King while Nathan Scurrah starts his second stint as Blues boss.
Thorpdale did not reach its potential last year and will be out for more consistency in 2015.
Rhy Gieschen was a good pick up last season and if he continues with the Blues they have the basis of a competitive side.
They have also picked up handy players from the Ellinbank League.
Morwell East has lost Jack Brown, one of their better players last season, but overall there has been little movement.
The Hawks put in a good pre-season match with Churchill last week and will go into this game against Thorpdale as favourites.
Editor's pick – Morwell East
YARRAGON is at home to Boolarra and with an influx of Ellinbank Football League players the Panthers are looking to beat last year's position on the ladder.
Under new coach and club best and fairest Stuart Edwards, Yarragon has injected new blood into the league and should show improvement.
Boolarra has picked up some good players and again will be competitive; reaching the finals last season was an impressive effort by Boolarra but it desperately wants to take that step further.
Big man Mark Van Dyke's move to Traralgon will be a big loss but the Demons can overcome that.
Boolarra looks to be favourite but will need to be at its best if all Yarragon's recruits fire up.
Editor's pick – Boolarra