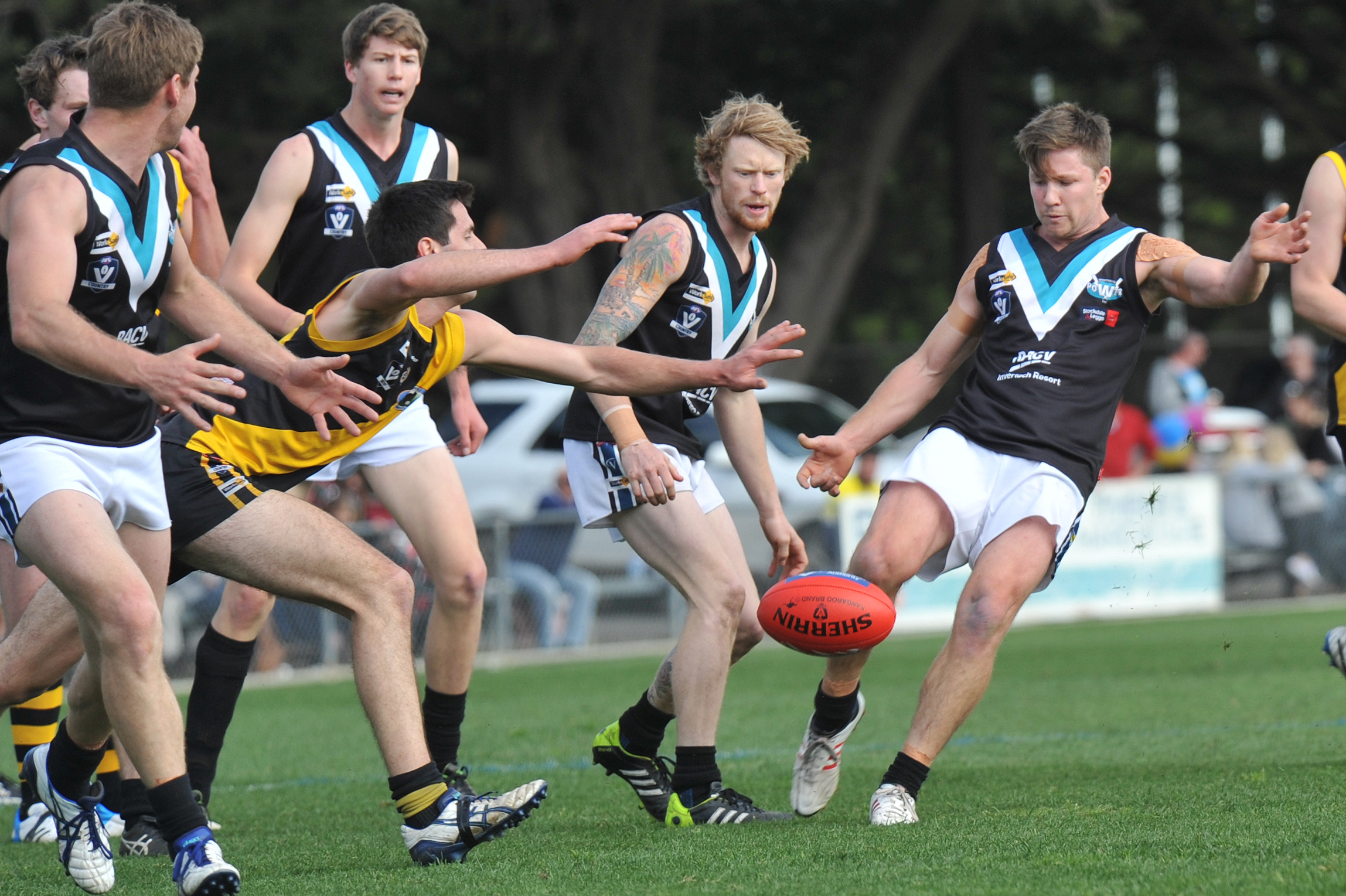 A Saturday night blockbuster between the Gippsland League's top two will highlight the second round of competition, while a TAC Cup development round will give clubs access to their Gippsland Power players.

Leongatha and Wonthaggi are fresh from big opening round wins and a huge crowd is expected to pack the Parrots' home ground for the clash which will be a big test for both teams.
"It will certainly give us an indication of where we are at," Parrots coach Beau Vernon said.
The Parrots sit top of the ladder after a convincing 123-point opening round win over Traralgon, which put last year's runner up on notice.
"I don't doubt these guys, I'm always confident in their effort," Wonthaggi coach Rob Railton said.
The Power coach conceded his team, which knocked off premier Morwell in round one, will be among the hunted in 2015.
"That's part of our mindset. We have got to acknowledge that and make sure we are ready," Railton said.
The night game kicks off at 6.30pm.
MORWELL'S new coach Dean Warren is confident his side will bounce back from its opening round loss to Wonthaggi when it travels to Sale to take on the Magpies.
"It's not doom and gloom, it's not panic stations… I think our guys were a bit flustered and I'd expect we will bounce back," Warren said.
Warren gave his side a "blunt" and "straight to the point" review of its performance against Wonthaggi at training on Tuesday night.
"They deserved to win, in fact we are lucky it was a 12 goal loss not a 20 goal loss… the really surprising thing was all the short kicks to contests… that's really not the way we play footy, not the way we have trained for four months," Warren said.
The Tigers had 61 turnovers and 10 players with less than 11 possessions.
"That's ridiculous… I've had a look at the tape and our key performance indicators were really lacking. We just didn't have enough efforts across the board," Warren said. There could be up to eight changes to the Tigers line up.
Tim Ryan (VFL), Lachy Little and Zach Anderson are among those tipped to return to a side Warren expects will be much better against Sale.
"The boys are disappointed in their effort and I'd expect they will bounce back," he said.
The Magpies too are coming off a loss to its arch rival Maffra.
However, having won its past 28 straight, Sale has a remarkable winning record at home.
The Magpies have not been beaten on their own turf since round 15, 2011. Warren hopes his side can be the one to change that.
"Absolutely. We would love to stop that. If the boys come with the intent and effort they showed in the second half last week, I don't see why we can't turn that around," Warren said.
Returning home from a disappointing opening round loss to Leongatha, Traralgon will host Moe.
"We are a bit battered and bruised. Obviously they (Leongatha) were very good, but not good enough to win by that margin," Maroons coach Mark Collision said.
Traralgon will welcome back two stars in Josh Jennings and Jordan Symons.
"We will have to come to play, last week showed us we can't take anything for granted," Collision said.
The Maroons have won their past six straight over the Lions, who have beaten Traralgon just once since round four, 2009.
However Moe proved last week it will be better than last year.
Joining the Lions from Glengarry, Mark Engley has given the side a strong option up forward. Coach Adrian Burgiel was also influential on the field in the Lions' opening round win over Warragul.
It's left Burgiel feeling quietly confident.
"Going off their result and our result… if we play well as a team, put in a four quarter effort, keep our skills right and our pressure up we will be a big chance," he said.
BAIRNSDALE will be looking to recover from its opening round loss to Drouin when it runs out at home for the first time in 2015.
"Obviously you'd like to start the season with a win. Unfortunately we didn't but all credit to Drouin, they were fantastic. They are a new look team and they took their chances and unfortunately we didn't," Redlegs coach Shaun Mooney said.
Bairnsdale is expected to welcome back Paul Bills and Andrew Nelson to its lineup for Sunday's clash with Maffra.
"It's been a long pre-season. Our practice games were played away from home so the playing group is excited about playing against a quality team in Maffra," Mooney said.
FRESH from an opening round win over Bairnsdale, Drouin will be looking to make it two in a row when it travels a few minutes east to take on neighbour Warragul, under lights.
The Gulls have won their past five against Drouin, albeit by some small margins.
(SGFL 1927 – 31, 1955-68, GL 1995-2004, 2010-14)
All matches
Played 102 Leongatha 53, Wonthaggi 47, drawn 2
At Leongatha
Played 40 Leongatha 25, Wonthaggi 13, drawn 2
Last 10 matches
Leongatha 5, Wonthaggi 5
Last win at Leongatha
Leongatha 2012, Wonthaggi 2014
Last match
2014 (L) (night) Wonthaggi 7.11 (53) d Leongatha 3.3 (21)
Present winning sequence
Wonthaggi 2
Highest scores
Leongatha 32.19 (211) (1995), Wonthaggi 22.13 (145) (2002)
Lowest scores
Leongatha 2.5 (17) (1931), Wonthaggi 2.5 (17) (1965)
Greatest winning margin
Leongatha 163 (1995), Wonthaggi 100 (2002)
Most goals (match)
Leongatha 8 J.Talbot (1995), T.Traill (1998)
Wonthaggi 7 N.Garnham (2002), M.Silver (2004)
(1954 – 2014)
All matches
Played 148 Sale 76, Morwell 72
At Sale
Played 68 Sale 42, Morwell 26
Last 10 matches
Sale 5, Morwell 5
Last win at Sale
Sale 2014, Morwell 2010
Last match
2014 (2nd Semi at Traralgon) Morwell 11.18 (84) d Sale 10.4 (64)
Present winning sequence
Morwell 2
Highest scores
Sale 29.21 (195) (2007), Morwell 23.23 (161) (1985)
Lowest scores
Sale 3.4 (22) (2002), Morwell 3.6 (24) (1956)
Greatest winning margin
Sale 137 (2003 & 2007), Morwell 84 (1967)
Most goals (match)
Sale 11 S.Loveless (1987 & 1991)
Morwell 9 D.Jorgenson (1954)
(1901-34, 1936-59 (GFL), 1960-98, 2011-14)
All matches
Played 245 Bairnsdale 125, Maffra 117, drawn 3
At Bairnsdale
Played 114 Bairnsdale 72, Maffra 41, drawn 1
Last 10 matches
Bairnsdale 3, Maffra 7
Last win at Bairnsdale
Bairnsdale 2014, Maffra 2013
Last match
2014 (Elim Final at Sale) Maffra 16.11 (107) d Bairnsdale 12.16 (88)
Present winning sequence
Maffra 2
Highest scores
Bairnsdale 30.15 (195) (1983), Maffra 24.29 (173) (1937)
Lowest scores
Bairnsdale 1.5 (11) (1919), Maffra 1.5 (11) (1903)
Greatest winning margin
Bairnsdale 126 (1981), Maffra 93 (1997)
Most goals (match)
Bairnsdale 9 T.Somerville (1938), T.Bull (1995)
Maffra 12 H.May (1928)
(1909-11,1919-30, 1933-40 (CGFL), 1960-64 (LVFL), 2000 – 2014)
All matches
Played 86 Warragul 70, Drouin 15, drawn 1
At Warragul
Played 42 Warragul 36, Drouin 6
Last 10 matches
Warragul 5, Drouin 5
Last win at Warragul
Warragul 2014, Drouin 2011
Last match
2014 (W) Warragul 9.9 (63) d Drouin 5.9 (39)
Present winning sequence
Warragul 5
Highest scores
Warragul 29.21 (195) (1930), Drouin 17.17 (119) (2010)
Lowest scores
Warragul 0.2 (2) (2010), Drouin 1.4 (10) (1920)
Greatest winning margin
Warragul 174 (1930), Drouin 92 (1910)
Most goals (match)
Warragul 18 H.Farmer (1937)
Drouin 7 H.Steer (1962)
(1936-53 (CGFL), 1954-2014)
All matches since 1936
Played 175 Traralgon 123, Moe 51, drawn 1
At Traralgon
Played 81 Traralgon 58, Moe 23
Last 10 matches
Traralgon 9, Moe 1
Last 5 years at Traralgon
Traralgon 5, Moe 0
Last match
2014 (T) Traralgon 13.7 (85) d Moe 5.7 (37)
Present winning sequence
Traralgon 6
Highest scores
Traralgon 36.25 (241) (1997), Moe 22.22 (154) (1971)
Lowest scores
Traralgon 4.7 (31) (1948), Moe 0.5 (5) (1997)
Greatest winning margin
Traralgon 236 (1997), Moe 105 (1938)
Most goals (match)
Traralgon 14 P.McCulloch (1997)
Moe 10 I.Jennings (1971 & 1972)