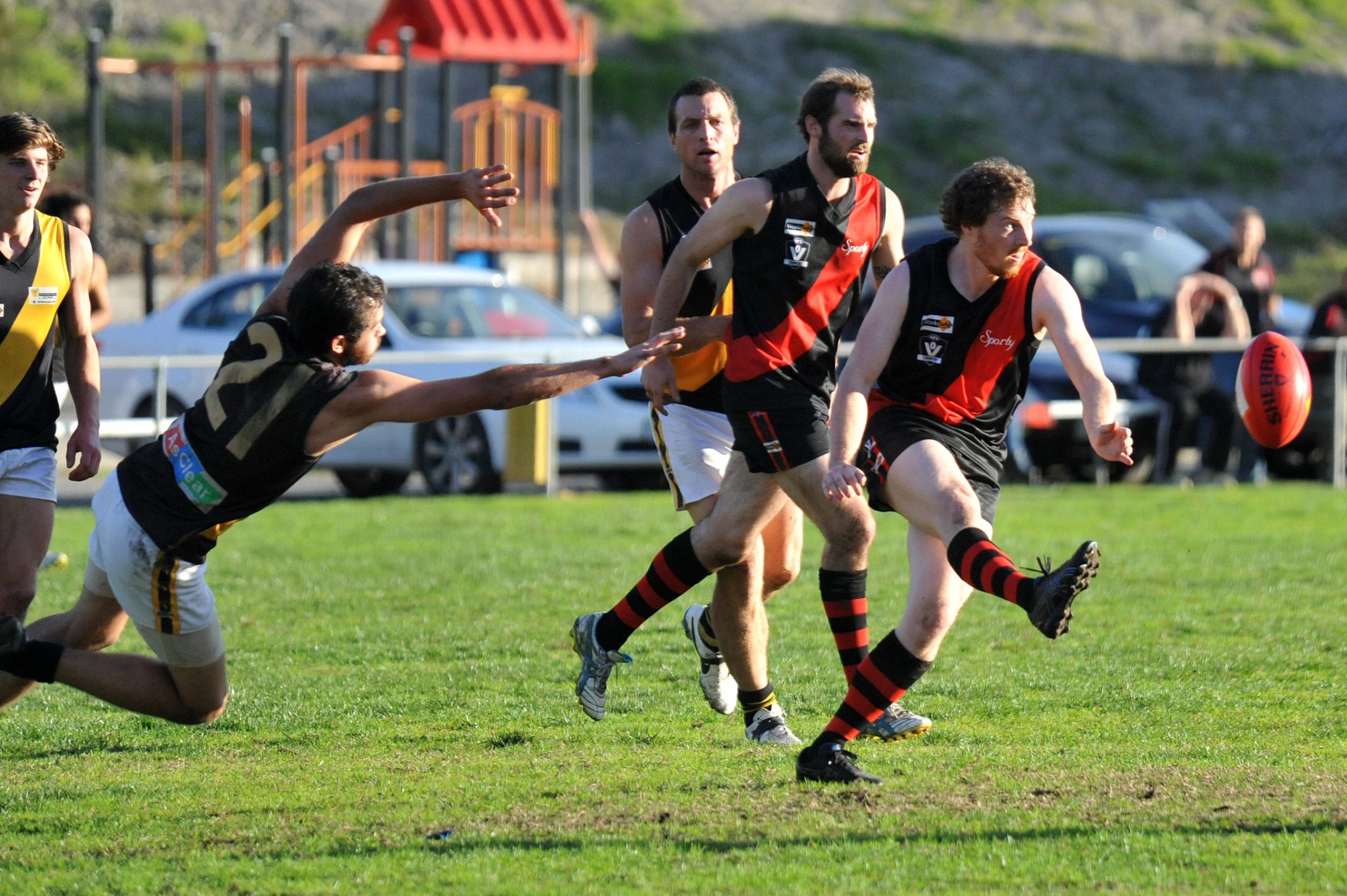 FOOTBALL
MIG GIPPSLAND FL
YALLOURN-Yallourn North's transformation under new coach Adam Bailey began to shine through on Saturday when the Bombers toppled Trafalgar in a huge Mid Gippsland Football League upset.
The win over the Bloods was 14 years in the making, and evened the past two seasons' winning tally of one just two games into the season.
It was a record-breaking effort by Bailey's new look Bombers, having lost to Trafalgar in the past 25 games with their last triumph coming on 20 April, 2002, although they did come close in 2010 when Trafalgar squeezed in by two points.
The Bombers were keyed up knowing that this game was important to their future and season prospects.
Opening up with a 5.5 (35) burst in the first term, the Bombers set the stage for what would turn out to be a great struggle between two determined teams.
YYN coach Bailey was showing his medal winning form, leading his charges by example.
As the game progressed YYN could only manage one point in the second term, letting Trafalgar get closer by half-time.
Todd Dobson was starring for the Bombers and his delivery to the forward line gave his teammates ample share of the goals, but inaccuracy by both sides kept the game close as YYN led by 10 points at the major break.
From the third term Trafalgar was starting to break down with key players Mick Farrell (ankle), Chris Kyriacou (shoulder) and Tyson Leys (knee) all sidelined.
The Bombers went ahead with a strong third term; Thomas Hutton grabbed four goals in the second half and Barrie Burnett played his usual good game.
YYN defender Marc Gore kept forward Matt Robertson to only a handful of possessions.
Both teams were tiring but the pressure was on Trafalgar to pull something out of the game in the last.
Rhys Holdsworth put in a good effort, bagging three goals to give Trafalgar some hope at eight points the difference, but a tidy goal by Tim Phillips gave YYN breathing space to eventually hold on and run out winners by 13 points, 11.8 (74) to 9.7 (61).
MIRBOO North continued its march for a three-peat with a convincing win over neighbouring Boolarra.
The Tigers set the stage in the second quarter after a spray from coach Troy Hamilton following a less than perfect first quarter.
After establishing a 10 goal break by half-time, the Tigers went into cruise mode and never let Boolarra into the game to run out winners by 96 points, 20.14 (134) to 5.8 (38).
With Jonathon Burge (4) and Joshua Piper (3) on target the win seemed secure.
Former player on return from the SANFL, Clancy Bennett showed why he was the prized recruit with a top display.
Josh Taylor, Jack Robertson and Damien Turner were all effective players for the Tigers.
Boolarra was found wanting and lost control with costly turnovers, but still had good players in Luke Conway, Matthew Windsor, Matthew Buglisi and Tim Dowe, but missed the drive of centreman Nick Hider who was unavailable.
Jesse Giardina top scored for the Demons with two goals.
A SENSATIONAL Tim Aitken in full flight allowed Yinnar to best Thorpdale, as the bulky forward bagged five goals to go to the top of the leader-board with eight.
Yinnar established a lead in the first term and was never troubled although Thorpdale gained some heart in the final term to outscore the Magpies.
Youngster Aidan Quigley, keeping the family name alive at Yinnar, showed plenty of skill with three goals and many assists.
Cameron Harwood added bulk around the forward line and he contributed three goals to the tally.
Thorpdale's Ilan Osman continued his good form to snag another three goals to build a two match tally of six.
Yinnar's James Dowling showed why he is a vote magnet with another classy display, while Tyler Hillier and Jaime and Tim Aitken all deserved their best player awards.
For Thorpdale, Jakob Serong, Jack Yelland, Logan Whittaker and Rhy Gieschen were best.
Yinnar finished with 14.14 (98) to Thorpdale's 8.6 (54).
MORWELL East put its hand up as a contender by beating Hill End by 70 points.
The Hawks are undefeated after two games.
Setting up their win after a 6.2 (38) to 0.2 (2) first quarter, the Hawks were dominant in most positions with newcomer Dion Grace and Matthew Cunningham getting plenty of possessions.
Hill End struggled, especially around the forward line, where the East defenders were able to repel most attacking moves.
Morwell East learned from its previous match and showed improved accuracy scoring 18.11 (119) to Hill End's 7.7 (49).
Nick Telerico and Lucas Towns both scored four for the East while Ben Marks added three to a big tally.
For Hill End it was a disappointing scoreline; the Hillmen worked hard to get the ball upfield but lacked a key forward.
Hill End's better players were Jack Duncan, John Warren, Justin Rea and Simon Fiddelaers
LAST year's runner-up Newborough gained its first four points with an exciting win over Yarragon.
Although the final margin crept out to 46 points, there was plenty in the game for both sides.
The match started at a blistering pace with both teams on fire and it was goal-for-goal with both full forwards on target early.
Unfortunately for Yarragon, the Bulldogs had more forwards with eight players getting on the score sheet.
By the first break Newborough led 7.6 (48) to Yarragon's 5.3 (33) after a high scoring term.
With only 16 points the difference at three-quarter-time, the scene was set for a close battle.
However Newborough took control; forwards Chris Hancock and Chris Payne scored important goals to add 4.3 (27) to Yarragon's one point to run out winners 16.4 (110) to 6.4 (40).
The shining light for Yarragon was Troy Lehman's five goals.
For Newborough, Josh Whittaker, Liam Carrolan, Adam Kennedy and Josh Keyhoe proved to be winners while for Yarragon it was Scotty Wood, Zac Regester, Troy Lehman and Devin Pollock who got the votes.