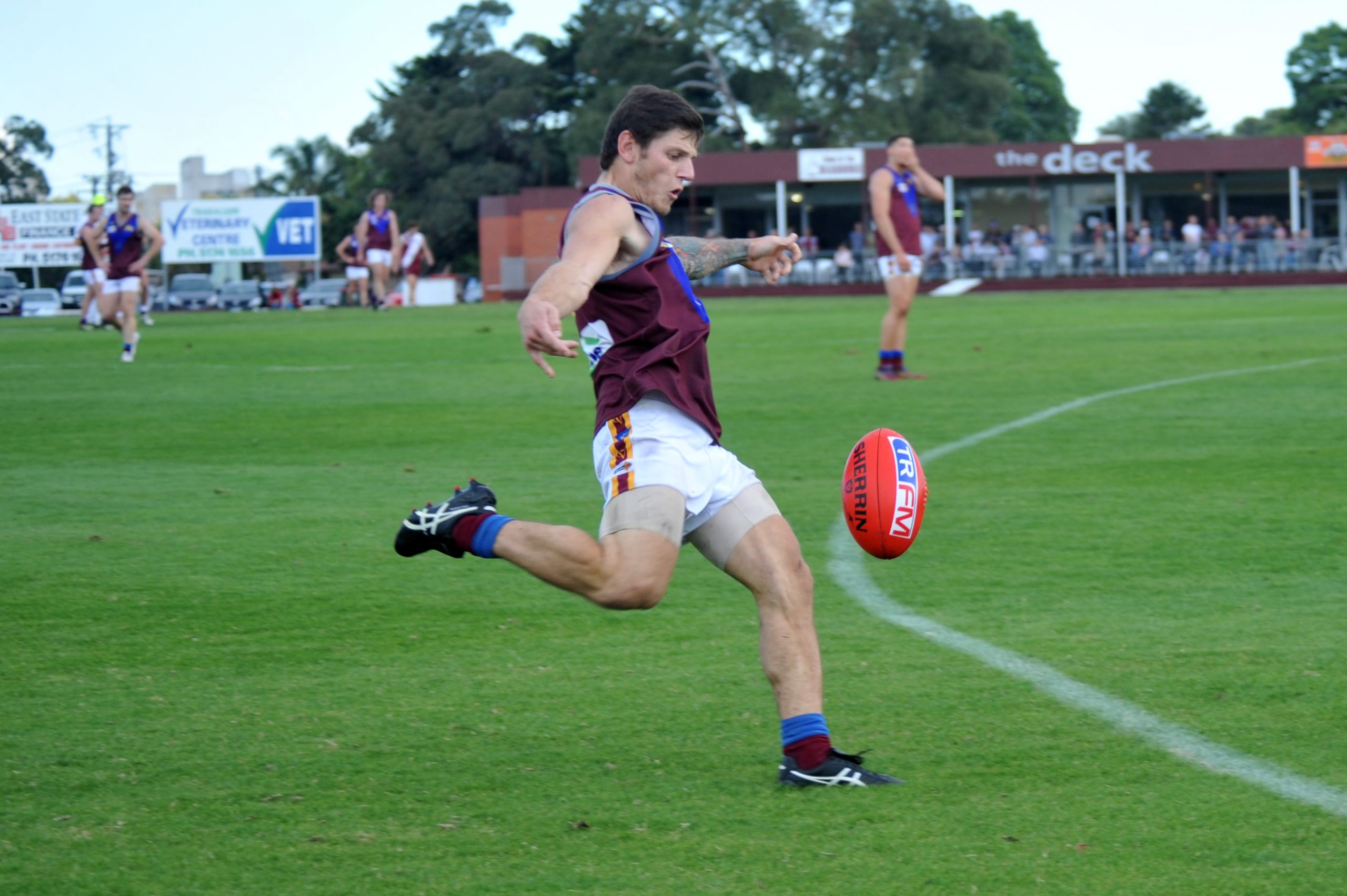 FOOTBALL
GIPPSLAND LEAGUE
MOE produced the upset of the 2015 Gippsland League season so far, disposing of last year's runner-up Wonthaggi by six points on Saturday.
"The boys were stoked. Absolutely stoked. We won four games last year and our season opener, but to knock off one of last year's grand finalists is huge," Lions coach Adrian Burgiel said.
"The boys were really good, they played really well. It was a really good confidence booster for us… to think we can match it with the top sides."
Wonthaggi led by two points after a tightly contested first term. It was equally uncompromising in the second quarter, with just a point in it at half-time.
The Power led again at three-quarter-time, by an extended buffer of eight points.
The home team slammed on six goals to five in the last quarter, and held on to win by just a kick at the final siren.
"We were in the game for most of the day, scores were tight for most of the game," Burgiel said.
"The boys are up and about. They haven't had too may victories like that. So hopefully the boys can get some confidence out of it and continue on."
Last year, Moe won four games and lost three by eight points or less.
"They (Wonthaggi) only beat us by eight points at home last year and we thought if we stuck at it, we'd have every chance, and we have," Burgiel said.
James Blaser was the stand out for Moe in a match which saw coach Burgiel and fellow forward Mark Engley boot four apiece.
Adam Cook was best on ground for Wonthaggi, with five majors.
Power coach Rob Railton said while disappointed with the result, he could not fault his side's effort.
"Full credit to Moe. They were impressive. It was a big game," he said.
"Even up there last year, they were really good. They just really cracked in and really had a go, and yesterday was no exception."
Railton said it came down to the team that took its chances when it counted.
Sale v Traralgon
TRARALGON upset Sale to end the Magpies' 29-game winning streak at home.
The Maroons made it three wins in a row and stormed to joint second on the ladder, becoming the first team since Leongatha in round 15, 2011, to beat the Magpies on their home turf.
Sale had been just two wins away from breaking Maffra's record of 31-straight wins at home between 2003 and 2006.
"The boys are going well, three in a row now. So it's been a good start," Traralgon coach Mark Collison said.
The Maroons got off to a good start with a six goal to three opening term against the Magpies.
"We kind of got a good jump on them in the first quarter, we played okay but we didn't play out of our skins," Collison said.
The visitor slammed on another five majors in the second to lead by 34 points at half-time.
By three-quarter-time, Traralgon's lead was out to 56.
It went on to win by 61.
"The heat was out of it after half-time," Collison said.
He said it was vital his side continued to improve.
"We have had a good couple of weeks, we seem to be improving each week. We have got to make sure we continue to improve," Collison said.
The Maroons are certainly a different team to the one that was beaten convincingly by Leongatha in round one.
"I think the boys probably got a bit of a wake up call. It's the only game, pre-season included, where we have been really down," Collison said.
Lee Stockdale kicked five for the Maroons, while his brothers Michael and Cory were also in on the action.
Cory was named third best, behind Jackson Hall and Collison.
Morwell v Warragul
MORWELL made it two in a row under new coach Joel Soutar, disposing of Warragul by 72 points.
The Tigers had the upper hand by just eight points after a hard fought first quarter.
However it made its mark in the second.
Morwell led by 60 points at half-time and 74 points at three-quarter-time.
The home team took the pedal off in the last quarter, which was won narrowly by Warragul.
For the second week in a row, Mannon Johnston was among Morwell's best with a bag of five goals.
However top honours went to Michael "Chunky" Duncan, in his second game back since his premature retirement in round two.
Leongatha v Bairnsdale
ladder leader Leongatha took its unbeaten run to four with a big win over Bairnsdale.
The visitor matched it with its opponent in the first, and trailed the bigger bodied Parrots by just a kick at quarter-time.
The home team took control in the second, booting five goals to two, to lead by 24 points at half-time.
By three-quarter-time, the margin was out to 42 points with Leongatha eventually running out a 58-point winner.
Cade Maskell booted a bag of seven for the home team, while at the other end James Gibbs top-scored for the Redlegs with six.
Drouin v Maffra
DROUIN conceded its second loss in as many weeks, this time at the hands of Maffra.
There were 50 points in it at three-quarter-time, ahead of a high scoring last term.
Maffra maintained the upper hand with a six goal to four last quarter to run out a 57-point winner.
Darren Sheen booted five, however it was midfielder and former Gippsland League best and fairest, Kel Porter who was named best on ground.
Hawks coach Bob McCallum led by example as Drouin's best, in a performance that also included three majors.
Sean Proctor also slotted through three, while Josh Seri impressed for the second week in a row with two goals.