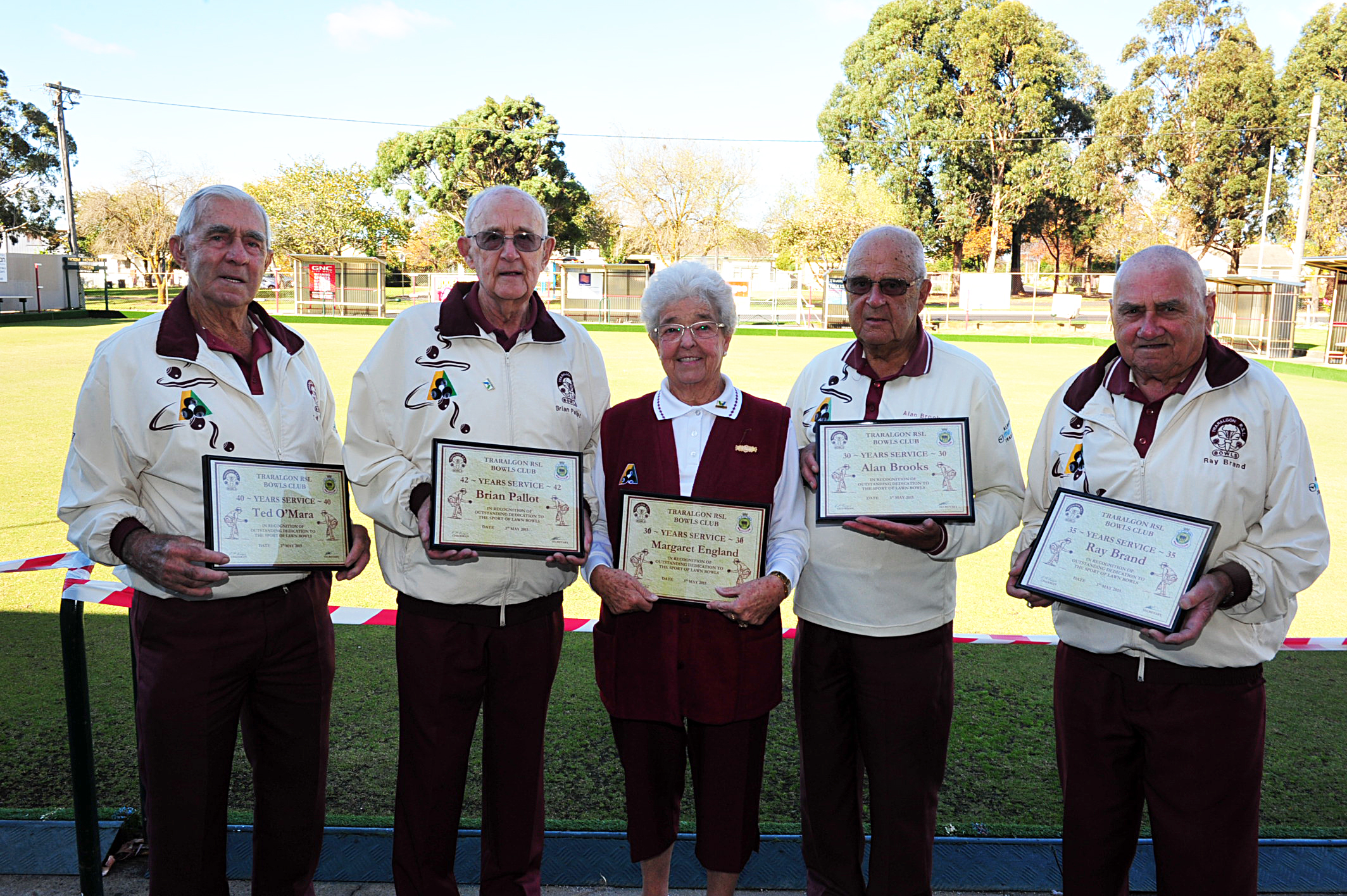 ALMOST 200 collective years of dedication to Traralgon RSL Bowls Club has seen five of its members rewarded with exceptional service awards.

Brian Pallot (42 years), Ted O'Mara (40 years), Ray Brand (35 years), Margaret England (35 years) and Alan Brooks (41 years) have been a constant presence at the club since the 1970s, which has become something of a second home for many of their number.
Pallot, a former chairman of selectors at the club, said he was proud to receive the award, made possible in part by the potential for longevity within lawn bowls.
"I think it's a great honour and it's of the few sports that someone in their 80s can compete. Most times you've got to hang your boots up well and truly before this, at least you can go out there and enjoy the fellowship and compete at a reasonable level," Pallot said.
"The comradeship (is key), I've played bowls with and against some very good bowlers over that time and been involved in a lot of the club activities."
Current greenskeeper Brand has poured plenty of blood sweat and tears into the club in his 35-year tenure.
To this day he continues to maintain the playing surfaces and has performed building maintenance and a host of labour intensive projects for the club off his own bat.
"I can look back (at things around the club) and say, 'that's something I've done'," Brand said.
There have been proud moments with bowl in hand as well, in particular "one good one, one year" when he knocked off club gun David Morley in the A grade singles.
Ted O'Mara's four decades began when a friend introduced him to lawn bowls, and he never turned back.
The aforementioned friend procured a set of bowls for him, which he still has, though not for competitive use, and Ted has been rolling since.
"Friendship and the keenness to play bowls" keeps him coming back.
"You go out to try your best and sometimes it works and sometimes it doesn't, that's just the way it is, it's the same for everybody," O'Mara said. Ex-serviceman Brooks came over from Traralgon Bowls Club in the mid 1970s, and has been involved in five pennant victories over the journey.
"(It's been) extra good, it's somewhere to go and I've enjoyed it very much," he said.
"A bit wobbly on the green these days, but I keep trying.
"I didn't expect that (recognition), it's very good."
England and Brand were also awarded 'super veteran' status.
Exceptional Service Awards
Brian Pallot – 42 years
Ted O'Mara – 40 years
Ray Brand – 35 years
Margaret England – 35 years
Alan Brooks – 41 years