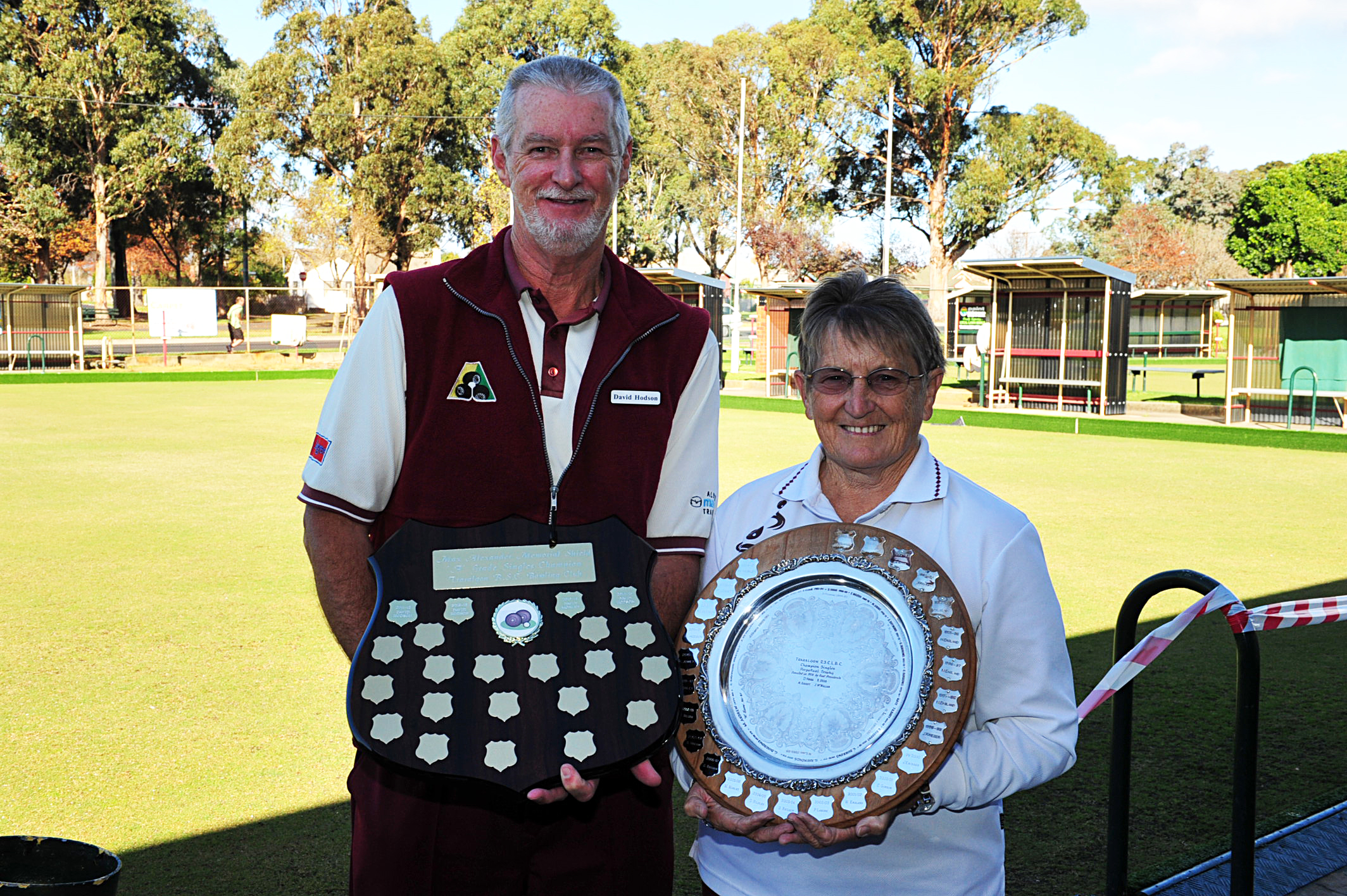 BOTH A grade champions at Traralgon RSL Bowls Club tend to win their respective titles like clockwork, though on different schedules.

The 2014/15 men's champion David Hodson has done it thrice in four seasons, while women's winner Margaret Morley's three titles have come at five-year intervals, starting in 2005.
Enjoying one of his best seasons since taking up the sport in 2006, Hodson secured seven club titles in all and finished runner-up in the men's pairs at both club and over 60 state level with Neil Ellery.
Following back-to-back titles in 2011/12 and 2012/13, seasons which also saw wife Marianne secure the women's championship, Hodson relinquished the crown to David Morley, but was back with a vengeance this campaign.
Bizarrely for a sportsman, a surgically induced injury brought out the best in Hodson's game, helping him reclaim the men's crown.
"I had a knee replacement in June and have still been recovering from that, so that's slowed me down where I'm not moving as quick, which meant I took more time on the mat, more concentration and bowled better," Hodson said.
A shift worker, Hodson said the time away from work while recovering had also helped, given he would be well rested prior to playing.
"I'm not finishing a night shift then I've got to front up to play a championship, I'm fresh every day that I come here to play," he said.
"I'm very happy with how things went, I had eight club events, won seven and finished runner up in the other one."
Morley may have suspected she was in for big things this season, given her previous two club titles had come five years apart.
"It's wonderful to win, really proud to win the club championship," Morley said.
"This year it was really pleasing because I beat the girls that had won last year and the year before so I thought that was a great achievement for me.
"It doesn't matter what level you're playing and what age you're playing, if you win the club championship you've really achieved what you're aiming to do."
Morley said her trip to Queensland, where she met with friends from interstate to play throughout the winter months, steeled her to perform at her home club.
"I came back in fine form and carried it throughout the season," she said.
"(It was) much better bowling and the greens were quicker which suits me fine."
While her personal efforts were exceptional, Morley said the club's success was the real highlight of the season.
"Overall the club getting on its feet and going again was really the highlight for me, it's not personal (achievements)," Morley said.
Another standout moment was winning the championship fours to help send teammate Margaret England off in style in her final competitive match.
Men's club championships
A grade: David Hodson, RU: Maurie Gardiner
B grade: Beau Williamson, RU: D Symons
Men's pairs: Jeff Blythman and Gordon Ashbury
RU: Neil Ellery and David Hodson
Men's triples: David McClare, Neil Ellery and David Hodson, RU: Beau Williamson, Alan Kanavan and Kevin Durward
Men's fours: Ray Davison, Gordon Bakker, Neil Ellery and David Hodson, RU: Steve Templeton, Brendon Symons, Scott Morland and Daniel Symons
Men's cock of the walk: David Hodson, RU: Maurice Gardiner
Mixed pairs: Mary Collins and David Hodson, RU: Pam Jowett and Doug Jowett
Mixed fours: Diane Hilsley, Marianne Hodson, Rick Lukey and David Hodson, RU: Beau Williamson, Julie Sutcliffe, Marg Morley and David Morley
Hundred up: David Hodson, RU: Gordon Bakker
Women's club championships
A grade: Margaret Morley, RU: Joyce Tudor
B Grade: Margaret Gibbins, RU: Kathy Smiles
Pairs: Marianne Hodson and Kathy Smiles, RU: Mary Collins and Lorraine McClare
Triples: Margaret Gibbins, Maureen Van Berkel and Shirley McKenzie, RU: Joyce Tudor, Julie Sutcliffe and Betty McLean
Fours: Dianne Hilsley, Pat Lahore, Margaret Morley and Margaret England, RU: Margaret Gibbins, Maureen Van Berkel, Shirley McKenzie and Kean Sterrick
100 up: Pam Jowett, RU: Marianne Hodson