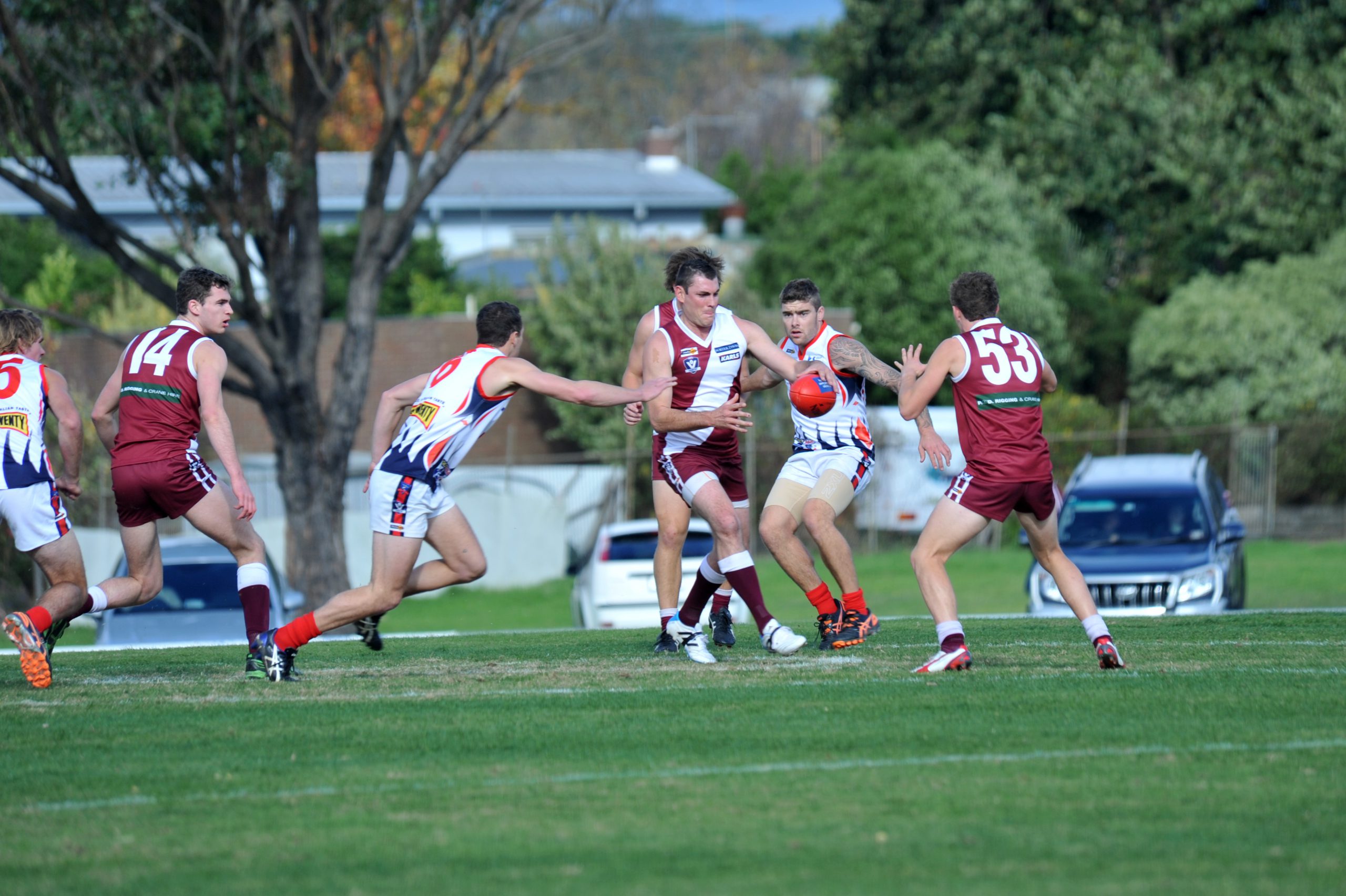 TWO thrillers with margins of less than three points highlighted a big round five of the Gippsland League.

Leongatha suffered its first loss of the season at the hands of Sale, which bounced back from its first loss at home since 2011.
The other nailbiter saw Morwell fight back from behind to beat Maffra by a point with the last kick of the day, making it three in a row under coach Joel Soutar.
Maffra v Morwell
A kick from James Jacobsen in the dying seconds of the match between Maffra and Morwell helped the Tigers to victory by the narrowest margin.
It was a remarkable effort by the reigning premier, which was six goals down at half-time.
"We came back from behind, it was a really good win by the boys. We worked really hard in the last and got the result right on the buzzer," Soutar said.
Coaching from the sidelines for the first time since taking over, Soutar said the different perspective was both good and bad.
"It was a bit of a different experience, pretty full on, I lost my voice. I hate watching, I'd rather be playing but you see a bit more from the sidelines and I was able to give a bit more feedback from seeing what goes on across the whole ground," he said.
Maffra got the jump on its opponent early and led by 21 points at quarter-time, and 38 at half-time.
"We were down by six goals at half time but we chipped away in the third to give ourselves a chance in the last," Soutar said.
The visitor kicked five goals to the Eagles' two in the third to bring the margin back to 21 points at three-quarter-time.
It was all Morwell in the last as the Tigers slammed on five goals to one, including a goal with last kick of the day from Jacobsen 40 metres out.
"The boys were pretty stoked. Obviously a big win, especially up at Maffra. We've copped a lot of hidings there since I've been playing," Soutar said.
Rob Michaelides was also missing from the Morwell line up, but there were plenty of good signs to come from the young group which included two debutants.
However, it was the more experienced trio of Dan Musil, Ryan Tatterson and Tim Ryan who stood tallest.
Sale v Leongatha
SALE became the first team this year to beat early flag favourite Leongatha by just three points at home.
"It was fantastic to get the win and even more pleasing was the way we played, executing our game plan from start to finish," Magpies coach Travis Ronaldson said.
The win came just a week after Traralgon ended Sale's long-standing 29-game winning streak at home.
"As a group we were really disappointed with our performance last week so it was important for us to make sure our effort and intensity was there this week against the top side," Ronaldson said.
"We looked at Leongatha as a great challenge and opportunity to show what we are capable of.
"I thought it was apparent early on that we had come to play."
Leongatha got the jump on Sale early, and led by 17 points at quarter-time, before Sale stole the lead with a six-goal-to-two second term.
By three-quarter-time there was just two points in it.
Both teams booted three majors in the last, however the Magpies held on for the win.
"It was a great feeling in the rooms after the game and hopefully we can use this week as a springboard for the rest of the year. Implementing a new style of play takes time and wins against quality sides like Leongatha builds belief and reinforces that we are on the right track," Ronaldson said.
Rhys Carter booted four majors for the Magpies while Shane Fyfe was named best on ground.
"All 21 players contributed and our stoppage work, pressure and ball movement were strong all game," Ronaldson said.
Traralgon v Bairnsdale
TRARALGON notched up its fourth straight win on Saturday after a dominating fourth-quarter performance against Bairnsdale.
"Yeah we are happy, but we still have some tests now in Wonthaggi and Maffra. So we have got a big two weeks ahead of us to see where we are at," Maroons coach Mark Collison said.
"We are not getting too far ahead of ourselves, we just want to improve."
While happy to get the four points, Collison was far from impressed by his side's efforts in the opening three quarters with the visitor just seven points adrift at the final change.
"I thought we were pretty poor. I'm a bit disappointed with our first three quarters, but you still take a 50-point win," he said.
"Just our intensity was down a little bit. Didn't adjust to the conditions, they came pretty prepared, they started well, but once our boys came good with their intensity I knew we could win. But I'm disappointed it took until the last quarter to do it."
And what a last quarter it was; Traralgon slammed on eight goals to two to turn a seven-point lead at three-quarter-time, into a 48-point victory.
"A bit of reward but we have got a lot to work (on). We will put some hours in this week and hopefully we can get up towards these top sides," Collison said.
His counterpart at Bairnsdale was left disappointed by his side's performance, which was right in it until the last quarter.
"Most certainly but it's still not good enough. We came down here to get the four points and we weren't able to do that. We went away from our structures late in the game and that's probably the thing that's most disappointing," Shaun Mooney said.
"They've got a really classy midfield group and they are certainly led really well. Early on I thought we closed down a lot of their space but later in the game we went away from doing that. We gave them far too much space and they made us pay."
Moe v Drouin
DROUIN slipped outside the top five, despite Saturday's 45-point win over Moe.
It was the Hawks' first in three weeks, after succumbing to Traralgon and Maffra.
Moe led by three points at the first change, after a hard fought first quarter.
The visitor stole the lead in the second and took a two-goal buffer into half-time.
Drouin extended its lead to 30-points at three-quarter-time before posting a much needed 35-point win.
Ben Hughes booted three for the Hawks, while Moe coach Adrian Burgiel added another three to his season tally.
Wonthaggi v Warragul
RETURNING home for just the second time this year, Wonthaggi bounced back from last week's surprise loss to Moe to beat bottom of the table Warragul in a low scoring encounter.
It was a slow start for both teams, with a total of just four behinds scored in the opening term as the Power led by two points at quarter-time.
The home team booted four goals to one in the second to lead by 24 points at the half.
Wonthaggi extended its lead ever so slightly, to 36 points at three-quarter-time before running out 50-point winners.
TRARALGON ensured it stayed in touch with the Gippsland League netball top four with a barnstorming 71-29 win over Bairnsdale at home on Saturday.
The big win bolstered the Maroons' percentage, but not enough to send it above second and third-placed Drouin and Leongatha, who both snuck over the line in their matches.
Traralgon is now perched fourth, equal on 16 points with the Hawks and Parrots, but all trail reigning premier Morwell on 20 points without loss.
A Grade
Maffra 43 def by Morwell 50
Traralgon 71 def Bairnsdale FNC 29
Drouin 43 def Moe 40
Wonthaggi Power 65 def Warragul 27
Sale 36 def by Leongatha 40
B Grade
Maffra 36 def by Morwell 40
Traralgon 54 def Bairnsdale FNC 30
Drouin 38 def by Moe 39
Wonthaggi Power 78 def Warragul 19
Sale 29 def by Leongatha 48
C Grade
Maffra 22 def by Morwell 34
Traralgon 36 def Bairnsdale FNC 22
Drouin 25 def by Moe 40
Wonthaggi Power 38 def Warragul 19
Sale 30 def Leongatha 26
Under 17
Maffra 50 def Morwell 11
Traralgon 39 def Bairnsdale FNC 27
Drouin 25 def by Moe 30
Wonthaggi Power 27 drew Warragul 27
Sale 47 def Leongatha 9
Under 15
Maffra 58 def Morwell 9
Traralgon 40 def Bairnsdale FNC 15
Drouin 47 def Moe 21
Wonthaggi Power 36 def Warragul 24
Sale 37 def Leongatha 12
Under 13
Maffra 21 def Morwell 17
Traralgon 26 def Bairnsdale FNC 22
Drouin 33 def Moe 17
Wonthaggi Power 67 def Warragul 6
Sale 55 def Leongatha 14